Last July I wrote a post about how American will waive award change fees when you're voluntarily upgrading the class of service for an award within the same region. Basically, American has the following verbiage regarding fees when changing award types:
A $150 USD charge or additional miles will apply for a change to an eligible origin or destination on a MileSAAver or AAnytime award, (waived for AAdvantage Executive Platinum members using miles from their account). This additional charge or miles are waived when voluntarily upgrading to a higher award level in the same region.
Ordinarily if you change the origin, destination, or award type, you'd pay American's $150 change fee. So if I had a business class award and wanted to change it to economy I'd have to pay $150 to do so. Along similar lines, if I had booked a standard award and saver space opened up, I'd have to pay $150 to change that award.

Cathay Pacific business class
However, American specifically has an exclusion whereby you don't have to pay to upgrade the class of service on an award ticket within the same region. To give an example, say you lock in a Cathay Pacific business class award 11 months out, and first class award space only opens up shortly before departure (as is the norm). You could switch that award and pay just the difference in miles and not the change fee.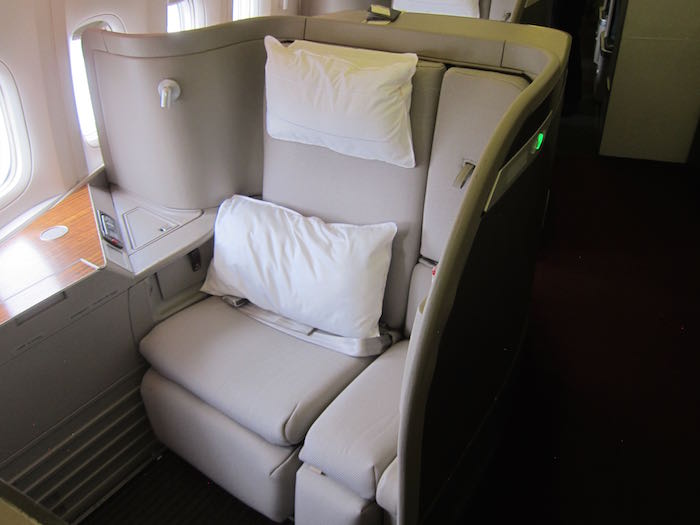 Cathay Pacific first class
I've received a lot of questions lately about whether this policy has changed or not, since some report having been told there would be a charge for such a change. What's interesting is that the above quoted text no longer appears on the AAdvantage Award Travel page. So I followed up with American to get the scoop, and they told me the policy is still in place, and they're investigating why it no longer shows up on the site.
But in the meantime, voluntarily upgrading an AAdvantage award to a higher award level within the same region doesn't carry a change fee.