Online shopping portals can be a great way to pick up additional miles & points for purchases you'd make anyway. Just for following a specific link you can earn bonus points in addition to the ones you'd earn anyway for credit card spend. The number of bonus miles you earn per dollar spent varies greatly by retailer.
While these portals are great for everyday purchases, there are also sometimes bonuses for making purchases with travel providers, which can be a great way to double dip. Lately we're seeing these more often than ever before.
At the moment the AAdvantage eShopping Portal is offering 10 miles per dollar spent with Marriott hotels.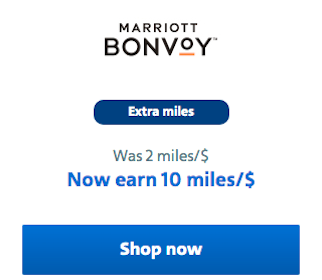 Ordinarily they offer two miles per dollar spent, so this bonus is 5x as good as usual.
Note the following terms & conditions regarding this promotion:
Rooms offered at specially negotiated rates, where the customer is required to be affiliated with or employed by a particular company or organization to receive the special rate (e.g., corporate rate, government rate or the Marriott employee rate) are not eligible. Rooms offered at specially negotiated rates for Marriott Bonvoy™ members (e.g. Marriott Bonvoy™ offer discount, Marriott Bonvoy™ offer package), with the exception of Marriott Bonvoy™ Member rates are not eligible. Rooms that are booked or upgraded and paid for using redeemed Marriott Bonvoy™ Points are not eligible. Rooms booked at the brands Ritz-Carlton Destination Club, Design Hotels, Bulgari, Atlantis, Autograph Collection, Bulgari Hotel, London, Joshua G.E. Medical Corp. Conference Center, Jesse Jones Rotary Conference Center, Marriott Ranch, Protea Hotel Amani Beach, Protea Hotel Mbweni Ruins, The Ritz-Carlton London, U.S. Postal Service Conference Center, Four Points by Sheraton Havana, The Cosmopolitan Las Vegas, Autograph Collection are not eligible. Not eligible on purchases made with coupon or discount codes that are not found on this site. Not eligible on gift cards, gift certificates or any other similar cash equivalents.
What's so great here is that these portals are simply redirecting you to Marriott's website, meaning you can still earn your Marriott points and elite nights as usual. That's huge. I value American miles at ~1.4 cents each, so to me this is like an additional ~14% return on Marriott stays.
This is very different than booking through something like Rocketmiles, where you can earn miles for hotel stays, though that's in lieu of earning hotel points. Here you get the best of both worlds, since you earn 10 American miles per dollar spent plus whatever Marriott points you'd usually earn.
Best for Marriott perks
Get platinum status for being a cardholder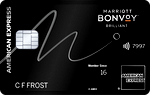 Marriott Bonvoy Brilliant® American Express® Card
Best for business travelers
Earn up to 2 free night awards every year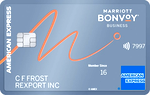 Marriott Bonvoy Business® American Express® Card
I'm not sure how long the increased bonus will last (I'm guessing it might just be valid today), so I'd recommend booking ASAP. Only hotel stays booked through the above links qualify, so if you can rebook a stay at the same cost then I'd highly recommend doing so.
We've seen this promotion every couple of weeks lately, so while this isn't unheard of, it's not that common. Lastly, keep in mind that you can stack this with Marriott's current promotion offering double Bonvoy points for stays.
(Tip of the hat to Frequent Miler)