Last week American Airlines announced some new seasonal European routes for next summer.
American will be adding flights to Budapest and Prague, as well as an additional frequency to Venice.
The services will operate between May 4 and October 27, 2018, which is at least a pretty broad definition of summer, as the routes will operate for nearly six months.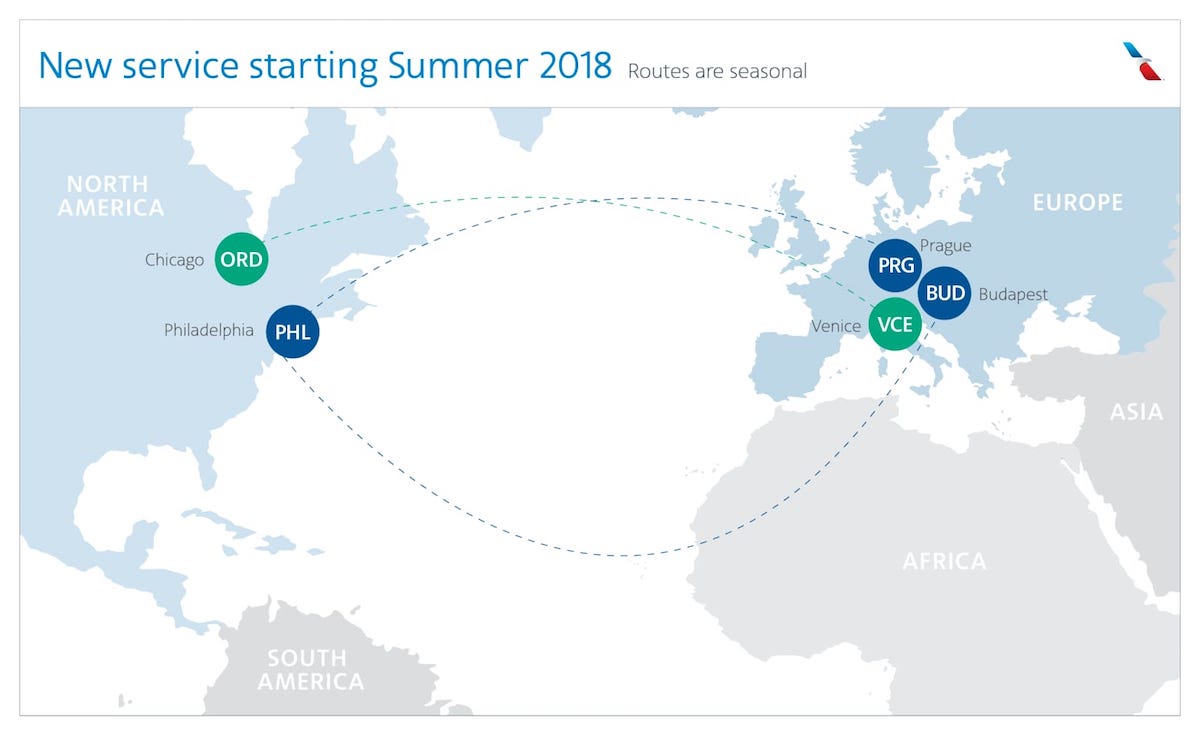 These flights weren't supposed to be bookable until tomorrow, August 21st, but per View From the Wing the schedules have been loaded. And as is typical for newly-posted American routes, award and upgrade space is wide-open.
American can book flights through July 17th of next year, so if you're looking to travel to Europe next May, June, or early July using American miles, this is your chance to avoid the onerous British Airways surcharges.
Looking at Chicago to Venice, for example, most days have at least two business class award seats available:

And Monday/Tuesday flights often have four:
The same is generally true for the other routes — plenty of space for two, occasional space for more.
Upgrading American flights
Upgrade space is great as well, with many flights having at least seven seats (ExpertFlyer won't display more than seven seats regardless):
If you've already re-qualified for Executive Platinum status, this could be a great use of next year's Systemwide Upgrades. SWUs earned in 2016 wouldn't be valid on these routes, as they'll expire at the end of January, while these flights don't start until May, unfortunately.
Otherwise, you can technically use miles to upgrade base fares on these flights, but given the complicated co-pay restrictions it's almost always better to just use 100% miles.
Booking American flights with miles
The easiest option here is going to be to use American AAdvantage miles for these flights. American charges 57,500 miles for one-way business class to Europe, and  you can have up to four segments on an award ticket. So if you need to route San Diego > Phoenix > Philadelphia > Prague to find award space that's allowed.
They'll also hold your award tickets for five days, which would let you lock the space in while you finalize your plans. Keep in mind that if you're hoping to transfer points in from SPG, they generally start processing on Sunday night, and then post on Tuesday night or Wednesday morning, so the timing of this is really perfect.
Otherwise you could book through the Alaska Mileage Plan program, which charges 50,000 miles for a one-way business class ticket to Europe on American. You're also allowed technically allowed a stopover in the partner hub city, which could be useful for people connecting from the West Coast who might want to spend a day or two in Chicago or Philadelphia before continuing on. The downside is that while American has loaded their schedule, it doesn't seem the inventory has synched yet with alaskaair.com. So it might be a few hours before these flights are actually bookable through Alaska.
If you have nothing else to do today, you can also redeem Etihad Guest miles for travel on American. Etihad should charge 50,000 miles for a one-way business class ticket to Europe on American, and as you can transfer Amex Membership Rewards, Citi ThankYou, and Starwood Preferred Guest points to Etihad Guest it's a compelling option. Booking is a PITA though. And the same inventory syncing concerns that Alaska is facing potentially apply to Etihad as well.
You can use other oneworld partner miles as well, if you have them, but you definitely don't want to use British Airway Avios. Not only is that a mediocre currency for long-distance flights, but BA also imposes fuel surcharges on transatlantic flights — even when operated by American.
Bottom line
I can't stress this enough — if you have any desire to use American miles to Europe next Spring, put one of these flights on hold today!!
You can edit the positioning flights later, or even potentially change your dates. But American has been so horrible about releasing award space otherwise, that this is probably your best shot at using American miles to Europe without paying the British Airways fuel surcharges.