I'm curious if I'm the only one who feels this way.
American operates some internationally configured planes domestically, in particular between Miami and New York. It seems to be especially prevalent lately, as they're reducing capacity on some international routes due to the strong US Dollar (and resulting weak foreign demand for travel to the US).
For example, between Miami and New York, American is flying internationally configured 757-200s, 767-300s, 777-200s, and 777-300ERs. The exact plane varies by day/time, but all of those planes are in the schedule for the coming weeks.
Yesterday morning I flew from Miami to New York on an American 767-300. This plane featured their new business class product, the same one I flew from New York to Madrid several weeks back.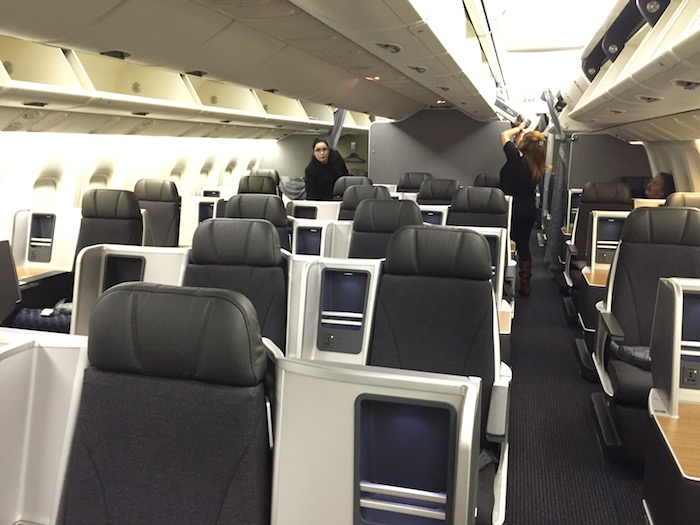 While it's not my favorite business class hard product, it is a fully flat bed, and is objectively significantly better than domestic first class.
However, I'd go out of my way to avoid it in the future.
Why?
Because American's 767-300s don't have wifi, while almost their entire domestic fleet does. For a flight leaving at 7AM and landing at 10AM, I'd much rather have Wi-Fi than a flat bed.
The other thing is that American doesn't have "proper" bedding on domestic flights operated by internationally configured aircraft (which is fair enough). While American offers great pillows and blankets on international flights, when you fly that same plane domestically you only get a thin blanket and no pillow. Which isn't to say that a nap isn't possible, but rather than unless you're really tired it's not like you'll get "great" sleep.
Now in fairness some of American's internationally configured planes do feature Wi-Fi. Specifically, the reconfigured 777-200s, as well as all 787-8s and 777-300ERs, do feature Wi-Fi. However, American doesn't use Gogo for these planes, so if you have a Gogo pass you can't use it on those flights. Instead you'd have to pay extra.
For a daytime domestic flight, Wi-Fi is my number one priority. I'd take a domestic first class seat with Wi-Fi over a fully flat international business class seat without Wi-Fi. 
I know I'm probably in the minority in feeling that way, but am I the only one?