Upgrades across the board are tougher than they used to be, which is probably because airlines are doing a better job of selling their first class cabins at discounted rates, and are also reducing the size of first class cabins on many planes. So airlines have been putting some effort into making the economy experience a bit better for elite members, in recognition of decreased upgrades.
For example, American offers Executive Platinum members in economy a free snack and drink. It's a gesture that goes beyond the dollar savings — it's nice to be recognized for your business and feel appreciated (especially since the loyalty program as such isn't doing much nowadays to encourage people to feel that way). I'm spending more time in economy lately, and that's perfectly fine.
At the moment I'm on an American A319 with a power outlet and an empty middle seat (which is exceedingly rare nowadays), so I'm every bit as happy as I'd be in first class.
However, I can't help but mention the different ways in which crews seem to handle this free snack and drink benefit. Flight attendants on American have company issued portable devices that show the names, status, etc., of each passenger. I'm consistently impressed by how well many of the flight attendants handle this benefit.
To me it's such a great opportunity to make a frequent flyer feel appreciated. Don't get me wrong, it's not about ego stroking or anything, but rather that proactively offering this benefit and thanking someone for their loyalty goes a long way, in my opinion. Damn right I fly this airline a lot, and often go out of my way and pay extra to do so. I've seen this benefit executed well in a few different ways:
Sometimes flight attendants come to Executive Platinum members in economy before even starting the service, to offer them drinks and snacks (this is over the top, nice, and rare, though also potentially awkward)
Sometimes flight attendants proactively acknowledge Executive Platinum members during the service — "thanks for your business, can I get you a snack and drink? (this is the easiest approach, and makes the situation less awkward)
Sometimes flight attendants don't initially say anything, but if you ask for something that's usually chargeable, they'll say "thanks for you business" (this is both the least awkward and least proactive approach)
I think all of the above techniques are great, but then sometimes I just can't help but feel like American flight attendants leave a lot of goodwill on the table. For example, this particular flight has two flight attendants in the main cabin who I assume are new hires (I find American's new hires to be a mixed bag — some are exceptional, and some incredibly lazy). They've been rather unprofessional from the time we boarded.
During the service they arrived at my seat and said "drink or food for purchase?'
"A coffee with milk and a cheese plate, please."
She said "we only accept credit" as she walked back towards the cart to make my drink and get the cheese plate, before I could say anything.
When she returned she sort of gave me a weird look, as if she was annoyed I didn't have my credit card out yet. I quietly said "I'm Exec Plat, do you need to see my card or boarding pass?"
She looked at me and didn't say anything, and then continued her service with the next passenger.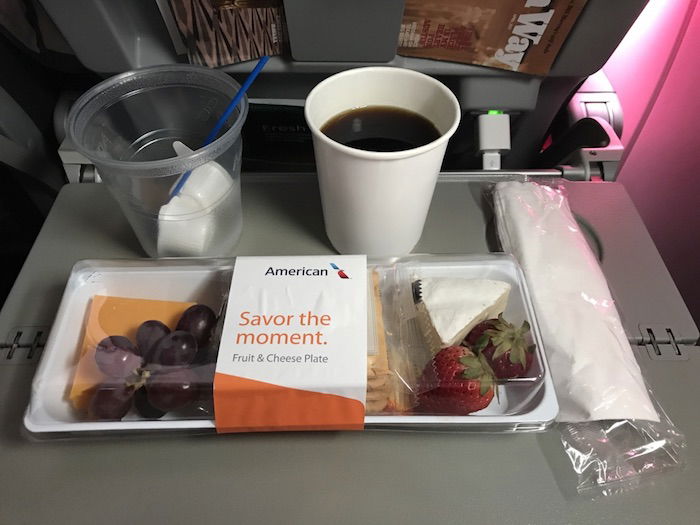 I know this is minor, but to me this is such a lost opportunity, and certainly impacts the impression with which I walk away from a flight. Presumably the flight attendants are given these portable devices so they can track who is sitting where, and proactively deliver on this benefit. When a flight attendant thanks you for your business and proactively offers you something, it makes you feel special and like you're appreciated.
Meanwhile when you feel like you're begging for something you're "entitled" to, it takes a lot of the goodwill out of the situation.
Fortunately I find that more often than not American flight attendants are great about this, and that the above situation is the exception rather than the norm.
To fellow Executive Platinum members, what has been your experience with delivery of this benefit? What's your preferred method for the crew to offer this?