If you're not an airline geek then by all means skip this post, as you probably won't find this interesting.
For anyone who is mildly familiar with American, can you name American's smallest mainline plane off the top of your head? You may have said the MD-80. Or maybe you guessed the A319, which is actually smaller than the MD-80 (even if it doesn't look it). But neither of those is correct.
American's smallest mainline plane is the Embraer 190, which has 99 seats.
You might be saying to yourself "wait a second, the Embraer 175 is smaller, though." Yep, but that's not operated by American, but rather by one of their subsidiaries, and marketed as American Eagle.

American Embraer 190
You see, the US airlines contract out much of their flying of smaller jets to regional airlines. This is a way for them to make this kind of flying economical, since everything is lower cost, including what the crews are paid.
However, when the airlines negotiated with unions, they had a scope clause in their pilot contract, which dictated what size planes can be operated by those regional pilots.
As part of that, Embraer 170/175 aircraft are operated by American's regional airlines, while Embraer 190 aircraft are operated by American "mainline" pilots and flight attendants.
Yesterday I flew from New York LaGuardia to Boston on one of American's "shuttle" flights, which was my first time flying American's Embraer 190. This was the only plane in American's fleet that I've yet to fly.
Ultimately the differences were subtle, of course. The cabin is virtually the same as the Embraer 175, except it's longer.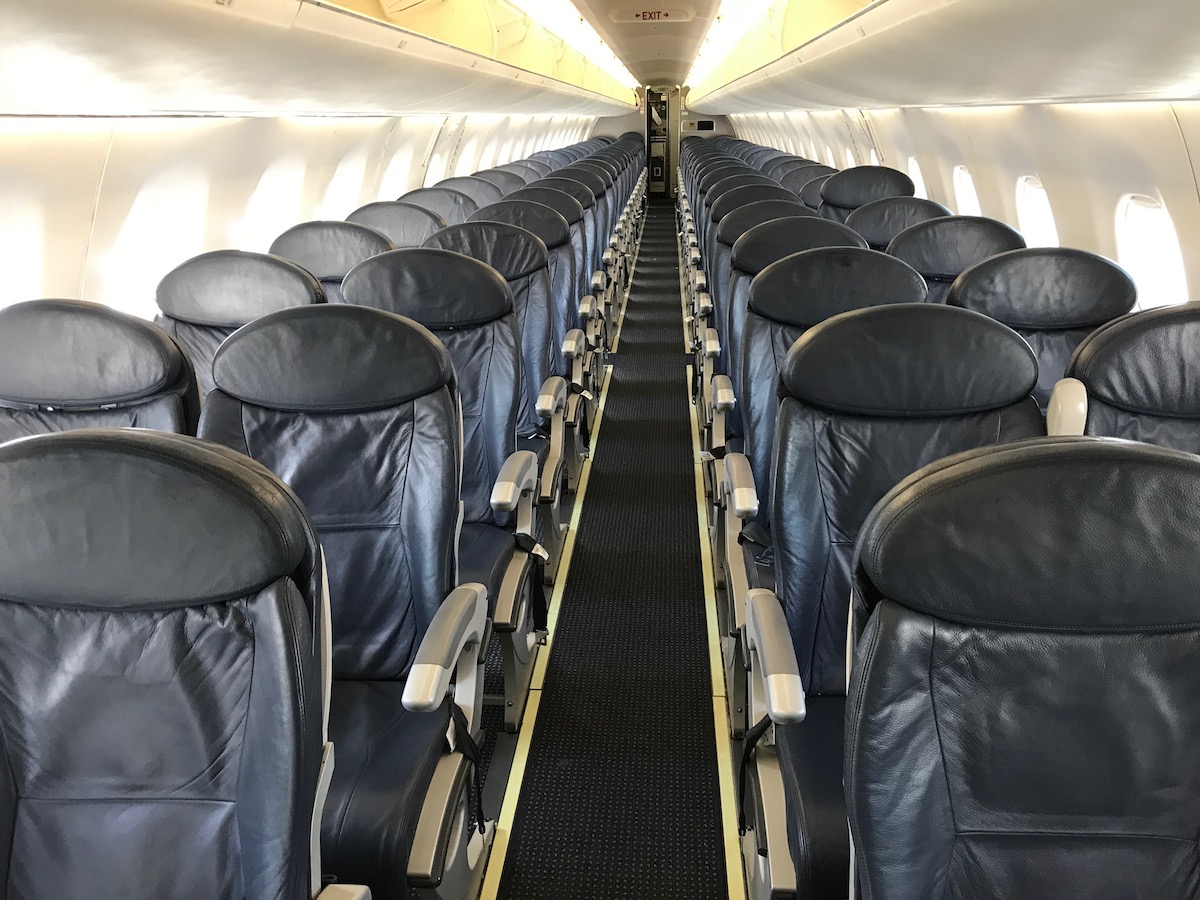 American Embraer 190 cabin
However, the announcements were identical to what I've experienced on every other mainline American flight, rather than the usual regional announcements, which welcome you onboard "American flight XYZ, operated by Republic."
Oh, and our pilots weren't teenagers either.
It's interesting just how different the pay scales are for American's Embraer 190 pilots, compared to the Embraer 175 pilots flying for a regional airline on behalf of American, even though their cockpits are identical. Just to give a couple of side-by-side comparisons:
A first year Embraer 175 first officer earns $40 per hour, while a first year Embraer 190 first officer earns $80 per hour
A first year Embraer 175 captain earns $70 per hour, while a first year Embraer 190 captain earns $156 per hour
Again, this is totally geeky and insignificant in the grand scheme of things, though I've always found it interesting that American operates their own Embraer 190s, but outsources their Embraer 175 flying. Clearly that's due to their scope clause, and the cutoff being somewhere in the middle in terms of what type of flying the airline is allowed to outsource.
Apparently American plans on retiring their fleet of 20 Embraer 190s in 2019.
To fellow American flyers, did you realize that American's Embraer 190s are in fact "mainline" planes, while the Embraer 175s aren't?