One of American's smaller airline partnerships has been with El Al, the largest airline in Israel. Through this partnership you could earn and redeem AAdvantage miles for travel on El Al, and vice versa. I know this was a really useful partnership for some, especially since American never flew to Israel.
It wasn't possible to redeem American AAdvantage miles for first class travel on El Al, though you could redeem for business or economy. El Al was never great about releasing award space — it was at times virtually impossible to find business class award space — though the partnership was still better than nothing. And for that matter, even their brand new business class product doesn't look very good.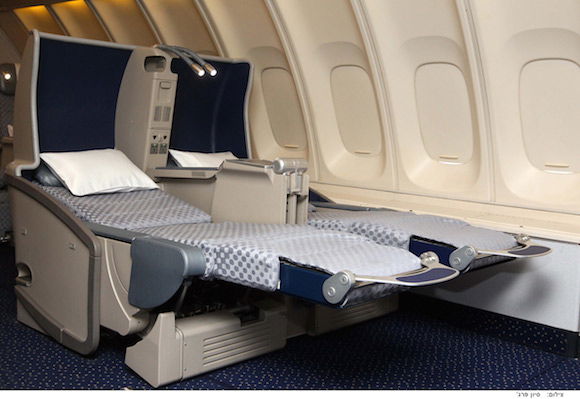 El Al's new business class product
Well, it looks like the partnership between American and El Al will be ending as of November 1, 2014. So all travel on El Al must be ticketed by October 31, 2014 — travel on a subsequent date is fine, though.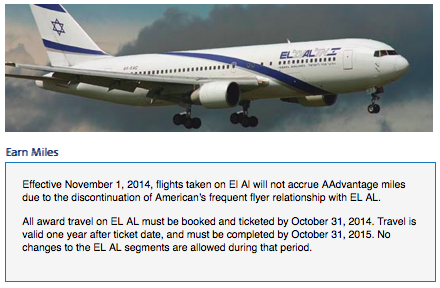 Why is the American/El Al partnership ending?
I tend to agree with Gary and think this was initiated by American. Now that they're integrating with US Airways, they have a flight between Philadelphia and Tel Aviv. Given that El Al didn't have all that many frequencies to the US, chances are that they weren't getting much connecting feed from El Al, so the upside was limited. And with limited upside and your own flight to that country, there's not a huge benefit to having a partnership. I'd bet a vast majority of the "volume" of the partnership was AAdvantage members redeeming miles on El Al.
Other ways to redeem miles on El Al
Keep in mind that El Al's Matmid Club is an American Express Membership Rewards transfer partner, so that's another way to redeem points for travel on El Al.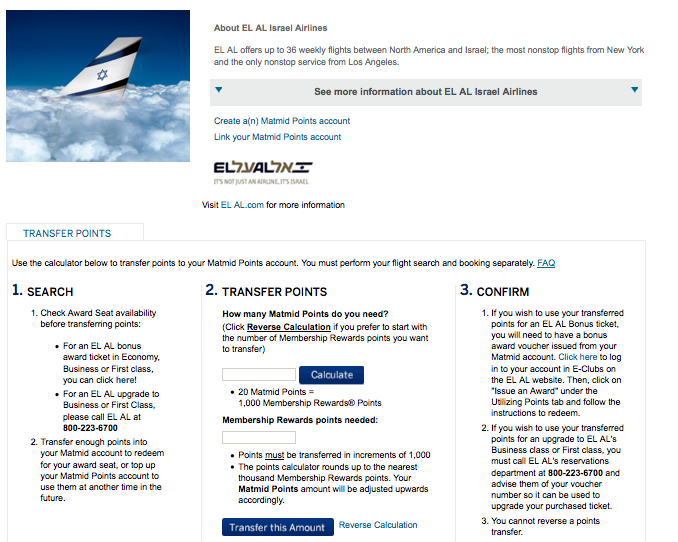 You can find their mileage calculator here. El Al's rates are a bit higher than American's, and they do impose (mild) fuel surcharges. For example, a roundtrip between New York and Tel Aviv in business class will run you 3,000 Matmid Points plus $355.42 in taxes, fees, and fuel surcharges (Membership Rewards points convert to Matmid Points at a 50:1 ratio, so that's like 150,000 miles).

Between that and their lackluster onboard product, there are much more comfortable ways to get to Israel, in my opinion.