Delta was the first of the "big three" US carriers to roll out basic economy fares, which they did back in 2012. However, Delta's basic economy fares come with significantly fewer restrictions than those basic economy fares offered by American and United (both of which just rolled out basic economy on a widespread basis earlier this year).
Delta's basic economy fares offer no seat assignments until check-in, no refunds or ticket changes of any sorts, and no paid or complimentary upgrades to Comfort+, first class, etc.
Delta has been expanding basic economy to some longhaul international flights as well, though it looks like they've just added a more restriction on that front.
Delta has eliminated the free checked bag for those traveling on basic economy fares between the US/Canada and Europe/North Africa. This new policy applies for tickets booked as of December 6, 2017, for travel as of April 10, 2018.
Passengers on basic economy fares in these markets will have to pay the following fees:
60USD/50EUR/75CAD for the first checked bag
100USD/85EUR/120CAD for the second checked bag
Delta isn't changing the baggage allowance for those booked on other types of fares. As before, other economy passengers continue to get one free checked bag weighing up to 50 pounds on these flights, while the second checked bag fee is 100USD, just as it would be on a basic economy fare.
This is a pretty noteworthy development. As far as I know it's the first time that one of the "big three" US carriers is selling fares between the US and Europe that don't include any sort of checked bags with the fare (someone correct me if I'm wrong). I suppose this development was inevitable, given how popular Norwegian, WOW Air, etc., have become.
While not all markets have basic economy fares, take a look at the below flight between New York and London, where a main cabin fare is $120 roundtrip more expensive than a basic economy fare. That's exactly the same amount you'd pay for a first checked bag in both direction, so I guess they hope that people book main cabin so they can select seats, etc.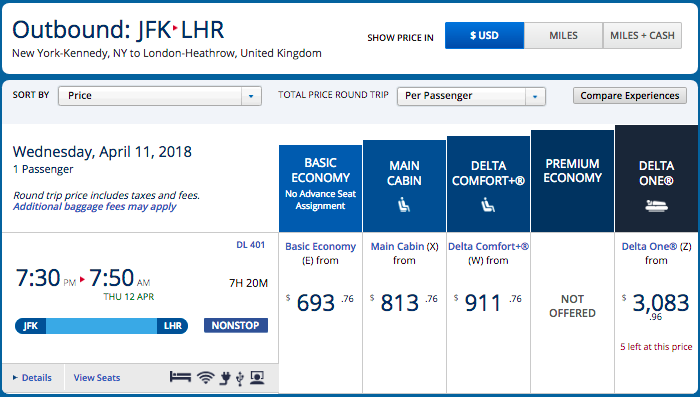 I'm curious to see how this works out, especially in a hyper competitive market like New York to London, where virtually all airlines compete on price, even those that require a connection. With American, British Airways, United, etc., all having the same or lower fares, it looks like Delta could lose some market share with such a policy. Then again, if history is any indicator, American and United will match in no time.

Let the transatlantic race to the bottom begin (or more accurately, continue?)!
What do you make of transatlantic basic economy fares with no free checked bags?
(Tip of the hat to @kevgutierrez & AJC)