All airlines have some sort of routing rules when it comes to the type of award tickets they will and won't allow. Every airline has different rules, and I'd say American has among the strictest out there.
I've written about American's award routing rules in the past, and they usually enforce them pretty strictly.
That's why it's worth noting that American Airlines' app is allowing some pretty incredible award routings. These can't be found on American's website, but rather are only available via the app (unfortunately it's not great for searching, but then again, American's website isn't great anymore either). Not only do these routings appear, but they're ticketing as well.
I can't speak to everything that's available, but at a minimum they're allowing some pretty incredible routings from the Middle East to Cardiff, in the UK.
For example, want to fly from Dubai to Cardiff? How does redeeming 42,500 American miles sound for business class from Dubai to London on the British Airways A350, then London to Doha on the Qatar Airways A380, and then Doha to Cardiff on the Qatar Airways 787?
Just to show you that routing on a map:
That's not the only option. Similarly you can fly from Abu Dhabi to London to Amman to Dubai to Cardiff.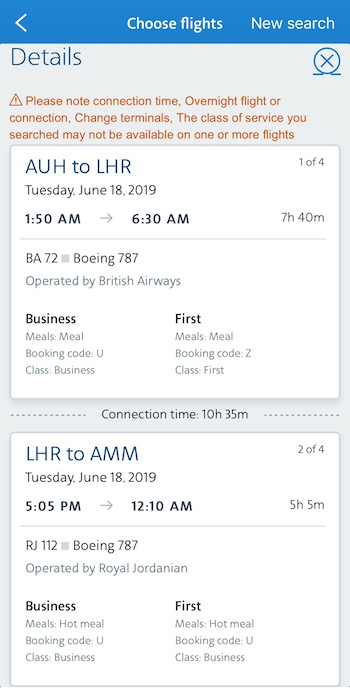 There are some truly incredible routings available. Much to my surprise they're actually ticketing. A friend successfully booked one and has a ticket number.
Obviously this won't be for everyone, since there are more direct ways to get from the Middle East to Cardiff. However, for anyone looking to try out some cool airlines in first & business class, this might just be the best use of American AAdvantage miles ever.
Happy booking!