I can't say I've generally been very impressed by American's food on domestic flights. For that matter, I don't think Delta is any better. I also don't generally put much weight into menus designed by celebrity chefs, since they're basically just being paid a some of money to sell out their name. I'd rather airlines spend the money they pay to celebrity chefs on actually increasing their budgets for each meal.
That being said, American is rolling out some new menus today on transcon flights, and they actually sound really good (which isn't to say that they'll taste good, but…).
Specifically, American is introducing new menus designed by Chef Sam Choy. These will be available in all cabins between New York and Los Angeles as well as New York and San Francisco, and in first class between Miami and Los Angeles.
Why do I actually like this? Because these menus offer "lighter, fresher options" in addition to what American is already serving.
In addition to introducing new menus, American has also introduced directional menus to make sure that frequent flyers see a bit more variety. The first and business class meal changes will closely align with American's international premium experience, and those in the main cabin will now have access to vegan meal options.
American highlights that some of the new dishes include the following:
First Class:
Egg white, spinach and mushroom frittata with tomato ragout
Business Class:
A European breakfast including prosciutto, shaved ham, cherry tomatoes, cheese, dried fruit, hard boiled eggs and almonds
A grain and greens bowl consisting of lemon bulgur salad, sautéed kale, carrots, chicory frisee, heirloom cherry tomatoes, chickpea, cucumber, feta cheese
Main Cabin:
A vegan box including hummus, carrot and celery sticks, pita rounds and chocolate
For example, here are the current first class menus on eastbound flights, from Los Angeles and San Francisco to New York (the first menu is breakfast, the second lunch and dinner, and the third is snack flights, including redeyes):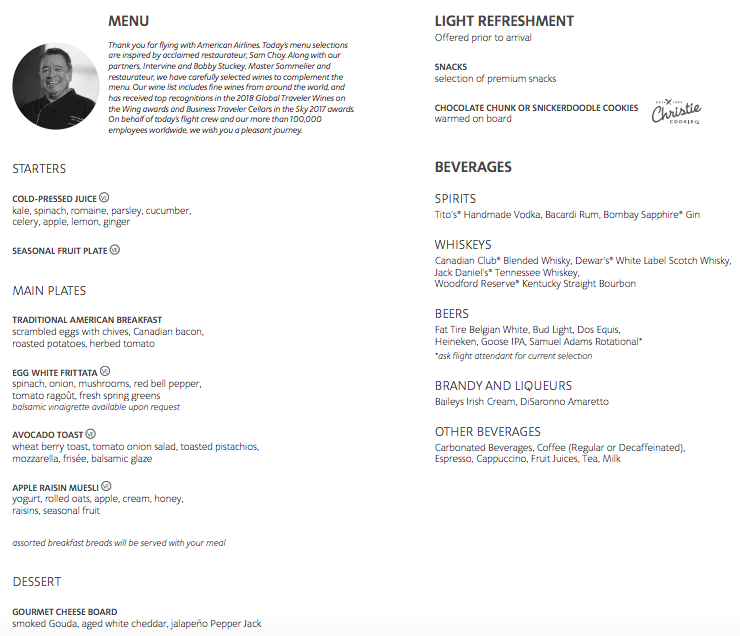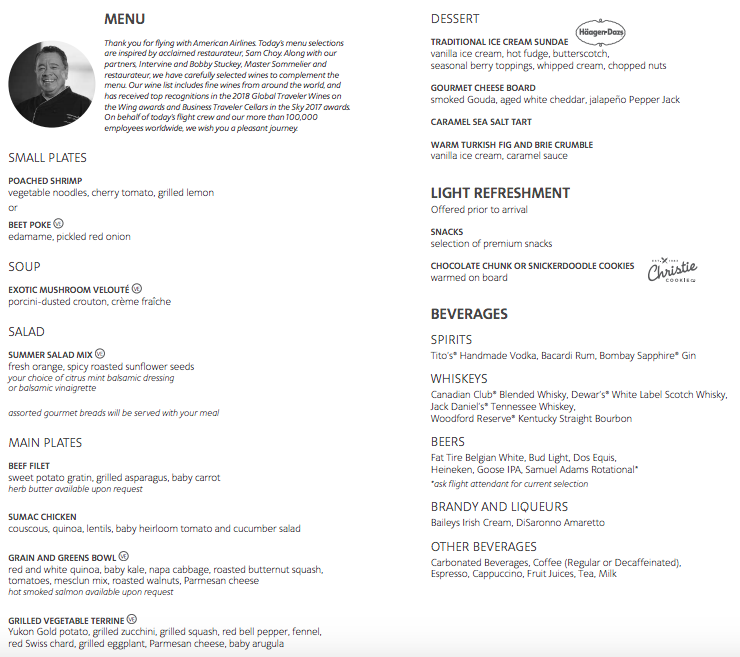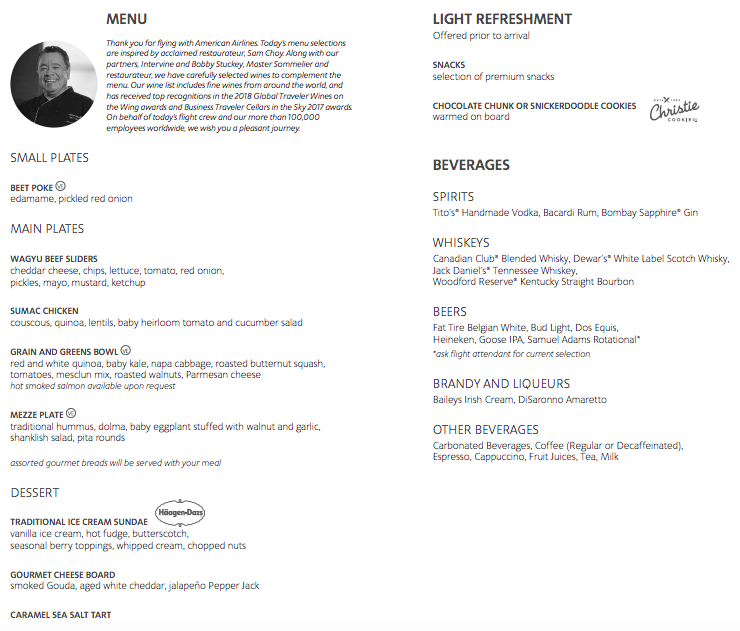 Then here are the current first class menus on westbound flights (the first menu is breakfast, the second lunch and dinner, and the third is snack flights):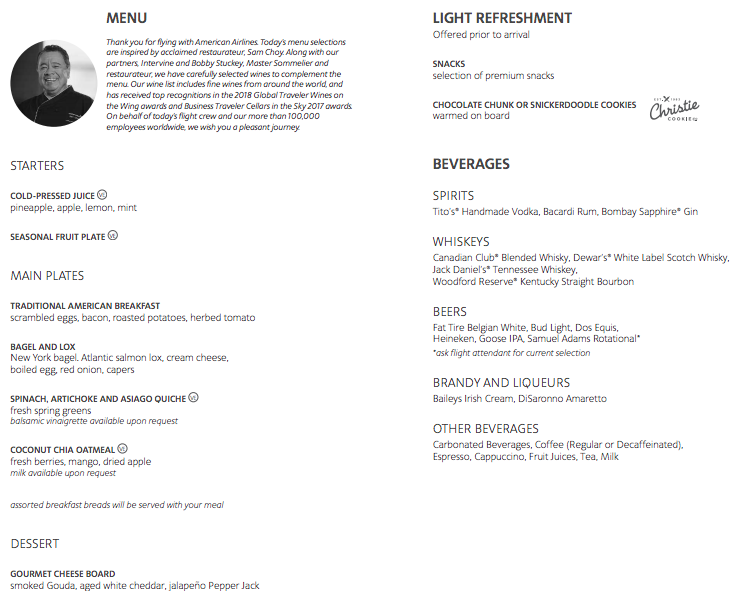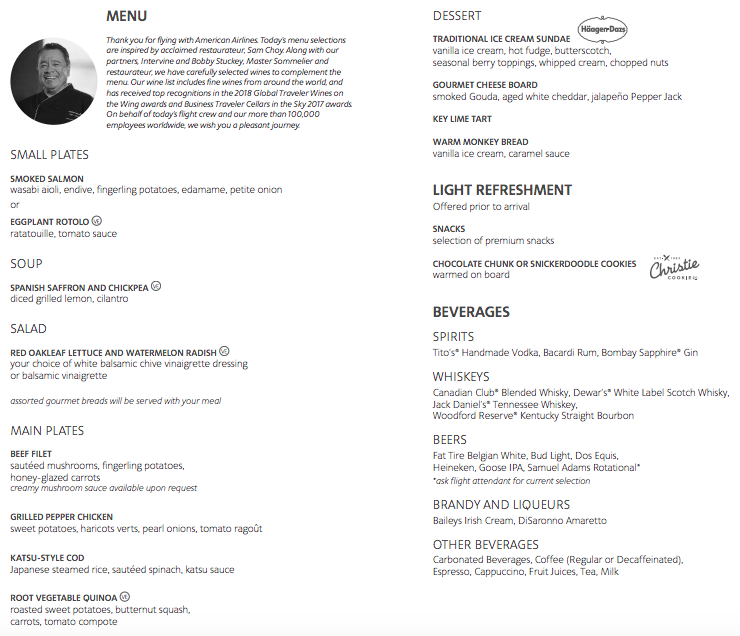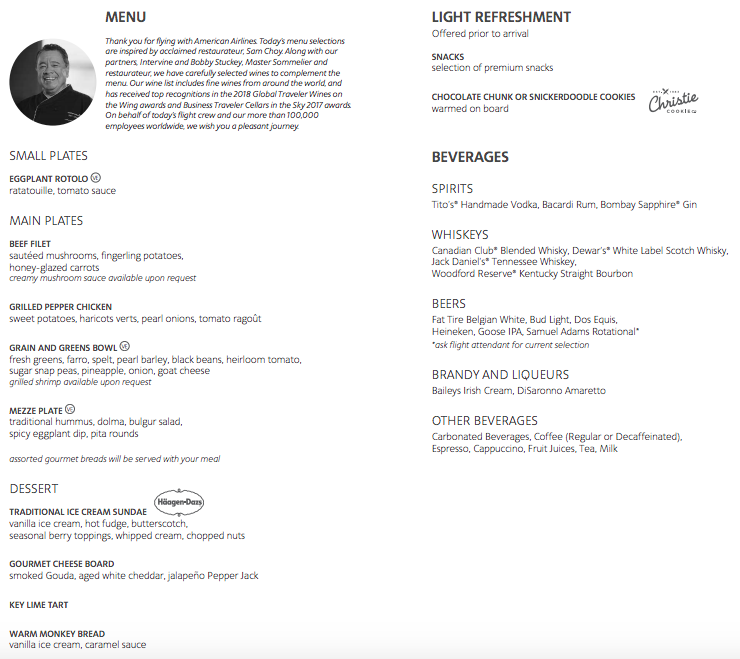 It goes without saying that the food probably won't taste as good as it sounds, given the limited budgets they're working with.
However, I'm still a huge fan of these lighter options. American has always been rather aspirational with the things they've tried to serve, whether it's a lobster roll, wagyu meatloaf, or chicken and waffles.
If they're going to experiment in this way, personally I'm thrilled to see them instead work on lighter "fancy" options, like avocado toast, egg white frittatas, grain and greens bowls, mezze plates, etc.
What do you make of American's new "lighter" transcon dining offerings?