I remember when I first started flying American many moons ago, their catering was really good, significantly better than what Delta and United were serving. However, over the years that has changed. American's catering has gotten worse, and it has gotten to the point where it's generally worth skipping whenever possible, at least in domestic first class.
The good news is that earlier this year American made the single biggest improvement to their domestic catering that they've made in quite a while. Specifically, they now let you order special meals on any flight where a meal is served, including domestic first class flights. This is great news because Asian vegetarian meals are consistently quite good, even if just in domestic first class. Of equal importance is that they're typically healthier.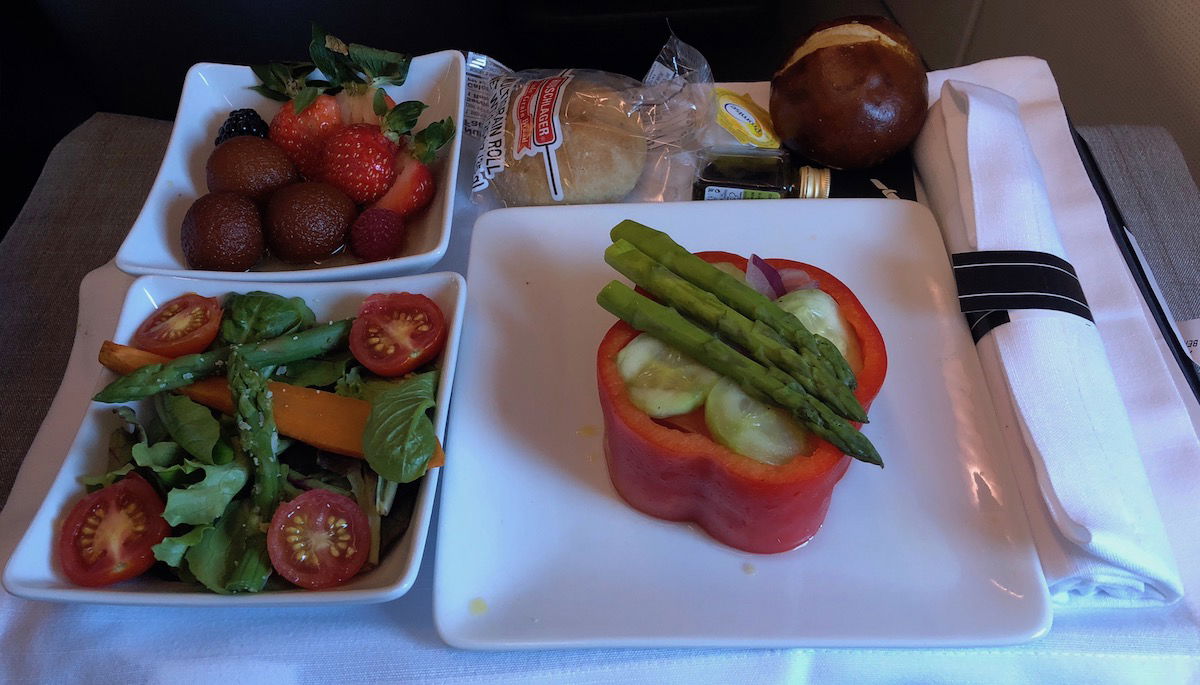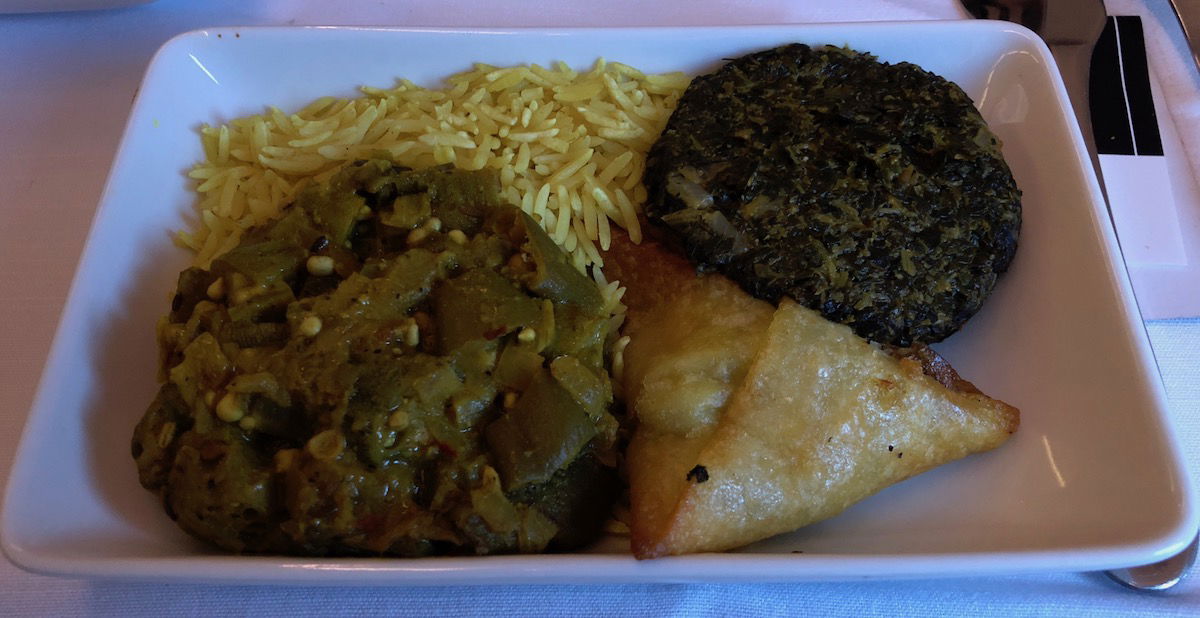 Almost every time I've ordered one of these, a flight attendant or seatmate commented "that looks really good."
But this brings me to another point about American's catering that I can't wrap my head around. This applies primarily to their domestic first class catering. For example, I have an upcoming roundtrip transcon in first class, and I just looked at the options to pre-order meals.
For the outbound lunch flight, here are the options:
Poblano Peppers Poblano Peppers
Stuffed with manchego, queso fresco, Monterey Jack and Cotija cheese with piquillo pepper sauce and cilantro rice

New School Niçoise Salad New School Niçoise Salad
With fingerling potatoes, asparagus, cherry tomatoes, hard boiled eggs and a side of chilled, grilled chicken
Meanwhile for the return breakfast flight, here are the two options:
Fresh Seasonal Fruit Plate Fresh Seasonal Fruit Plate
Fresh Seasonal Fruit Plate

Split Buttermilk Biscuit Split Buttermilk Biscuit
Topped with scrambled eggs and chicken chorizo cream gravy
The salad and fruit plate sound healthy enough, though the part I can't wrap my head around is how consistently unhealthy American's hot meal options are on domestic flights.
Seriously, a stuffed pepper with queso fresco and several types of cheese? Keep in mind that in addition to this they'll serve warm mixed nuts, a selection of bread, and ice cream for dessert. And on the return, a buttermilk biscuit with creamy gravy? Really?
Is American Airlines trying to give their passengers heart attacks? Now, you might say "well, if you don't like it just order the fruit plate." True, though those fruit plates are tiny, and we're talking about a flight that is blocked at over six hours, meaning that realistically this is all you'll be eating over an eight hour period. They should have a healthier, warm, filling option.
Look, I'm not saying American should be serving super healthy food, but at least serve a meal that has fewer than 2,000 calories (which I'd be willing to bet the above meals have, when all is said and done).
Fortunately I'll avoid all of this by just ordering the Asian vegetarian meal.
However, as a general topic I'm curious how you guys feel about this. Do you like airlines serving "comfort food?" In this case warm nuts, then a stuffed pepper with cheese, more cheese, sauce, bread, and then ice cream? Do you want creamy gravy on a buttermilk biscuit for breakfast, and then a warm cookie before landing?
I'm guessing this largely comes down to their really low catering budget. Serving junk food is typically cheaper than serving higher quality food with protein.
If anyone is as disgusted by American's domestic food as I am, don't forget to order those Asian vegetarian meals, which are consistently quite good, filling and healthy (at least by comparison).