American is in a bit of a rut right now, and their employees, shareholders, and customers, all don't really seem to like the airline. The airline is mismanaged under the leadership of Doug Parker. While he did a good job integrating American and US Airways, and has had an incredible career, it's time for the airline to find someone new to lead the way.
That's for a different post, though. Today I wanted to write about results from an internal survey that American has just released. American Airlines sent out a survey to their employees to get a sense of how they feel on a variety of topics, and The Forward Cabin has the details of that.
In this survey they had a bunch of statements, and asked employees to share whether they were favorable, neutral, or unfavorable towards them.
While they haven't yet revealed the full results, they have shared the statements on which they got the most extreme responses from the nearly 42,000 employees who participated in the survey.
The three worst scores are pretty awful. Let's look at what American employees had to say.
"Leaders at American Airlines make the right decisions that take care of our frontline team members:"
Favorable: 26.4%
Neutral: 22.3%
Unfavorable: 51.3%
"Leaders at American make the right decisions that support me:"
Favorable: 27.8%
Neutral: 22.8%
Unfavorable: 49.4%
"Leaders at American listen and seek to understand the frontline team member experience:"
Favorable: 28%
Neutral: 22.1%
Unfavorable: 49.9%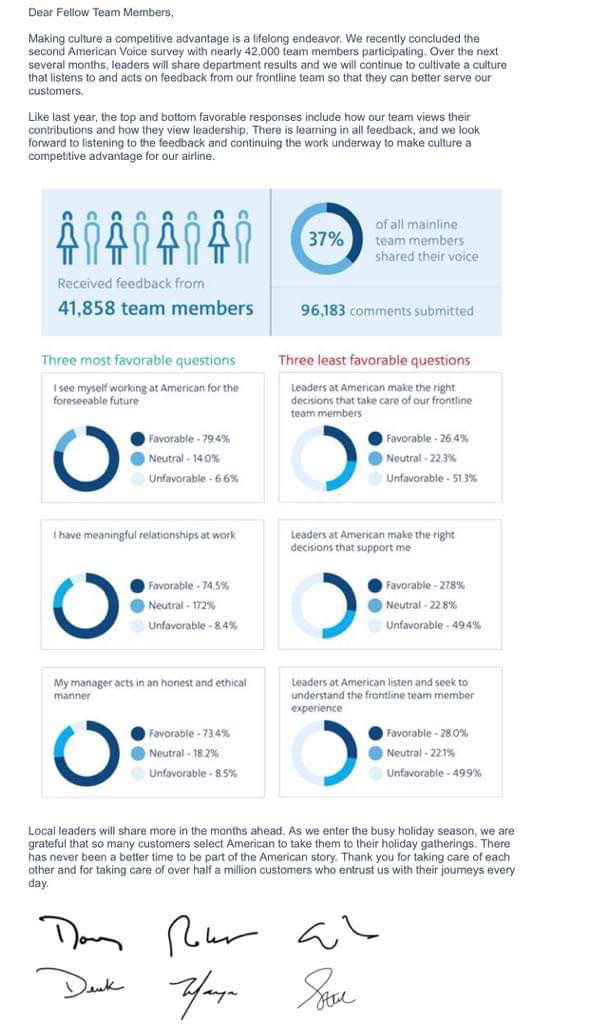 Are the results here surprising? No. Rather what I find quite surprising is that American not only does these surveys, but then publishes the results for all employees to see.
I'm of two minds when it comes to this.
On one hand, I respect a company that is willing to be this transparent in sharing just how unhappy employees are. They could just as easily not have these surveys, or at a minimum, not publish the exact results. So I respect them for publishing them.
On the other hand, it seems incredibly stupid to me to reinforce the unhappiness of employees in such a way without actually changing anything. American management should know that employees are unhappy. Go to an airport or take an American flight, and you'll sure as heck notice it.
I guess I draw a parallel between this and how out of touch I find many loyalty program executives to be. Whenever I attend a conference with loyalty program executives, they're often so focused on loyalty 2.0 and about how the next wave of loyalty programs comes in the form of better understanding customers. They want to have all kinds of data on guests and figure out their preferences.
The problem is that these companies seem to love collecting data but don't actually do anything with it. Personally I hate when companies ask me for preferences and then don't deliver on them. That leaves a sour taste in my mouth, and they're much better off just not asking for preferences in the first place. But when you ask me what I like and then do nothing with it, that's annoying.
Similarly, what is American management hoping to accomplish here? They did a similar survey last year, and responses were terrible. This year the responses are even worse. And the worst responses all relate to management being out of touch.
So, ummm, if you're going to publish these results, shouldn't you act on them? And shouldn't that involve Doug Parker showing himself out the door?
What do you think — should American be commended or ashamed for having these surveys and publishing the results?