Well, in all my years of flying American Airlines this is a first for me. My apologies to HUT/G.
I made my tight international to domestic connection
Earlier I wrote about the tight connection I booked on separate tickets, as I was flying Delta's A330-900neo from Tokyo to Seattle, and then connecting on American Airlines 42 minutes later from Seattle to Dallas.
I lucked out, because:
We had especially strong tailwinds from Tokyo to Seattle, so we arrived early (for what it's worth, the flight has been late five of the past six days, so this really was lucky)
My American Airlines flight from Seattle to Dallas was delayed
I'm then connecting from Dallas to Miami and have a short connection, but worry not, that flight is delayed as well… it's nice when you have a connection and they're at least both delayed
Despite SeaTac being insanely busy, it took 18 minutes from the moment the door opened on the Tokyo flight till I was at my American Airlines departure gate, which is impressive when you consider I went through immigration, took a train, went through security, and then walked to the far end of the terminal.
So I ended up having way more than enough time in Seattle. I guess I should have booked a connection with negative time. 😉
How I kicked someone out of their first class seat
I was confirmed in first class on the Seattle to Dallas flight, and I had a mobile boarding pass.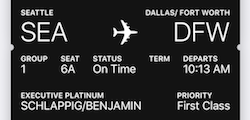 Everything appeared completely normal. As I went to board the plane, the boarding pass reader beeped and showed a red light, rather than the typical green light you get when you're cleared to board.
"Hmmm, it looks like you had a seat change. Can you step over here and see my colleague?"
So I stepped over, and showed her my boarding pass.
"You're in… 6A?"
"Yes."
"Uh oh. For whatever reason our system shows you as having not checked in."
"That's really strange. I checked in as usual, and as you can see I have a mobile boarding pass."
"I'm really sorry, I have no clue how that happened. Just be patient with me, I'll fix this."
The first class cabin was full at this point (with two people having received gate upgrades), and all 16 passengers had even boarded.
She typed a bit, and did some rearranging. This included moving the person in seat 6B back to 10A (in Main Cabin Extra), and then moving the person in 10A to a worse seat (the flight was 100% full).
"Well thanks for your help, I appreciate it. And I'm sorry, this must be awkward for you."
I waited at the podium, and she disappeared onto the plane for about 10 minutes. I'm sure people have the potential to get very annoyed and embarrassed in situations like that, so I wouldn't want to be the gate agent who has to go onboard and reassign two people to worse seats.
She returned just a few minutes before boarding wrapped up, thanked me for my patience, and told me I could proceed to seat 6B (not my initial 6A, but I wasn't about to complain!).
It's worth noting that number one on the upgrade list was downgraded, and not number three. I'm sure there was a reason for it, but that surprised me at first glance.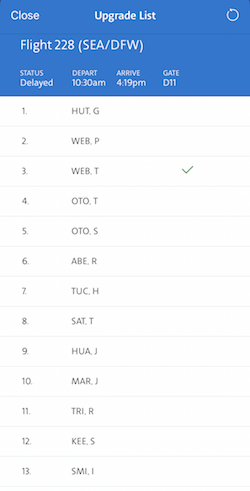 Bottom line
I'm not sure what exactly happened here, but suffice to say that it was a first for me.
Both of the gate agents were lovely — I appreciated that the gate agent immediately put on her problem solving hat (I could see many other gate agents simply saying "well that's not my problem"), and the other gate agent boarding people greeted each passenger with a big smile.
I'm still not sure what exactly happened here. I assume it was some sort of tech glitch, but who knows.
I also feel bad for the guy who got downgraded, but that also seemed like the fair thing to do in this situation.
Has anyone ever faced an onboard downgrade before?