Ultimately this will likely surprise exactly no one, but that won't stop me from sharing…
American Airlines Doesn't Want Employees To Help Customers
Over the past couple of days my dad, Ford, and I, returned from Cape Town to the US. We took a 10 hour flight from Cape Town to Doha, had an eight hour layover, then had a 16 hour flight to Dallas, and then Ford and I were connecting back to Miami, while my dad was connecting back to Tampa.
My dad doesn't have Global Entry, so we intentionally planned a long layover in Dallas for him, since immigration times can vary wildly, and he also gets nervous with short connections.
Fortunately everything was quick this time around. So I tried to make a same day confirmed change for him (which costs $75, and seemed well worth it to have him get home shortly after 9PM rather than after 12AM). Unfortunately the website wasn't allowing it, because with this change he'd be downgrading from first class to economy.
There was exactly one confirmable seat left for a same day confirmed change, and as luck would have it there was an American Airlines counter nearby. The counter was marked as "self-service," but that was the only counter around, and there were two American gate agents sitting behind the counter.
"Hi, could you help my dad with a confirmed same day change?"
"You have to use the kiosk."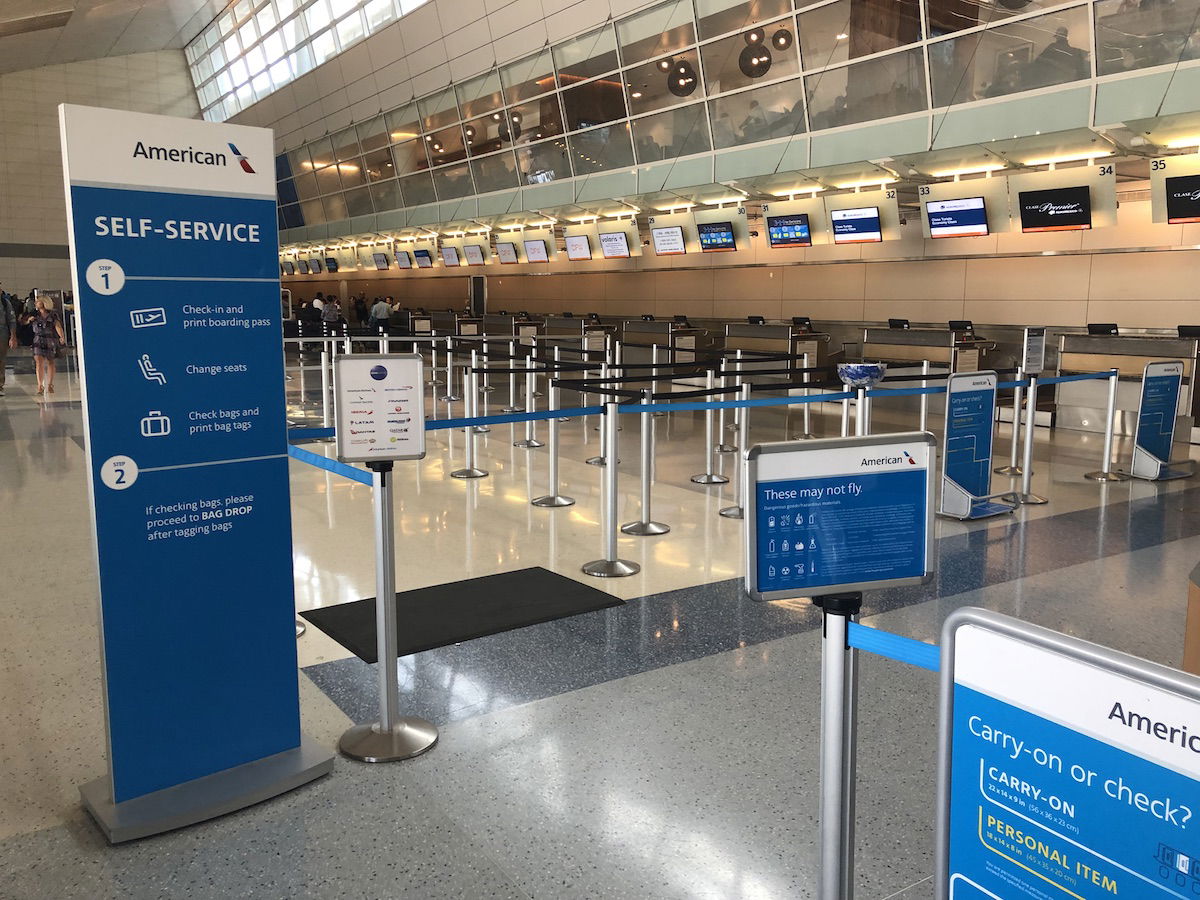 So I used the kiosk, and the kiosk said to see agent.
"I tried to use a kiosk but it said to see an agent, so could you please help?"
"You'll have to go to the full service ticket counter."
"Okay, where is that?"
"It's about a five minute walk in the other direction."
Let me note at this point that if you're going to have separate counters like this, maybe don't put them a five minute walk apart?
"Is there any chance you could help, since I tried to use the kiosk and you're the closest agent? We've had a long travel day, and I'll I'm trying to do is get my dad home at 9PM rather than after midnight after traveling for almost 48 hours. There's only one seat left that can be confirmed, and I'm scared it will disappear."
"You'll have to go to the full service desk, we can't accept payment here."
"Can't you try at least? It's not like there are any other customers waiting."
"American Airlines doesn't want us to help. That's what the full service counter is for."
Usually I'd just walk off at this point, but I decided to (politely) push on further. Let me be clear that these employees weren't rude at all, which is more than I can say about a lot of American employees. They were just indifferent and work for a company that doesn't have a culture of customer service.
"I know this isn't your fault and is part of an overall problem with the airline. But surely you also understand my frustration. I'm an Executive Platinum, my dad is a million miler, we're both in first class, and we're just hoping for help with a simple change. And you're telling me that the company doesn't want you to help us. How would you feel if you were a loyal customer to a company and that's how you were treated?"
I wasn't expecting anything, but rather figured I'd just feel better getting that off my chest. Much to my surprise at this point she agreed to try to help. Not only that, but you'll be shocked to hear that these employees actually can accept payment, unlike what I was told.
So while it took a while, she did eventually help with the change… and this perfectly sums up what is so darn annoying about flying American.
During the 10 minutes it took to try and process the change, a couple of other customers walked up to the other employee sitting there, and the answer was simply "you'll have to go to the full service desk." One of those customers responded with "but why can't you help?" Exactly…
I want to be 100% clear — both of the employees sitting at the desk were actually quite friendly. They just didn't give a you-know-what, and that's because they work for a company that doesn't give a you-know-what about their customers.
American Has A Culture Of "No"
If American can fix their reliability problems, then their single biggest issue is their toxic culture. American Airlines simply doesn't have a culture of taking care of their customers. Why? On the most basic level it's because employees aren't at all aligned with the mission of the company, because the company doesn't have one.
This is why it's so darn refreshing to fly with Delta. While every company has bad apples, by and large Delta employees go out of their way to take care of customers. They have a culture of "yes," and if there is a problem they try to find a solution. They appreciate their customers at every step of the journey.
I have Executive Platinum status with American and no status with Delta. I'd say on the average Delta journey I'm thanked for my business five times, while on the average American journey I'm told "no" five times.
At American I consistently feel like employees are inconvenienced by my presence, especially their employees working on the ground.