American Airlines has just launched a new daily, year-round flight between New York JFK and Georgetown, Guyana. This route launched on December 18, 2019, and represents American Airlines' second route to Guyana, as the airline started flying from Miami to Georgetown in 2018.
Basics Of American's New York To Guyana Route
The ~2,568 mile JFK to GEO route is operated using a Boeing 737-800, with the following schedule:
AA2896 New York to Georgetown departing 6:00PM arriving 12:38AM (+1 day)
AA2897 Georgetown to New York departing 1:44AM arriving 6:55AM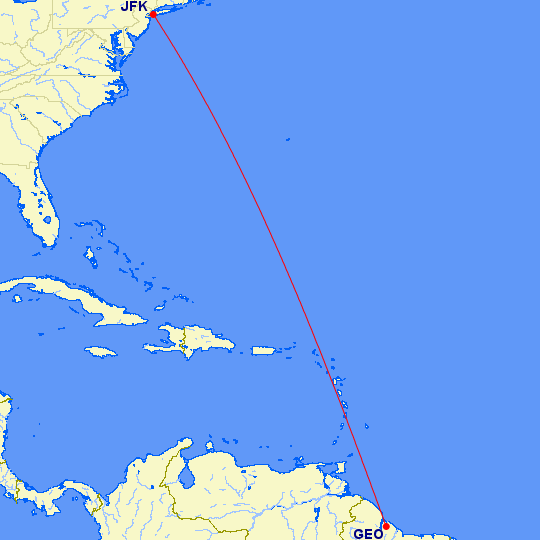 It's blocked at 5hr38min southbound and 6hr11min northbound.
Unfortunately American Airlines' launch to Guyana can only be described as a bit of a hot mess, and it reminds me of the issues that Turkish Airlines has been having in Nigeria.
Huge Diversions & Delays With Georgetown Flights
As noted by @AirlineFlyer, since the route has launched on December 18, it has had quite a few problems.
Looking at Flightradar24 data of the New York to Georgetown flights:
On December 18 the flight diverted to San Juan, and ended up landing in Georgetown at 3:47AM (over three hours late)
On December 19 the flight was delayed by about two hours
On December 21 the flight was delayed by about three hours
On December 22 the flight diverted to San Juan, and ended up landing in Georgetown over an hour late
On December 23 the flight diverted to San Juan, and ended up landing in Georgetown over an hour late
So yeah, in just over a week of operation, the flight diverted to San Juan three times, and was significantly delayed on a couple of other flights as well.
Unfortunately in the other direction performance wasn't much better:
On December 19 the flight diverted to Miami, and then the onwards flight from Miami to New York was canceled
On December 21 the flight was delayed by about an hour
On December 22 the flight was delayed by about eight hours
On December 23 the flight was delayed by over an hour
On December 25 the flight diverted to San Juan, and landed in New York about two hours late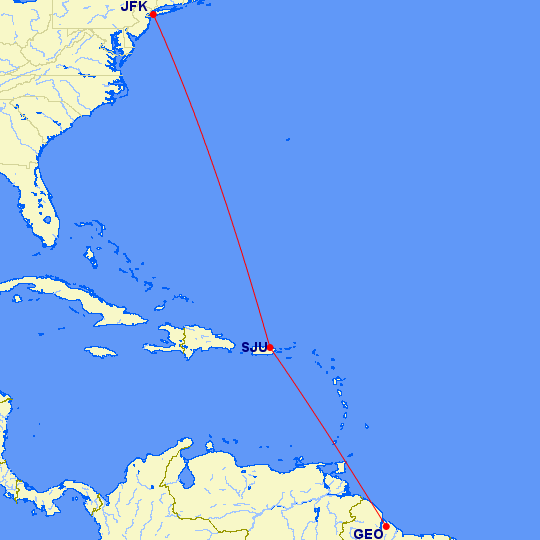 What's Causing These Problems?
On the surface American Airlines shouldn't be having any issues operating these flights. A 737-800 can easily fly 2,586 miles nonstop, even with sufficient fuel reserves.
737-800s operate flights of this length every single day, including many transcon flights that are even marginally longer.
So why is this route specifically causing issues? I'm working on chasing down an exact answer, though it seems highly likely that this comes down to some sort of a weight restriction on the flight.
It doesn't appear to have anything to do with crews timing out, since it's my understanding that crews working these flights are operating just one sector days, so they should be nowhere close to timing out, even with a delay or diversion (at least to Georgetown — redeyes often come with different rules, though).
So what could be causing these weight restrictions? It's my understanding that there are a few issues:
This flight is mostly overwater, and given the geography of Guyana and diversion points, they need to operate with more fuel reserves than your standard domestic flight
The flight was full before Christmas, and even though there are checked bag fees, significantly more people have been checking bags than your typical domestic flight
American has densely configured 737-800s, so these 172 seat 737-800s are "heavy" to begin with
Presumably the long takeoff queues out of JFK have also led to increased fuel burn/range issues
I imagine fewer people are checking bags from Guyana to the US, and on top of that flights probably haven't been quite as full, as many people are presumably traveling to Guyana for the holidays to see family; there has only been one diversion departing Guyana
Interestingly Caribbean Airlines also flies nonstop from New York to Georgetown with a 737-800, and they don't have issues. However, their 737-800s have only 150 seats, so I imagine the difference of 22 seats greatly impacts the operating performance.
What's interesting is that even though American hasn't consistently scheduled their "Oasis" 737s on this route, all three of the diversions have been on Oasis 737s. That's in spite of the fact that fewer than half of American 737s are in this configuration. So I imagine that's not a coincidence.
American Airlines' Solution
It's my understanding that American Airlines has now capacity restricted this flight, meaning that they're not selling all the seats on this flight. Not only are they restricting the capacity on Oasis planes, but they're actually restricting capacity beyond that. That should solve the issue and prevent diversions going forward.
While it's hardly an excuse, it's worth noting that none of this would have likely been an issue if the 737 MAX 8 were flying, as the plane has more range. Then again, none of this would be an issue if American didn't have their densified 737s, which are causing the problem.
Bottom Line
American has had several diversions of their new New York to Georgetown flight, presumably due to weight restrictions. It's bizarre to me that American has been operating their "Oasis" 737s on most of their flights to Georgetown, given that those are the densest planes, and every diversion has been on one of these planes.
Did they not properly anticipate the number of checked bags and/or cargo on the flight, or how exactly could this happen? If they did proper planning you'd think they would at least have scheduled the less dense version of the 737.
It seems American has solved this issue by capacity restricting the flight, though that's also not exactly great for the economics of a low yield leisure route…