American has historically been by far the strongest US carrier in Latin America. Over the past couple of years we've seen them cut a fair number of routes, though they've also tried to add some.
One of the routes they added was a new flight between Miami and Cordoba, Argentina:
The route was announced in March 2018, and was supposed to launch in April 2019
The launch of the flight ended up being delayed until June 2019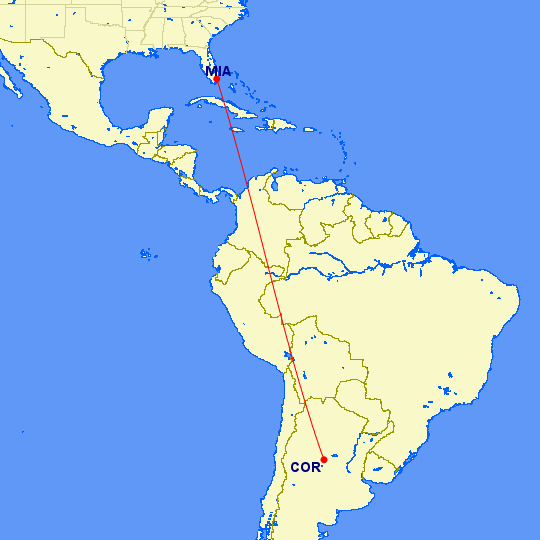 That wasn't a good sign, so I guess the latest development shouldn't come as a surprise — the route is being cut altogether. As of May 6, 2020, American will cut their Miami to Cordoba route, meaning that it will have survived for less than a year.
The reality is that it takes time to build up demand in new international markets, though my guess is that they were hemorrhaging money, and there was no reality in which they saw the route being profitable.
American is quoted as saying the following regarding this route cut:
"As part of the continuous evaluation of our network we have decided to cancel our service to Córdoba, Argentina (COR) from May 6, 2020. American has proudly served Argentina for almost 30 years and with this change American will continue to offer 31 flights Weekly between Buenos Aires and our hubs in Miami, New York-JFK, Los Angeles and Dallas / Fort Worth."
When the route was launched, American's VP for Latin America had said the following:
"We have had a 28-year marriage with Argentina and 11 years of struggle to achieve this flight from Cordoba. That demonstrates our commitment to the country, in the good and bad. There are times when you earn a lot and others, like this one, when you have to surf the wave."
Argentina's economy is quite bad at the moment, and on top of that the route seemed optimistic to begin with, even under much better circumstances.
While American is cutting ties with LATAM (the airline will stop codesharing with American in January 2020, and the airline will leave oneworld in October 2020), I don't think that contributed significantly to this cut. The airlines didn't codeshare on the route, and the route was all about traffic to & from Cordoba, so I don't think it was reliant on connecting traffic within Latin America.
What do you make of American cutting their Cordoba route?