Perhaps the single most comfortable aircraft equipped for domestic US operations is American's A321T, which is the aircraft used for their premium transcontinental flights out of New York JFK. I'd argue it's perhaps the sexiest narrowbody commercial aircraft anywhere.
The A321 features three cabins of service. The first class cabin consists of 10 seats, spread across five rows in a 1-1 configuration. These are the same reverse herringbone seats American has in business class on the 777-300ER.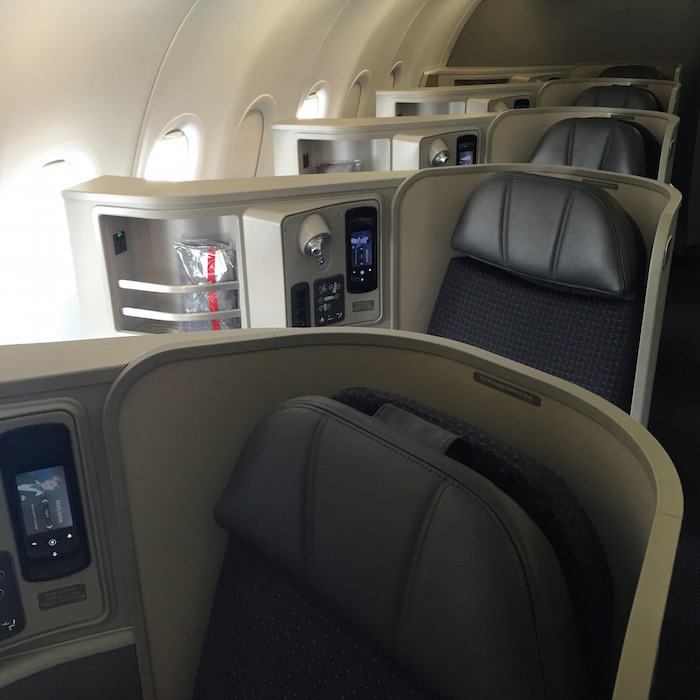 Business class consists of fully flat seats in a 2-2 configuration, similar to the business class seats offered on many other airlines.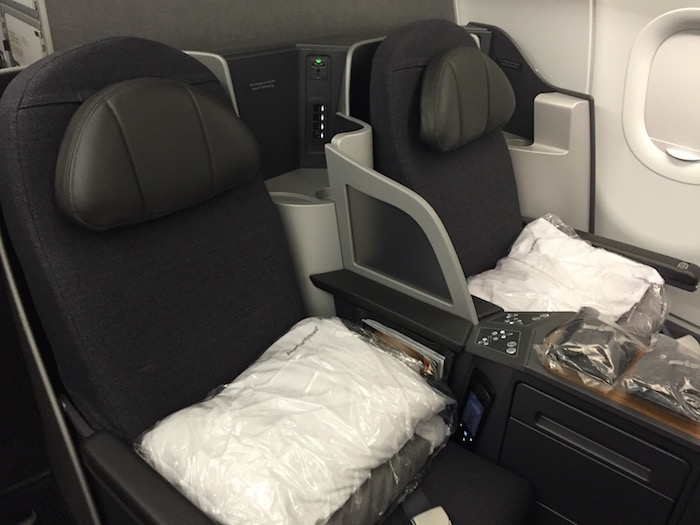 American ordinarily only flies these planes between New York and Los Angeles/San Francisco, as it's a very special subfleet which is the best fit for that market.
However, for a limited time it looks like American is flying their A321T aircraft between New York JFK and Boston. Through January 4, 2016, a majority of American flights between the two airports are operated by the A321T.
The flights are being sold as two cabin, meaning you can only book either first class or economy. If you book first class (or are upgraded to first class), you receive a reverse herringbone first class seat.
Meanwhile the business class seats are being sold as economy, so if you're an elite member you should be able to snag one of those seats for free.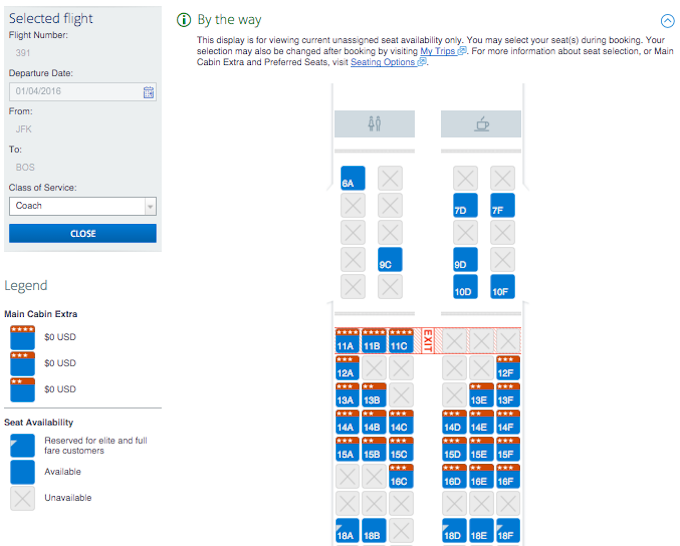 The bad news is that this is just a 187 mile flight, and the flying time can be as short as 30 minutes. So while this is a cool route, you won't really be able to fully enjoy one of the first or business class seats, as you'll probably have at most 10 minutes to recline your seat.
I do find this aircraft assignment in general to be rather curious. My assumption would be that American is operating the A321T between New York and Boston during the holidays since they have a spare due to reduced service in the plane's normal markets. That seems a bit backwards, as you'd assume that around the holiday would be the busiest time in the JFK to LAX/SFO market.
Also keep in mind that the A321T has only a total of 102 seats, so it's not like the plane is adding capacity to the Boston route. It's American's lowest capacity mainline aircraft, so has significantly fewer seats than the 737s which ordinarily operate the flight.
Bottom line
While the perks of an A321T are limited on a 187 mile flight, this is still a pretty cool route, as it's the first time I recall American operating this aircraft on another route over a significant period of time. Given the air traffic control delays which are common in New York, perhaps there's some value in the better seat with the amount of time you'll spend on the ground alone.
Will you be flying American's A321T between New York and Boston over the coming weeks? Anyone have a theory as to why they're operating it on the route?
(Tip of the hat to Jeffrey)