Over the past year and change, Ben has instilled in me a new level of appreciation for value and how to maximize it. Ben knows a good value, and it's the reason he is able to travel so often and so well.
He has to some degree deterred my love of the Caribbean and a few particular resorts on the Mediterranean, citing high prices, mediocre service, and, most importantly, bad value. However, Ben isn't cheap, and he is willing to shell out for peak experiences, especially ones that he deems worth it.
When we first met, we of course talked about where I had traveled, and he asked if I had ever been to an Aman. "An Aman?" I asked. I had heard of Aman but didn't know much more than the name… In my defense, Amans are truly bespoke luxury and off the beaten path.
Ben lauded the amazing value of Amans despite their high rates. Like the WhatsApp CEO who rushed the closing of the app's sale to Facebook because there wasn't award availability at a later date, Ben puts good value above all else. That said, he thinks Amans are worthwhile, particularly for a special occasion (for example, he took his mom to the ones in Bali for her birthday a few years ago).
For my 25th birthday, Ben took me to my first Aman, Amansara in Siem Reap, Cambodia, home to famous Angkor Wat. I now am writing this post from Amantaka in Luang Prabang, Laos.
The properties have been elegant and exemplified pared-down luxury. Their standard rooms are generously sized suites and the grounds are pristine. Anyone who has visited Southeast Asia before knows many of the cities can often be hectic and chaotic. Despite this strong energy, both Amansara and Amantaka have been peaceful and calming. In fact, Aman means "peace" in Sanskrit.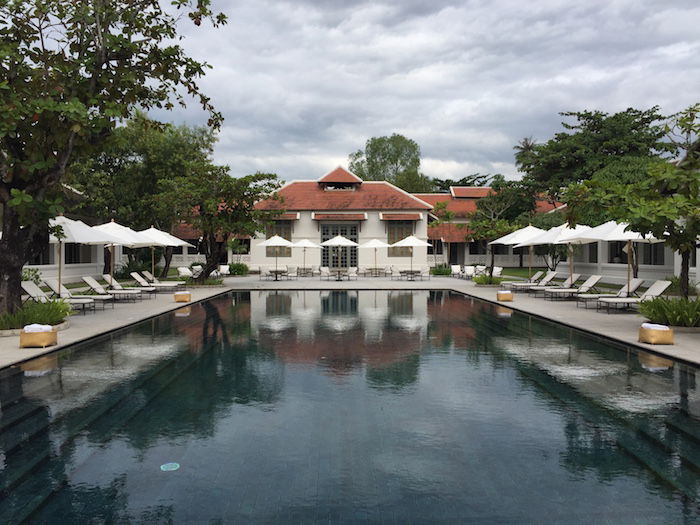 While the properties I have visited are themselves impressive, the X factor has been the service and attention to detail — nearly everything is thought of and done before you can even ask for it.
The experience of Amansara in Cambodia started from the moment we were picked up at the Park Hyatt — in a gorgeous 1962 Mercedes-Benz! Cold waters, towels, and a tray of snacks awaited us inside, which I quickly understood to be the norm for Amans. The staff were polite and professional but most importantly warm and caring, both at arrival and throughout the stay.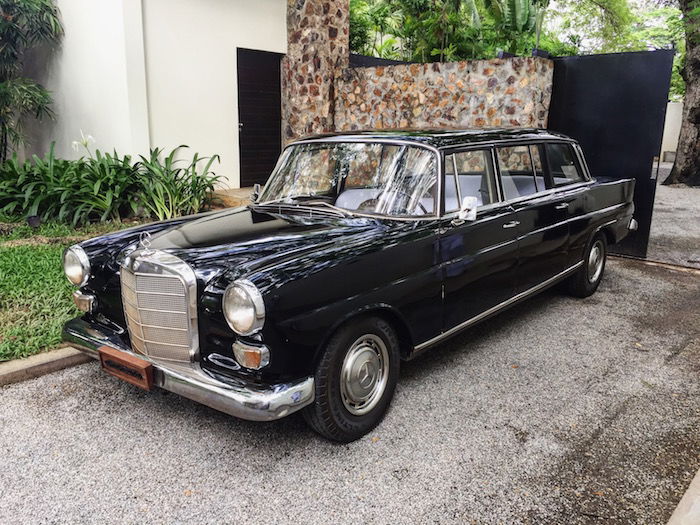 Ben has written about the service blunders at many luxury chains in the states. The service at both Amansara and Amantaka could not be further from that. Rather than repeatedly address us by our last names in attempt to flatter, they instead focus their efforts on the details.
Nearly everyone we have interacted with has been aware of our daily schedule of tours and excursions, and we never once have had to state our room number, explain who we are, or even sign a single bill at lunch, dinner, or the spa. Earlier we made an appointment at the spa and asked if she needed our villa number to confirm the reservation. With a smile she said "of course not, I know."
I'm not sure if Aman staff have a morning meeting where our photographs and corresponding room number are studied and tested, but it certainly seems like it!
How else have Amans impressed me? Well… When we returned from a day out, a basket was waiting at our door with a note offering to clean our shoes (complimentarily, of course). When we arrive at lunch or dinner, there is no need to state our preference for sparkling or flat water, because they already know and remember from our first meal. At lunch and dinner, Amans feature live music from local musicians — picture a Cambodian woman singing serene vocals a cappella in her native tongue or a Lao flutist humming away.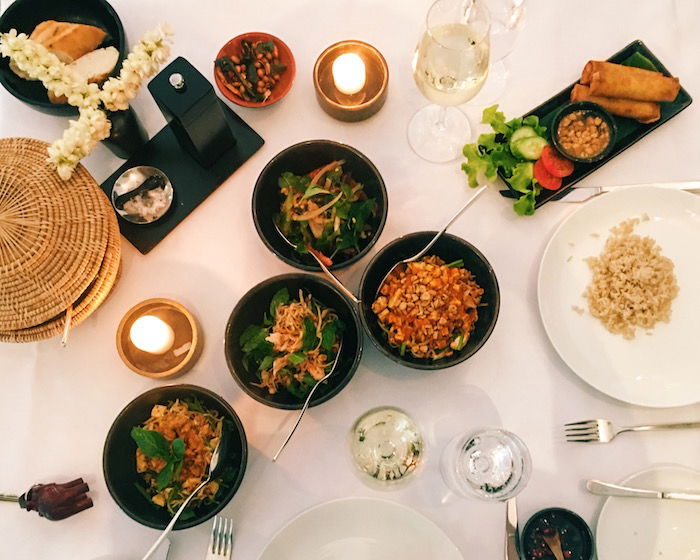 Every time we step out of the room, we return to a freshly made bed, more bottled water, and little touches like a bathtub filled with water and fresh flower petals. What's more is that we have yet to have an awkward run-in with the housekeeper upon return. In fact, I haven't seen someone enter or exit our room. We joke that they are watching with binoculars waiting for us to leave. Even when we just leave the room for 20 minutes we return to find that it has been refreshed.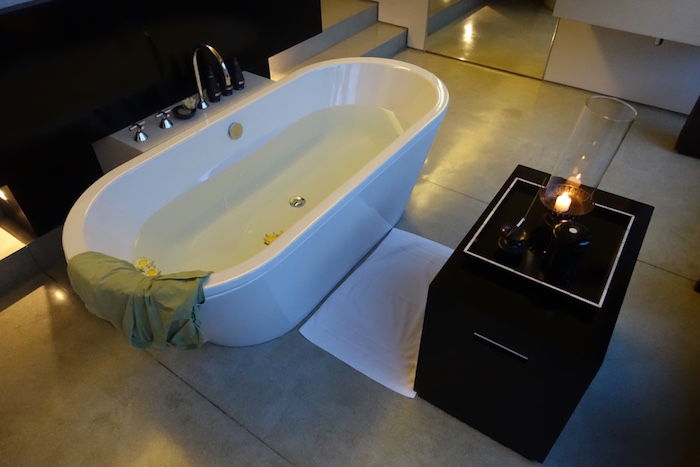 We were told when we arrived at Amansara that this was our home and that it should be treated accordingly. If this is home, Mom, I'm coming back! Amans feel like private residences more than resorts. In fact, Amansara was once the guesthouse of the former Cambodian King. Even though both Amansara and Amantaka were half full during our stays, we went hours and entire meals without seeing another guest. We certainly didn't have to fight for a good table or vie for a time slot at the spa. Both properties are under 25 rooms, so even when full, they still maintain a sense of exclusivity and privacy.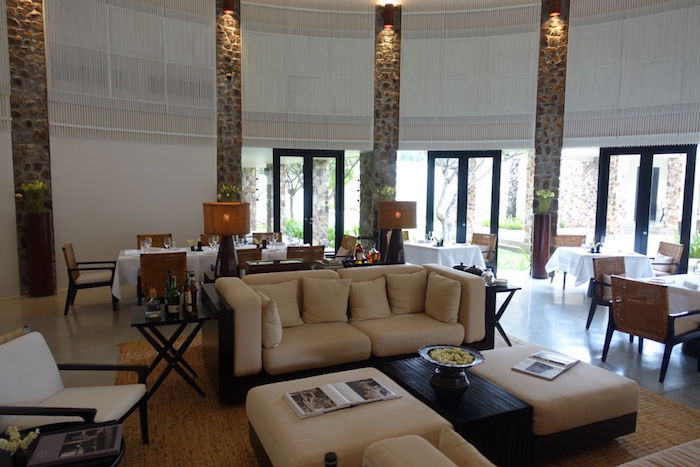 On our last morning at Amansara, Veasna, the employee who oversaw our stay, told me she had invited a local Buddhist Monk to bless me in a ceremony for "the special occasion." "What occasion?" I asked. I thought I knew what she was referring to, but I didn't want to be presumptuous. "Your birthday tomorrow, of course!" she told me. I was touched she had planned something proactively for my birthday, even though we would be checking out of Amansara the day before.
As we left, they affixed personalized luggage tags to our bags, which were another nice touch, although we won't need them to remember how special a stay it was. Loyal followers are called "Aman Junkies," and I can see staying at these resorts is likened to an addiction.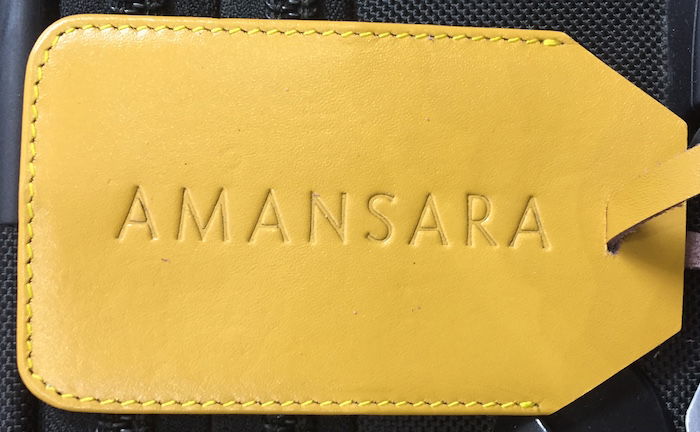 More to come soon… It's the end of Buddhist Lent in Laos and we are headed out to cruise down the Mekong in Amantaka's boat to watch the celebratory fireboat procession.