I know what you've been thinking — "why can't I order room service using emojis?!?!"
Well, Aloft has been listening, as they've just introduced Aloft TiGi (Text it. Get it.). It launches today at the Aloft Manhattan Downtown – Financial District, though will be expanding to other properties in Asia and Europe.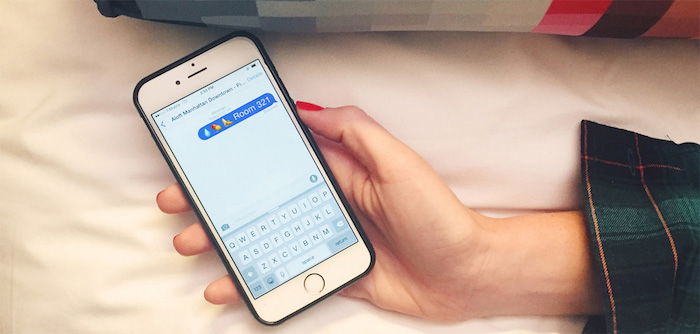 Here's how it's described:
Ordering room service has never been so colorful or, well, so graphic. Aloft Hotels, designed for the hyper-connected global traveler, today announced Aloft TiGi (Text it. Get it.) Emoji Room Service, the world's first emoji-only room service menu. Starting today, guests at the newly opened Aloft Manhattan Downtown – Financial District in New York City can simply text an emoji of what they want to the hotel's front desk and within minutes, the delivery is made.

The Aloft TiGi Emoji Room Service Menu will launch with six specialty kits, each with essentials that can easily be conveyed via emoji. To order, guests simply text the corresponding emojis from the in-room Aloft TiGi Emoji Room Service Menu to the hotel's dedicated TiGi number and include their room number. The hotel then confirms the order via text and quickly runs it up. Kits start at $10 and are included in guests' final check out bills.

"At Aloft, we're always looking for ways to shake up the hotel stay," says Brian McGuinness, Global Brand Leader, Starwood's Specialty Select Brands. "We look to consumer behavior and think about how to integrate these trends into the Aloft experience. The rise of emoji was a logical next step, the perfect new wave of guest communications."
Here are the six things initially available through emoji room service: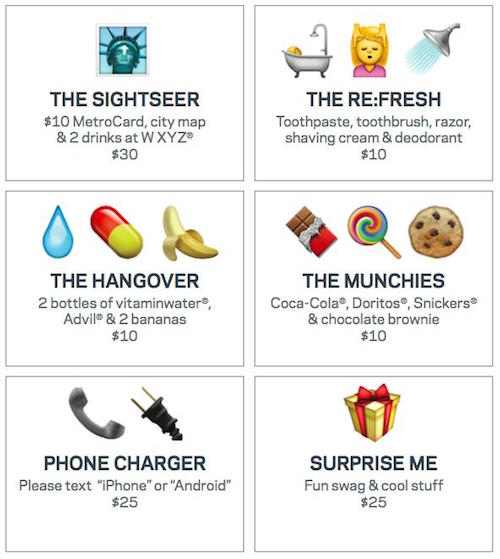 Ugh, so much missed potential! W Hotels have intimacy kits in their minibars. Think of all the fun they could have had with those emojis!
Bottom line
I love the Aloft concept, and they certainly come up with some unique ideas, like the robot butler:
Admittedly in this case there's not much substance to it, and for good reason. Unless you're a true emoji-ninja, you can't really order something complicated using emojis. And for that matter, emojis mean different things to different people.
Still, I commend Aloft for this cute concept, even if it likely doesn't expand too far beyond these few basic things. If I'm being honest, I'd be tempted to order "emoji room service," just for the novelty. And even if they don't use it, I suspect many people (millennials in particular) would get a kick out of seeing this option in their rooms.
Who else is amused by the concept of emoji room service?
(Tip of the hat to Chris)