I suspect US Airways isn't the first thing that springs to mind when you think of a luxurious business class product, though maybe it should be.
For a couple of years now US Airways has been rolling out their new Envoy Suite, which is very similar to Cathay Pacific's new business class (minus the service and food, I suspect). All the seats are fully flat and have direct aisle access, and the design makes them very similar to the first class suites offered by other airlines.
Anyway, while it's a great product, they've been rolling it out at a snail's pace, even though they're just installing it on their Airbus 330 aircraft. They started with their -200 series aircraft, and are now working on their -300 series aircraft. All of their -200 series aircraft now have the new business class, and all but two of the -300 series aircraft have the new business class. The last two planes are scheduled to be reconfigured in the next couple of weeks as well, at which point you should be guaranteed the new business class as long as you're booked on an Airbus 330 (and they are fairly consistent about which routes they operate them on).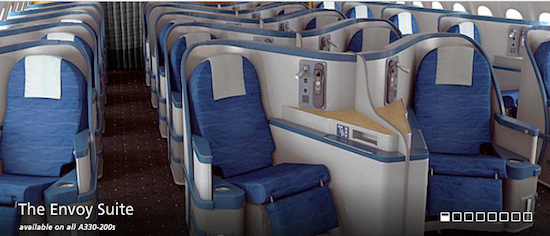 US Airways presently serves Barcelona, Frankfurt, London, Madrid, Manchester, Munich, Paris, Rome, San Juan, and Tel Aviv using the Airbus 330s.
I'd argue their business class is the best of any US airline, maybe along with what Delta offers on their 767-400 aircraft.
Over the next couple of days I'll be making a couple of posts about great deals you can take advantage of to try the new Envoy Suite, so stay tuned.
Either way, this is one instance in which you don't have to fear US Airways.
(Tip of the hat to Frequently Flying)