Perhaps this is the most obvious observation ever, but it finally "clicked" for me during my last transpacific flight from Seoul to Los Angeles.
I've taken a countless number of transoceanic flights over the years, and generally I break them into a few categories.
For example, eastbound transatlantic flights (from the US to Europe or beyond) are for sleeping, since they're almost always redeyes. So whether it's a flight from Los Angeles to London or New York to Dubai, and whether it departs at 3PM or 11PM, I have the same general approach.
Meanwhile I've always viewed westbound transpacific flights (from the US to Asia and beyond) somewhat similarly, perhaps incorrectly. Since you arrive the following day, I've always kind of thought of them as flights where it makes sense to sleep most of the way, since you arrive the next day and want to be well rested. That's true whether it's a flight from the US to Asia at noon or midnight. And it's probably also partly true because it means I'm leaving home as opposed to flying back home, so want to be especially well rested.
But I've never really had a strategy with flights from Asia to the US. They arrive the same day and often aren't that long, so in many cases I'll just stay up the whole way.
For whatever reason – and trust me, it makes me feel really dumb – I just had the epiphany that flights from Asia to the US should be viewed as redeyes as well, regardless of which time they leave.
For example, Korean Air has a flight from Seoul to Los Angeles that leaves at 3PM and lands at 9AM, and a flight that leaves at 7PM and lands at 1PM. These flights are no different than flights from Los Angeles to London that leave at 3PM and land at 9AM, or that leave at 7PM and land at 1PM – they're designed for sleeping.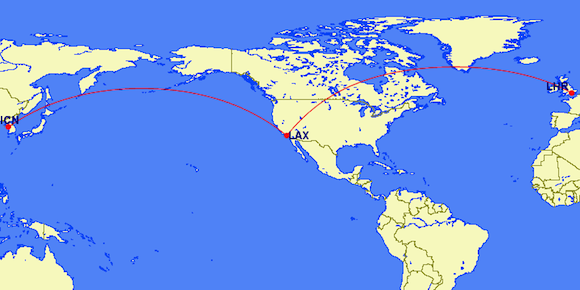 Am I the only one that never viewed eastbound transpacific flights in that way? Was everyone else viewing an eastbound transpacific flight exactly the same as an eastbound transatlantic flight?
Anyway, this realization has certainly positively altered my view of transpacific flying. Previously I'd often stay up for much of the flight since I viewed it as a "daytime" flight (using the US Airways call center logic of the flight arriving the same day), while from now on I'll make an effort to maximize sleep between Asia and the US — it's no different than hopping on a transatlantic flight out of the US.
Yeah, I'm pretty dumb, having taken dozens upon dozens of eastbound transpacific flights. All the radiation on the polar route must slowly be getting to me…