Over the past few years we've seen the "big three" US carriers do just about everything they can to generate ancillary revenue. I'd say American and United are generally worse than Delta in this regard, because Delta has actually innovated in some ways, while American and United have almost exclusively followed.
The spread of basic economy…
One of the areas in which we've seen airlines get greedy is with the introduction of basic economy. Basic economy was initially intended as a way for full service carriers to compete with airlines like Frontier and Spirit, but over time it became a way for airlines to simply raise fares.
For the most part basic economy pricing stayed the same as the previous "regular" economy pricing, but came with fewer inclusions. Want to get the same things that were included with your ticket previously? Pay an extra $25-30 in each direction.
But that's not how they marketed it. For example, United claimed that basic economy would "provide a lower-fare option," which mostly wasn't the case (instead the previous economy fares became basic economy fares, and then the regular economy fares cost $25-30 more). United President Scott Kirby called basic economy "transformational," which is absolute hogwash.
Alaska Airlines' entry into the basic economy market
I have a ton of respect for Alaska Airlines, and in particular about how they've largely resisted the changes made by other airlines. They continue to award miles based on distance flown rather than dollars spent.
However, late last year the airline introduced "Saver Fares," which are their version of basic economy. The good news is that these fares aren't quite as restrictive as basic economy on other airlines. Saver fares only allow limited seat selection, the tickets are non-refundable/changeable, and elite benefits don't apply on the tickets.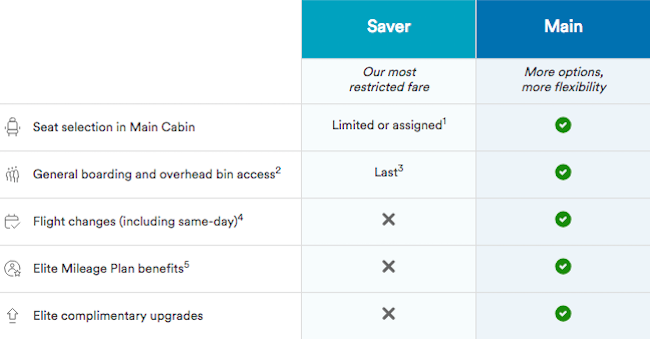 While the airline rolled these changes out a few months ago, Alaska's EVP & Chief Commercial Officer, Andrew Harrison, has just sent members an email regarding this fare.
The email has the subject line "The story behind Saver fares," and it's oddly refreshing to read in a day and age where airline executives are almost constantly lying to us.
Dear Benjamin,

I am writing today to talk with you about Saver fares, which is a new product Alaska Airlines recently launched. Many of you have written or called us asking for a better understanding of the rationale behind this decision, and I'd like to provide some context for why we launched a new fare class with fewer benefits than other Alaska Airlines products.

Saver fares are designed for a specific type of traveler – one who prioritizes price above all else, and not the elite Mileage Plan™ benefits you've come to know and love. Saver fares offer cost-conscious guests the absolute lowest fare possible. The trade-off is that these tickets are not refundable, not changeable, and not eligible for front-of-cabin seat selections or complimentary upgrades – even as an elite member.

We resisted launching Saver fares, but in recent years the offering of Basic Economy fares by other airlines have become popular among cost-conscious flyers and we started to lose business to the competition. In order for Alaska to be considered by shoppers, we had to reduce our Main Cabin fares to match the lowest published prices of our competitors' Basic Economy fares, while still offering full Main Cabin benefits.

As you can imagine, this became impossible to sustain. This industry shift to Basic Economy has cost Alaska hundreds of millions of dollars over the past few years. It was simply a financial imperative that we launch our own version to protect Alaska Airlines over the long term. We recognize, in some situations, you will pay more for Main Cabin fares that provide the full suite of the elite benefits you're accustomed to. Our goal continues to be what it has always been, to fulfill our commitment to maintaining low fares, great service and generous Mileage Plan rewards.

The airline industry is constantly changing and often forces us to make difficult decisions, but we remain focused on setting ourselves apart from other airlines. Our Saver fares needed to be more generous than run-of-the-mill Basic Economy fares, and they are. Alaska passengers who purchase Saver fares earn full miles for their trip, are allowed to bring a carry-on bag and in many cases can still be assigned a seat at the time of booking – albeit in the rear of the aircraft. Additionally, elite Mileage Plan members who purchase Saver fares will still enjoy priority boarding.

We did a poor job at providing you with enough information well in advance about how Saver fares might impact your elite experience, and for that I apologize. Going forward, we will err on the side of providing our most loyal customers like you with more proactive and transparent communication about product changes of this magnitude — for better or worse.

Thank you for your loyalty and understanding. It means the world to us, and we don't take it for granted.
Color me very impressed by this email from Alaska. It's rare airlines acknowledge as much as Alaska is acknowledging here:
They say that Saver Fares offer "cost-conscious guests the absolute lowest fare possible," which is different than suggesting they're introducing much lower fares as a result of this
They acknowledge that they started to lose business to airlines offering basic economy, and them not adding it has cost them hundreds of millions of dollars
They acknowledge they did a poor job communicating their new fare structure, and apologize for that
This is one of the most honest emails I've received from an airline in a long time, and I appreciate that.
What do you make of Alaska's email about Saver Fares?