Different airlines take different approaches to monetizing their first class cabin when it comes to unsold seats. While the most common way to get upgraded to first class is using elite status or miles, many airlines will also sell upgrades for cash. Some airlines do this in advance as a way of having people skip the upgrade list (in many cases even encouraging elite members to pay to upgrade when they're upgrade eligible), while other airlines only sell upgrades at check-in.
I'm a big fan of Alaska Airlines, and appreciate how they do business, including for their paid upgrade offering, which is worth knowing about due to the reasonable prices. Actually, they have the best cash upgrade costs of any airline I know.
How cash upgrades to Alaska first class work
Alaska Airlines only sells upgrades for cash within 24 hours of departure when there is confirmable upgrade space available. This is great news for elite members, since it means you won't lose your upgrade to someone paying cash. I think that's only fair.
Similarly, Alaska doesn't offer last seat availability for cash upgrades. There actually needs to be "U" class upgrade space available in order to upgrade for cash, rather than just a seat for sale. So it's not that you can automatically pay cash to upgrade to a seat within 24 hours as long a there's any seat available.
How much does Alaska charge for first class upgrades?
Alaska's first class upgrade costs are surprisingly reasonable, and are based on the distance flown on a particular segment, as follows:
0-1,250 miles costs $50
1,251-2,500 miles costs $100
2,501-3,750 miles costs $150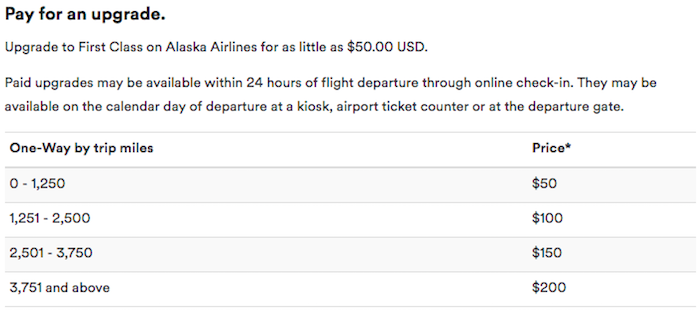 So a Los Angeles to Seattle flight would cost just $50 to upgrade, a Los Angeles to Washington flight would cost just $100 to upgrade, etc.
Upgrades are valid from all economy fares, including economy award tickets. If you do upgrade you still earn miles based on your original fare class. Assuming you upgrade before you complete the check-in process, you also receive the first class baggage allowance, so that in and of itself could be worth as much as the upgrade fee (two checked bags would cost $50).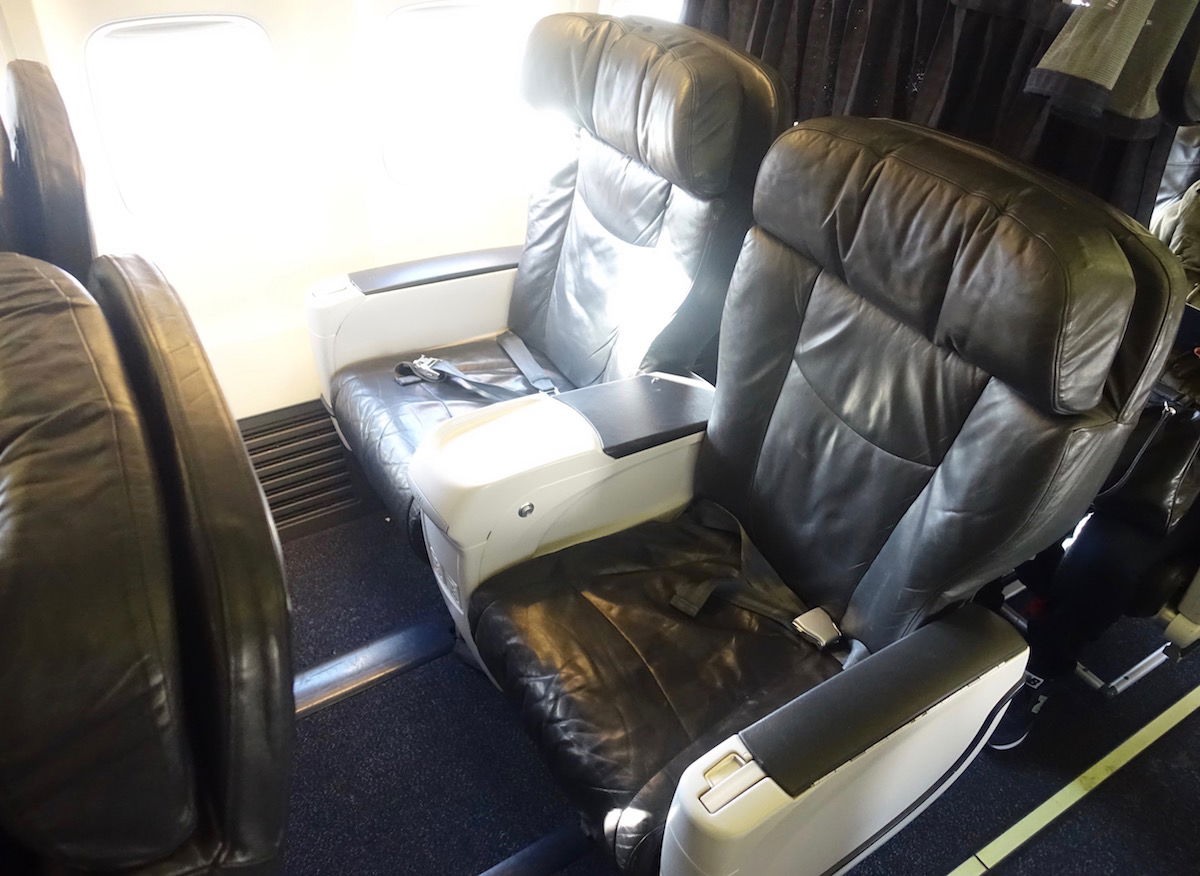 But wait, is there ever actually upgrade space?
Alaska Airlines has a lot of elite members. On many flights even MVP Gold 75K members won't get their upgrades. So don't expect you're going to be offered a paid upgrade from Seattle to Los Angeles or Washington on a Monday morning. However, you'd be surprised by how often there is upgrade space.
Let me give one extreme example, which is actually what motivated me to write this post. Today I'm flying from Mexico City to Los Angeles on Alaska. They operate two daily flights. I always monitor inventory on flights carefully, and I was shocked when 24 hours out Ford and I were the only ones confirmed in first class on our flight, and the other flight had zero people confirmed in first class. That's despite the fact that all elite members are eligible for complimentary upgrades on all Alaska flights. I've never seen such an elite-light route in my life.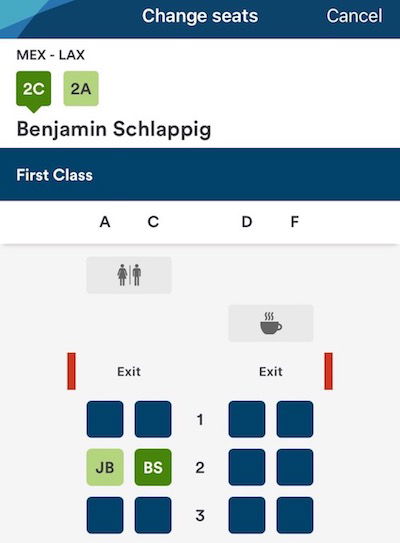 Now the cabins are significantly fuller, presumably with people who paid $100 each to upgrade, which is quite a deal for a flight blocked at over three hours.
How to tell if there's upgrade availability
If you want to purchase an upgrade, start the online check-in process. If there's upgrade availability, on the first page you'll be asked if you want to upgrade to first class. If there's not upgrade availability then it won't mention anything.
However, there are a couple of ways to tell beforehand whether there's upgrade space or not. One way is to do a dummy booking on Alaska's site. On the main page click on "Search Options" and then enter the route you're looking at. In the "Upgrades & Discounts" section, select "MVP Gold Guest" upgrade. The reason is that they use "U" space for those upgrades, which is the same space that Alaska uses for paid upgrades.

On the next page, if the flight has the "F" icon next to it, that means there's first class upgrade space available.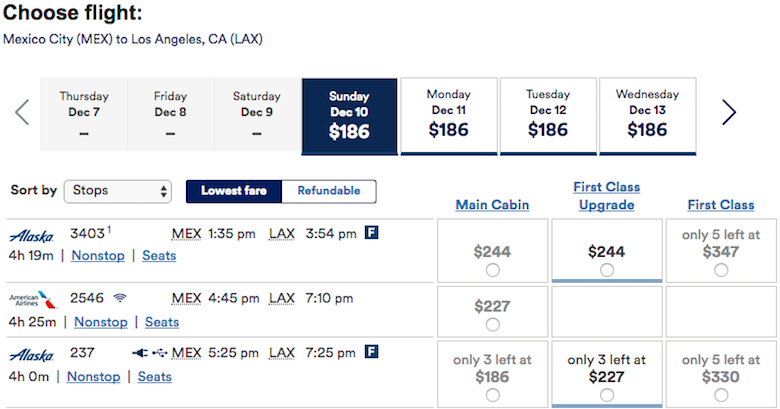 More than 24 hours out you want to use this just to get a sense of availability, since you can't actually confirm a paid upgrade until the 24 hour mark.
Alternatively you can use ExpertFlyer, as they'll show you how many "U" seats are available, and you can even set availability alerts, so that they'll email you when "U" seats open up.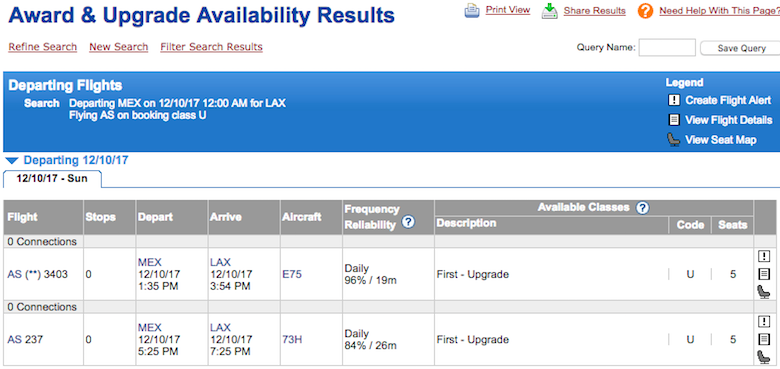 Can you actually skip the elite upgrade list with a paid upgrade?
As I said above, by design Alaska only allows first class cash upgrades when there's upgrade space available, and that means that all elite upgrades must have cleared. At least that's how it's supposed to work. However, if you get really lucky, there's sometimes a way to skip the list.
Let's say for example that a flight is departing in four hours and has two first class seats available for sale, meaning the inventory shows as "F2." However, let's say that the flight is "U0," meaning that they're not willing to clear elite upgrades yet (this is common, as airlines often like to hold back a couple of seats until the last minute).
When Alaska does open "U" seats on that flight, there's often a bit of a lag between when the "U" space is made available and when the elite upgrade clears (this can often be a minute, 10 minutes, or sometimes even longer). That means that a flight could be F2U1 with an upgrade list 50 people deep, but if you go through the check-in process before the computer automatically clears upgrades, you'll still be offered the paid upgrade.
This requires a lot of luck, so don't count on this happening, but I feel like it's at least worth acknowledging.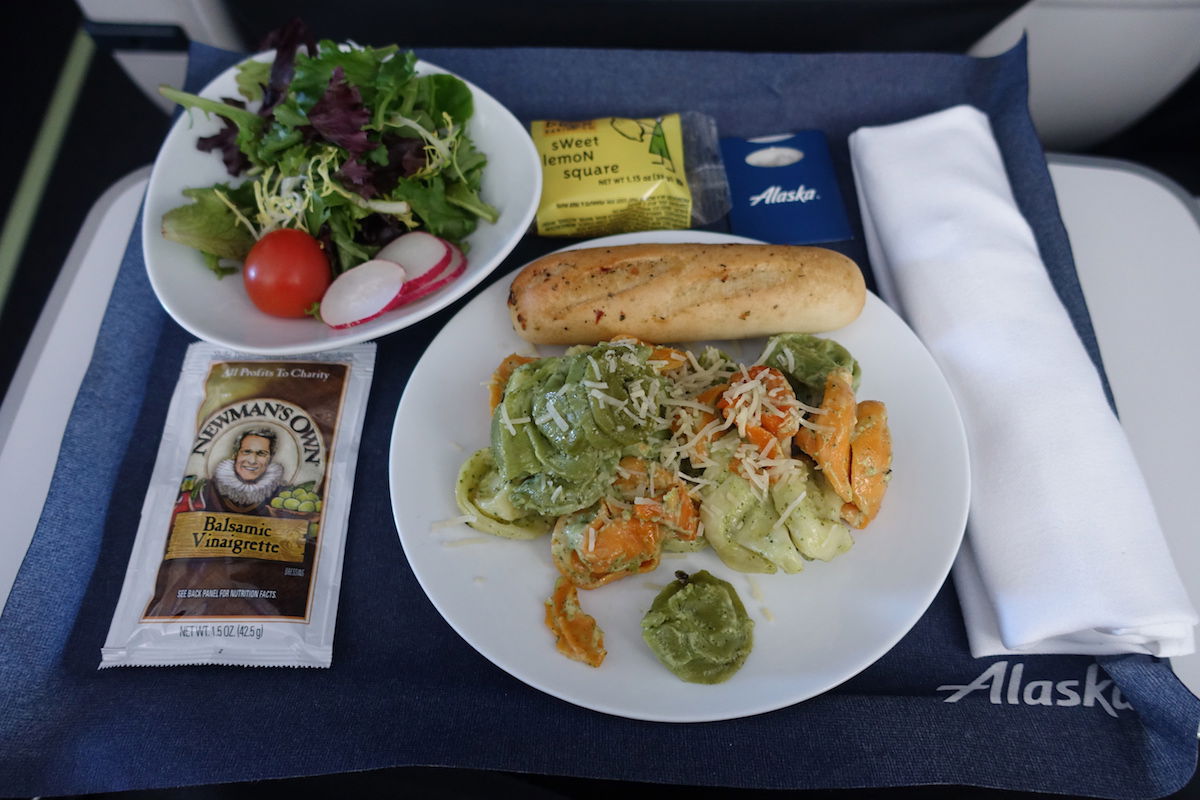 Bottom line
Alaska has among the best value paid upgrades of any airline out there, so if you can score an upgrade for cash on an Alaska flight, I think it's worth it. The big catch is that most flights have long upgrade lists and there won't be upgrades available, but then there are instances where that isn't the case (like Mexico City to Los Angeles flights today, where there's not a single other elite member on the upgrade list on either of the two flights).