One of the best sources of drama in the airline industry in 2014 was "the battle in Seattle" between Alaska and Delta.
I won't provide a rundown of the situation again, other than linking to the previous post and sharing the below GIF, which I think sums it up perfectly.
We haven't seen a lot of public drama between the two airlines lately, and that's probably simply a function of the fact that they've both been profitable. With oil prices where they are, they're both probably fairly complacent. So as much as I've been looking for the drama, clearly Bravo's "Real Airlines Of Seattle" TV show has been on break.
Until now.
What are they bickering over? Basically Alaska doesn't want to pay for a new international arrival facility, which will mostly benefit Delta's passengers. And they plan on attending the Port of Seattle commission meeting today to voice their displeasure.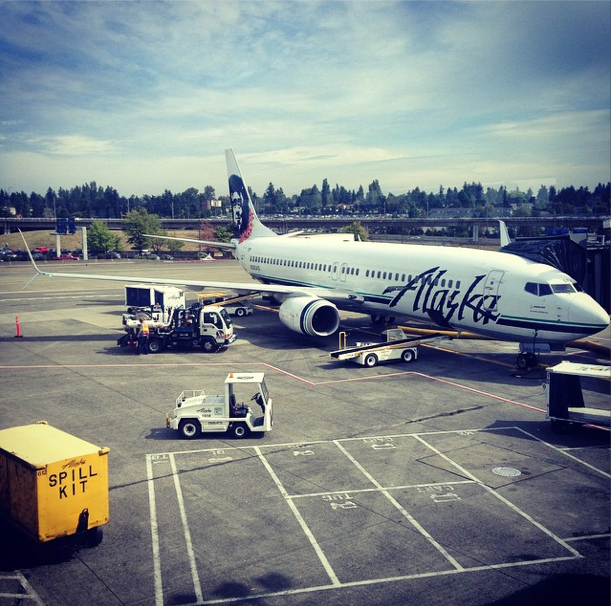 Via the Puget Sound Business Journal:
"Virtually none of our customers are going to use that facility, but they're going to pay for most of it," said Joe Sprague, Alaska Air Group Inc. senior vice president of external relations. "The people using the international facility, they need to pay for the facility, and if the price tag is too high, they need to bring the price tag down."

The price tag Sprague is referring to the cost of the planned upgrades to Sea-Tac's international arrivals facility, which he said has almost doubled to $608 million.

"The intention is for vast majority of funding to come on the back of domestic customers who would never use the facility," he said.

The payment system uses what are called "passenger facilities charges," or PFCs, essentially a per-head tax on passengers moving through the airport. These are a common way of paying for capital investments.
The way Alaska sees it, not only is the new international arrivals facility too expensive, but he's also afraid this will take away funding from projects which would benefit Alaska.
What's Delta's argument for the facility?
But Mike Medeiros, vice president of Delta Air Lines' Seattle operations, said that it's about time some of the PFC money goes to international carriers' needs.

"The international arrival facility was built in 1973, and since that time, not a dollar has gone into that arrival facility," he said. "We think it's high time that the international side of the business gets a little attention as well."

Medeiros warned against raising costs for international carriers so much that Sea-Tac is no longer competitive with other West Coast gateway airports, which also want the business of big international carriers like Delta.

"If you burden international carriers with the entire cost, and make it such that user fees aren't competitive with with other airports up and down the West Coast," he said, "it's highly likely that with a higher cost structure, airlines will choose to depart and arrive international flights somewhere else."
This is an interesting one, and I have to say I side with Delta on this one…
Here's how the FAA describes the Passenger Facility Surcharge (PFC):
The Passenger Facility Charge (PFC) Program allows the collection of PFC fees up to $4.50 for every boarded passenger at commercial airports controlled by public agencies. Airports use these fees to fund FAA-approved projects that enhance safety, security, or capacity; reduce noise; or increase air carrier competition.
It is intended for capital improvements to the airport, so it's not airline specific. And I don't think there's any arguing that more international traffic could have a huge impact on the Seattle economy. So it seems like the right move to make a capital investment rather than taxing international airlines more.
Now I'm not sure about the cost involved here. $600+ million sounds like a lot, though I don't really have a sense of scale on these kinds of projects.
That being said, as such, I think investing money to improve services for international airlines and passengers is a great idea. Though I also see why it sucks for Alaska… but such is life.
What do you think? Is it fair to spend most of the surcharges that Alaska is bringing in on something that will ultimately benefit their competitor?