There are many things to love about Alaska Airlines, including their industry leading Mileage Plan program. They continue to award miles based on distance flown rather than dollars spent, and they have some unique airline partners with great redemption rates. For the casual Alaska flyer, there has also been something else that has made them unique.
Specifically, Alaska Airlines has had really low paid upgrade costs. While they're not always available, within 24 hours of departure Alaska has had among the most reasonable costs to pay cash to upgrade to first class, assuming there are upgrade seats available. To be clear, you're unlikely to score an upgrade on a Friday afternoon from Seattle to San Francisco, but on some routes they were quite easy to come by.
I last wrote about Alaska's paid upgrade costs last December, when they charged the following:
0-1,250 miles costs $50
1,251-2,500 miles costs $100
2,501-3,750 miles costs $150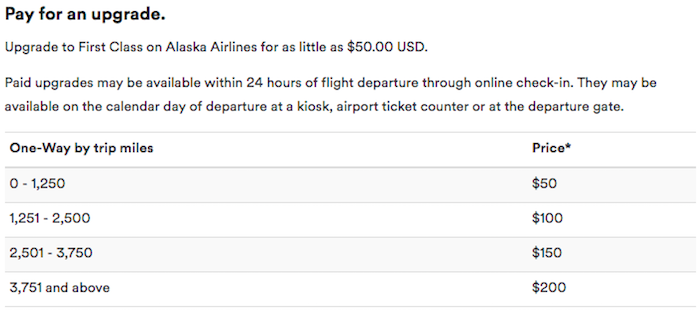 Upgrading most short-haul flights for just $50, and most transcon flights for just $100, is a steal. I don't know when exactly this change happened, but it looks like Alaska Airlines recently increased the cost to upgrade with cash within 24 hours of departure. Per the Alaska Airlines upgrade page:
0-450 miles costs $29
451-700 miles costs $49
701-1,400 miles costs $99
1,401-2,100 miles costs $149
2,101 miles and above costs $199

As you can see, in some cases this represents a pretty significant price increase — most transcon flight upgrades are increasing in cost from $100 to $199. Many flights up and down the coast are increasing in cost from $50 to $100. These are still largely competitive costs, just not quite as much of a no-brainer as before.
For the time being, Virgin America continues to have different upgrade costs, given that they still sell Main Cabin Select as a separate cabin, and have a first class product for which passengers have to pay, since they don't yet offer complimentary upgrades. So for now, Virgin America paid upgrade costs are as follows:

Virgin America will formally be operating their last flight later this month, so I imagine in the not-too-distant future these fees will be harmonized.
Bottom line
Alaska's increase in cash upgrade costs aren't a huge deal, given that they were only available if all elites had cleared their upgrades. With the number of elite members that Alaska has, that doesn't leave many empty seats. However, at times I've seen them offer these upgrades, especially on routes to/from Mexico. As I explained in the previous post, there's sometimes even a way to skip the upgrade list with this. Alaska's cash upgrade costs are still attractive, just not as good as before.