Alaska Airlines has been in a tough spot lately. The airline used to be a favorite on Wall Street, but since their takeover of Virgin America, Alaska's stock hasn't been doing great. The issue isn't just the questionable/expensive takeover, but the fact that Alaska Airlines tries to have a backbone, and unfortunately that often doesn't pay in the airline industry.
While American, Delta, and United have been generating significant revenue through fees, Alaska Airlines has avoided introducing basic economy, and has even had significantly more reasonable change fees.
We've known that the airline sees no choice but to change this, though. For example, recently Alaska Airlines recently raised checked bag fees and also raised change fees.
Earlier this year the airline also hinted at introducing "saver fares," which would essentially be their version of basic economy.
Well, this has finally happened. Alaska Airlines has now introduced saver fares, which come with the following restrictions:
Only being able to select from a limited number of seat assignments
Having to board last
No flight changes, including same-day flight changes
No elite Mileage Plan benefits, including upgrades
All passengers will continue to be entitled to one carry-on and one personal item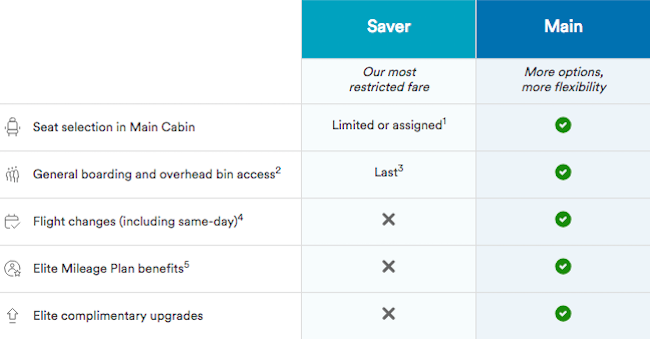 Elite Mileage Plan members who book saver fares will continue to receive elite boarding benefits, but won't be eligible for other elite benefits, including upgrades, seat assignments in advance, etc.
It's not surprising to see this development from Alaska, and ultimately their new "basic economy" isn't as punitive as some other airlines. All passengers continue to get the typical carry-on allowance, and mileage earning is the same on saver fares as on regular fares.
Instead passengers just won't be allowed to make any changes to their tickets (even for a fee), will only be able to select from fewer seats in advance, and will board last (with the exception of elite members, who maintain priority boarding).
What do you make of Alaska's new saver fares?