It's sad to see the direction Alaska Airlines is taking, though I guess it's not surprising.
Alaska Airlines used to be truly differentiated in terms of the passenger experience they offered. While other airlines focused on basic economy and generating as much revenue through fees as possible, Alaska focused on customer service, including customer-friendly policies.
That's slowly changing. I guess it was inevitable, though I imagine Alaska's takeover of Virgin America, and their general struggling stock price, is contributing to this.
For example, recently Alaska Airlines increased their change and cancelation fees, and announced that they plan to introduce new "saver fares" sometime in the not too distant future, which sounds a whole lot like basic economy.
In the meantime it looks like Alaska is chipping away at their customer friendly policies one-by-one.
For tickets issued as of September 1, 2018, Alaska Airlines will be discontinuing their guaranteed airfare credit. Essentially Alaska Airlines has had a policy of issuing a credit in the event that you book a flight and your fare drops.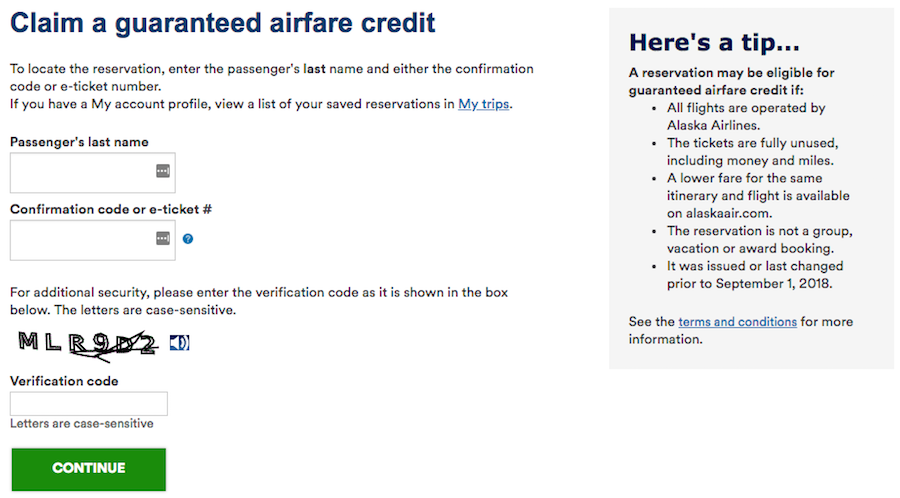 When you think about it, it's a smart business practice. It puts people at ease booking their ticket in advance, knowing that they'll get a credit if the price drops. On top of that, Alaska is only issuing a credit, and that credit will encourage someone to book their next ticket on Alaska as well.
But that policy will be discontinued as of September 1. Alaska Mileage Plan MVP Gold members continue to be entitled to free ticket changes, so those customers would be able to cancel and rebook, though that's still an extra step compared to just being given a credit for the fare difference.
JetBlue used to have a similar policy of price matching when ticket prices drop, but they discontinued that feature in late 2017.
Now Southwest Airlines is the only remaining US carrier to offer a price guarantee for their flights.
(Tip of the hat to Michael)