Watching the evolution of the Alaska Airlines and Delta Air Lines partnership in Seattle has been fascinating, quickly turning from an episode of Millionaire Matchmaker to one of Jerry Springer. It got serious last year when Delta announced huge international expansion out of Seattle, which Alaska was justifiably excited about, since they were being tapped to provide the feed for that international service.
But it seems Delta had a bit of an epiphany, and said "hmm, why should we be outsourcing all this domestic flying to Alaska, when we could do it on our own?" So they've announced huge domestic expansion in Seattle, including to Fairbanks, Las Vegas, Los Angeles, Portland, San Diego, San Francisco, Vancouver, etc. Basically they're going to be going to head-to-head with Alaska on just about every one of their "bread and butter" routes.
And even though they're technically still partners, both airlines are now offering double miles promotions on several routes to drive passengers away from one another. Alaska is offering double miles on six west coast routes, and Delta matched by offering double miles on six west coast routes as well.
Well, it seems like the battle isn't over, because now Alaska is making their "move" on Delta. Alaska Airlines has just announced that they'll be adding service from four west coast cities to Salt Lake City. Alaska Airlines will begin daily nonstop service between Salt Lake City and Portland, Los Angeles, San Diego and San Jose, starting June 9, 2014. They'll also add an additional third daily nonstop flight from Seattle to Salt Lake City. To celebrate the new route they'll be offering double miles as well.
Here are the schedules for the new routes: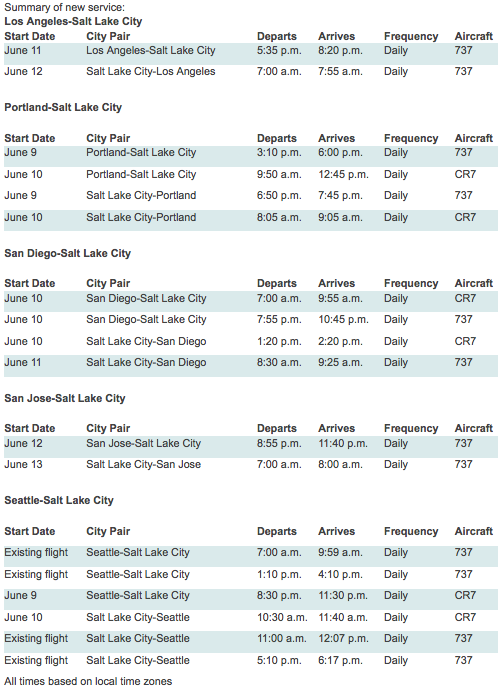 Alaska's Vice President of Marketing gives this as the reason for the new route:
"Salt Lake City has long been a top requested market by our customers and we are pleased to add to our successful Seattle-Salt Lake City flights with additional service from four other West Coast gateways," said Joe Sprague, Alaska Airlines' vice president of marketing. "This new service connects travelers with Alaska's strong network on the West Coast. In addition, our customers will enjoy double miles that apply toward elite status in our award-winning Mileage Plan program."
I believe the more accurate reason would be this: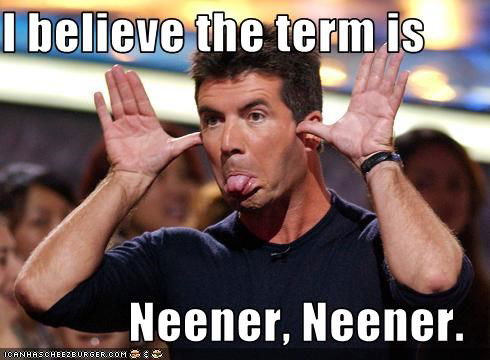 My thoughts
Let me be clear, I'm totally on "team Alaska" in this saga. Alaska and Delta voluntarily went into this partnership together, and I think Delta isn't acting in good faith. It seemed like in good faith their plan was to expand internationally out of Seattle and let Alaska provide most of the domestic feed, because it's tough to compete with their domestic route network out of Seattle, especially on the west coast. However, they're slowly expanding to go head-to-head against Alaska on many routes, and at some point they should probably think about whether it's really worth it or not.
While I'm sure it makes short term financial sense for Delta to fly the "popular" routes on their own metal, they have a lot to lose if the partnership is discontinued and they no longer have access to feed from Alaska's more "unique" destinations.
While I'm on "team Alaska," they're just being plain silly here. Sure, add another Seattle frequency or add Portland service. But Los Angeles, San Jose and San Diego… really? Do they really think they're going to steal market share with one daily flight to San Jose, when Delta offers four? Or steal market share with one daily flight to Los Angeles when Delta offers roughly eight?
The thing they don't seem to get is that they have nothing to offer to passengers in those markets that Delta can't offer already. Delta's expansion might be sleazy and a bad long term decision, but at least it's justifiable to a bean counter, because the demand is there.
The same can't be said for Alaska's new routes, in particular to Los Angeles, San Diego, and San Jose. And Alaska is a fairly small airline, the reason they've remained profitable is because of how lean their operation is. They can't afford to operate inefficient routes just to prove a point to Delta.
Alaska and Delta need to either go to couples counseling or Divorce Court. This passive aggressive approach is only sustainable for so long.
What do you guys think?