It's normal for airlines to pad their schedules significantly, and it's a trend that's becoming more and more common. One metric on which airlines are judged is their on-time record. The problem is that a flight being on-time often has little to do with it being operated efficiently. One way that many airlines have improved their on-time records is by simply padding their schedules.
I find this trend to be annoying, since you end up arriving at your destination "early," and as a result there's often no gate ready. This situation is entirely avoidable, and leads to a lot of time being wasted.
Last November, Danny Lee of the South China Morning Post wrote about how Hong Kong Airlines became the world's most punctual airline. The airline operated about 95% of flights on-time in the previous month, which is a significant improvement compared to previous years, where their on-time record wasn't nearly as good. As a vice-chairman of the airline was quoted as saying "we saw on-time performance (OTP) was a problem, so we allowed extra time."
Anyway, it's pretty normal to see airline schedules vary. For example, looking at flights between New York and Los Angeles, I see that block time for nonstop flights varies from 5hr55min to 6hr55min, based on the airline and time of day. I can sort of rationalize that.
However, while randomly looking at flights I noticed what might be the single most extreme block time variance I've seen on a given route. A flight from Beijing to Bangkok covers a distance of ~2,050 miles. I'd assume a flight like that would take a hair over four hours in the air.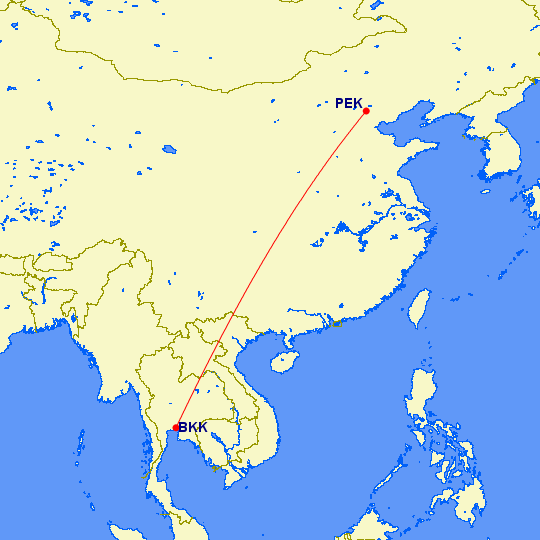 Now, Beijing is notorious for horrible air traffic control delays, so I totally understand why these flights would often be delayed. So, how extreme are airline schedules in this market? Pulling up the schedule for tomorrow, I see Ural Airways has a nonstop flight blocked at 4hr10min, while China Eastern has a nonstop flight blocked at 6hr5min. That's a difference of 1hr55min on a flight of ~2,050 miles, which is crazy.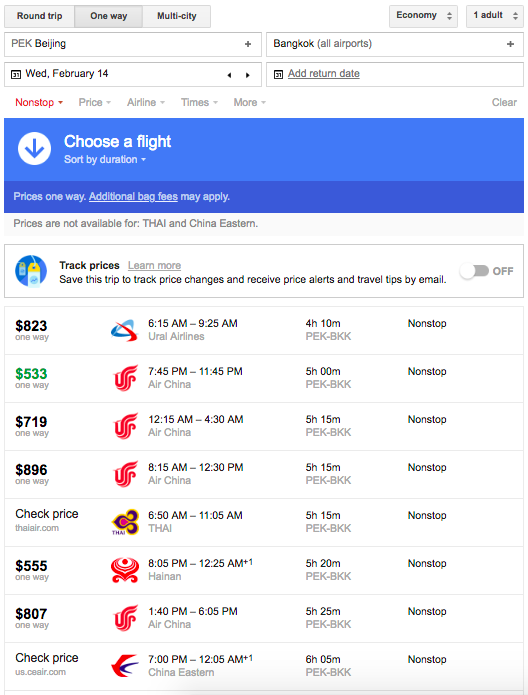 In fairness I think Ural Airlines' block time is way too short, while I think China Eastern's block time is way too long. Most other airlines are in the 5hr to 5hr25min range, which seems more reasonable.
But a 6hr5min block time for a flight this short? I've never seen a flight blocked at that much time.
Does anyone know of a route where schedules between nonstop flights vary by more than 1hr55min?!