Recently I wrote about how Qantas was cracking down on overweight hand luggage, and how this was causing delays to boarding. Many elite status Qantas passengers are already frustrated about the Qantas boarding process for another reason.
There's a long running joke in Australian frequent flyer circles about Qantas' inability to manage priority boarding, particularly on domestic flights within Australia. While the airline does usually have priority signs up, and often will set up some lanes to differentiate the general line from the priority line, they really struggle to actually execute it.
I've watched this several times with amusement and bewilderment, and the difficulties seem to stem from the fact that:
The two lanes are not distinct enough, so they may either merge into one where the boarding passes are actually scanned, or it may not be clear which line is which
There may only be one person scanning boarding passes and they either do not scan passengers in the priority lanes first (and call those people forward while asking for the general queue to wait), or encourage people to form one orderly queue rather than two
The priority lane is not enforced, so passengers who don't realise (or don't care) that they are in the wrong lane are not sent to the correct (general) lane.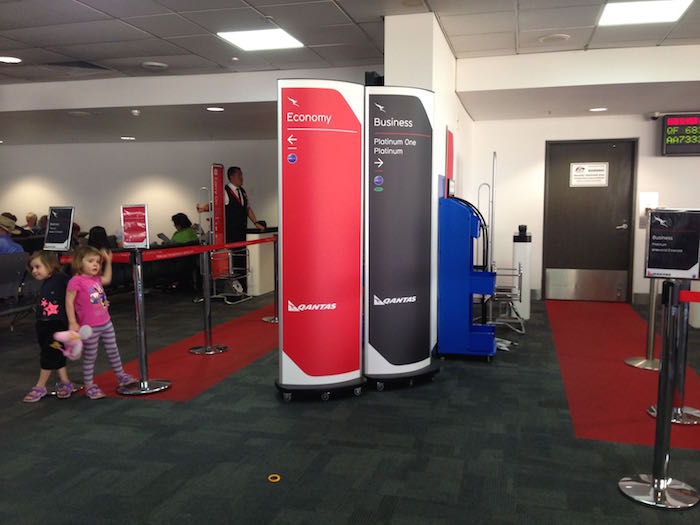 Virgin Australia, on the other hand, is known for executing priority boarding very well, every time. They do this by usually avoiding all three issues above, both through sufficient staff training and even better execution and consistency of applying rules.
So some airlines do it really well, while others really struggle.
I have experienced dozens of flights around the world (especially in Europe), where priority boarding has been a complete mess, regardless of airline or airport, and from what I have observed it has been because of the following issues:
1. Confusing boarding announcements
Boarding gate announcements for domestic flights in Australia are only made in one language — English. When you are abroad, flying between different countries on different airlines, boarding announcements can be made in multiple languages, sometimes three (if you were boarding an Emirates flight from say, Dubai to Paris, announcements might be made in French, English and Arabic).
If the language the boarding announcement is first given in is not one a passenger speaks, but they see a swarm of people head towards the aircraft, it is human nature to feel the urge to follow them to avoid missing out, or getting stuck at the back of the queue.
But that first announcement may only be that the flight is boarding priority passengers, and all other passengers should take a seat. It's too late if most passengers swarm towards the doors, standing in the incorrect queue or blocking the priority queue, as they may not sit back down even once they hear the announcement in their language.
I have seen staff from some Asian airlines walk through the boarding gate area with a sign for business/first or other premium passengers to board. Some even scream 'BUSINESS CLASS!' as they do it. This is usually an absurdly ineffective way to communicate to hundreds of passengers spread across a large area, and also doesn't reflect that this boarding call is also for eligible status passengers traveling in other classes.
Some airport announcements can barely be heard or understood anyway due to either poor acoustics, volume levels or speaker quality, or the accent or enunciation of the person making the announcement, adding to the confusion of who is supposed to board where, and when.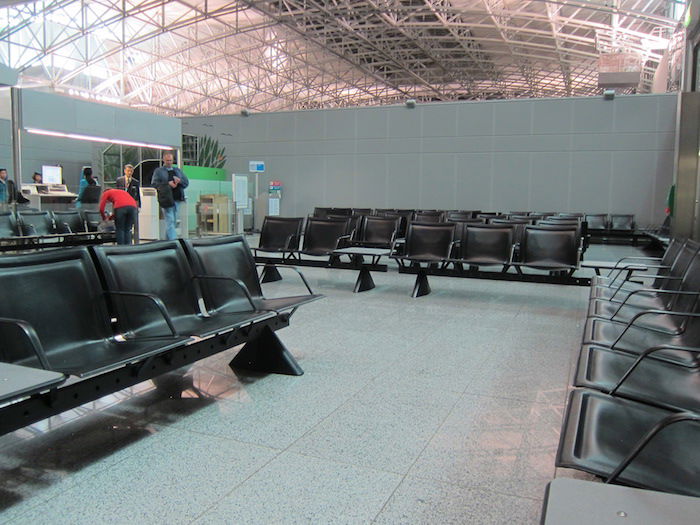 2. Poorly designed gate areas
There are certain airports that crowd all waiting passengers into narrow, cramped gate areas with the actual aerobridge doors at one end of the narrow area. London Gatwick and Bangkok Suvarnabhumi are two that come to mind.
That means that even if priority boarding is clearly announced, and clearly signed (even with a completely separate boarding door), eligible passengers have to make it past many other passengers to be able to use it.
If I have priority boarding and enter one of these gate areas shaped like this, I wait as close to the actual priority boarding door as possible (hoping to find a seat there), so that when boarding is announced I don't need to climb over 100 other people to use it. The problem is that many non priority passengers now also do this in order to ensure they have overhead bin space for their hand luggage, so there can already be a swarm of people near the doors before boarding starts.
Add in rows of chairs just a few feet from the doors, and it's a cramped situation to try and have hundreds of people either form two orderly queues or two groups of people to orderly board at separate times. I hate trying to push past people blocking a priority queue in order to get to it.
It always amazes me how poorly designed some relatively new-ish airports are. Take Bangkok, for example (whose airport is only 12 years old). Thai Airways is the largest tenant, and all of their mainline flights feature premium cabins, so have priority boarding. Yet the airport was built with the gates in such a way that it is very difficult to execute this boarding properly when so many people are held in such a small space.
Singapore is an example of an airport where priority boarding is much easier because of the design of the terminals (especially Terminal 3) where there are large gate areas with plenty of space around the boarding doors to allow logical queues to form.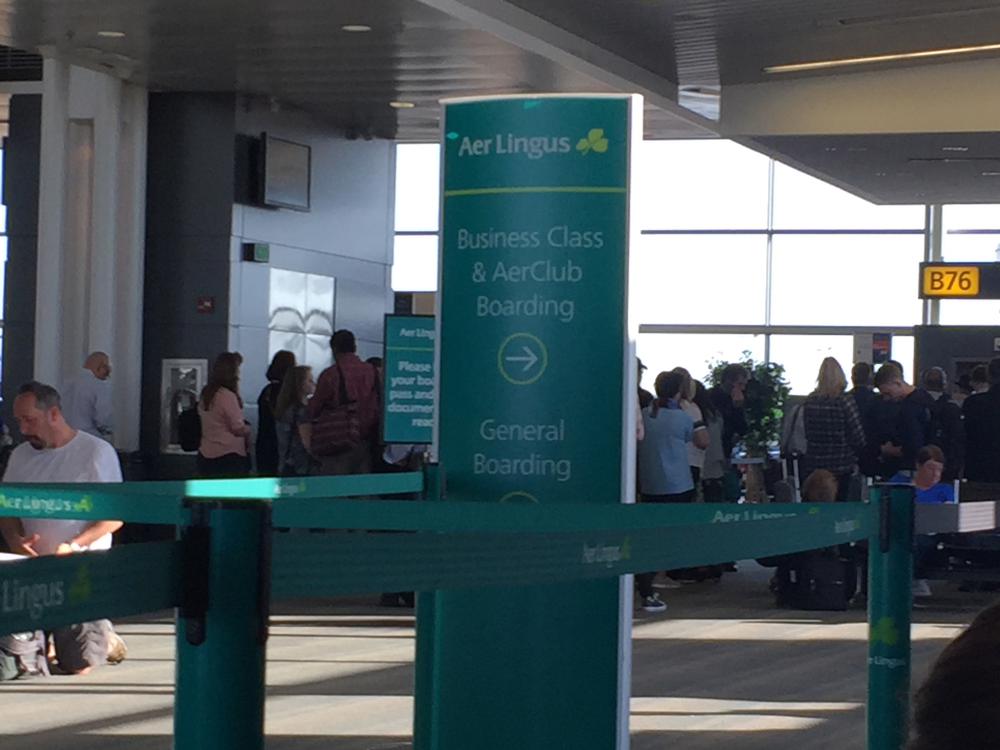 3. Groups of people are inefficient
Where there is a swarm of people crowding the boarding area, it is difficult to have these people form two orderly lines. Some people don't listen to the boarding instructions, many may listen but just don't care what the airline is trying to do, and you see people doing different things at different times.
It's like when you gather all of the wedding guests together for a group photo — there's always someone who is off doing their own thing, and doesn't follow the instructions the rest of the group do.
If people are in the wrong queues or otherwise standing in the wrong place, it's very difficult to get them to move without speaking to them one by one.
I always feel incredibly uncomfortable pushing past ineligible passengers to get to a boarding door when I have priority boarding rights. Add in language and cultural differences and I will often just forego attempting to reach the priority line rather than make a scene asking people to move.
The passengers should not be made to feel this way because the airline cannot organize and execute their boarding properly.
4. Staff don't know, or care that it isn't working
My 'day job' is now primarily observing business processes that do not work, and improving them. So I guess it's in my nature to observe processes that don't work as I travel. I can quickly notice how and why priority boarding processes are failing, so always wonder why the gate staff who do this all day, every day don't see the same problems, and solutions, as presumably they know a lot more about boarding a plane than I do!
I suspect it is a combination of not realising their process doesn't work, and if they do, not really caring. I see frustrated priority passengers unable to use this publicised benefit, but they rarely say anything to the gate agents about it.
I've never worked for an airline but I imagine many staff would think that if the process their management had designed and instructed them to execute does not work, it is not the gate agent's responsibility to improve it, and it's just too much hard work with so many passengers per flight.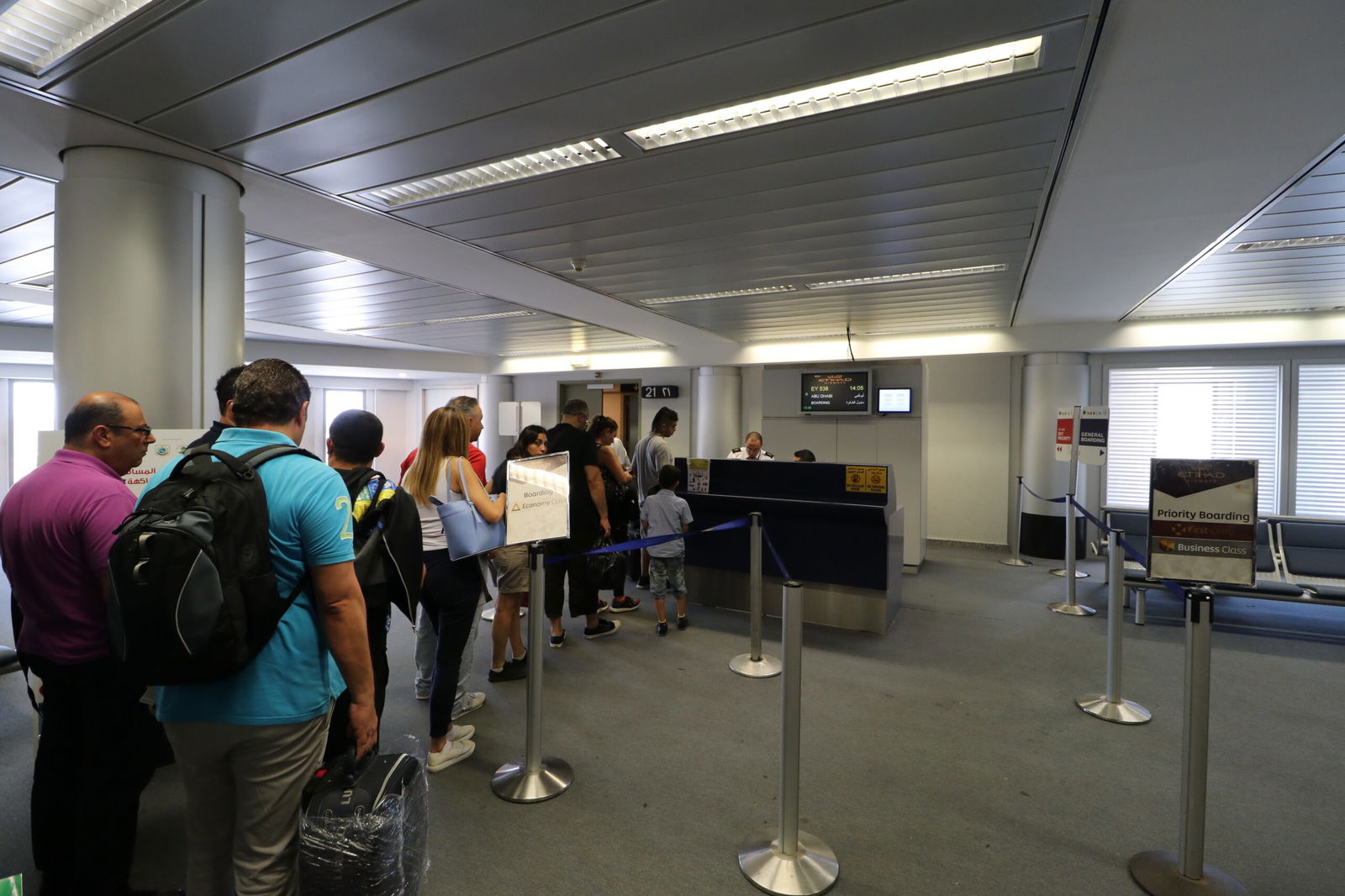 Bottom line
I'm writing this at a boarding gate in New Orleans waiting for my American flight to board (there is no Admirals Club or Priority Pass lounge at MSY). I must say American has been boarding their flights here extremely well — clearly marked and spaced lanes for the different boarding groups, and very clear announcements. It's working like clockwork.
So it can be done.
But I've witnessed more terrible priority boarding processes than processes that actually work properly. Where airlines advertise this as a benefit, it is incredibly frustrating when they cannot deliver it.
Is it something fixable, or do some of the reasons above just make this an impossible task?
What airlines have you witnessed struggle to execute priority boarding?