The answer to this post's title is, surprisingly, the same as the answer to the question, "What is America's best-selling brand of adult diapers?" (Depends.)
If you're dissatisfied with a travel experience, naturally your first line of defense is complaining to the company responsible for the issue. But if their response is unsatisfactory, or if they don't respond at all, you have some options.
Depending on the circumstances, you could dispute the charge with your credit card company, file a complaint with a government agency (like a state attorney general's office, the Federal Trade Commission, the Federal Aviation Administration, etc.), or try the Better Business Bureau.
I'll file a complaint with the BBB if I haven't had any luck resolving the issue with the company (I would say I've filed about one complaint a year for the past five years or so). I've usually had really good results this way, but once or twice companies have ignored my BBB complaints (Uber, I'm looking at you).
Some things to keep in mind about the Better Business Bureau:
They basically act as an intermediary between you and the business – you should complain to the BBB only after trying to resolve your issue with the company itself.
They're divided into regional offices, and your complaint is handled by the office that services the region in which the business you're complaining about is located.
They only handle complaints for companies with offices in the United States. However, plenty of foreign companies do maintain offices in the U.S.
They review your complaint, forward it to the business, and then give them a certain period of time to respond to your issue. If the business doesn't respond, the BBB closes your case.
There is nothing compelling a business to respond to a BBB complaint, aside from the fact that companies that regularly fail to respond typically earn a failing rating from the BBB. (There are a few other elements that also factor into the BBB's rating of a business, such as advertising issues and transparent business practices.)
Of the 3 biggest airlines in the U.S., interestingly, American earns an F from the Better Business Bureau, while Delta and United each earn an A+.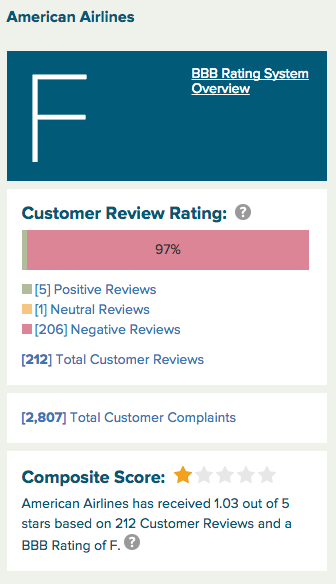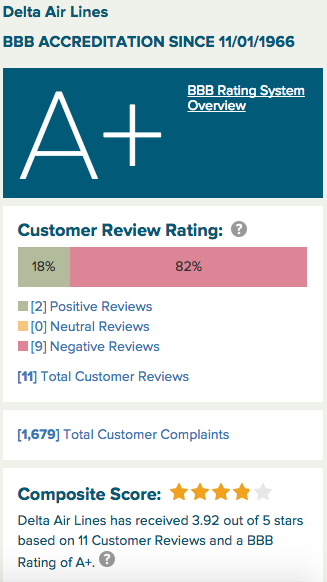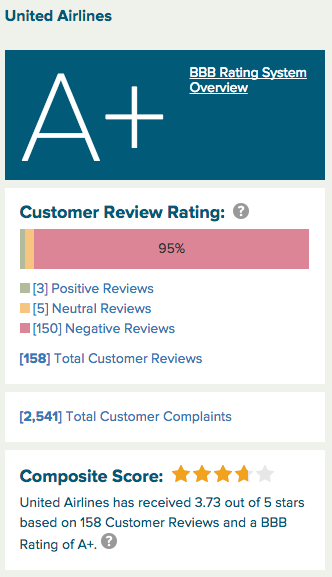 To me, this means you can expect prompt responses from Delta and United, while American might ghost you. Or, they may just take a really, really, really long time to review your complaint, as was the case for me.
My complaint
A little over two years ago, I had an issue with American. Long story short, I received a $500 voucher for them for volunteering to take a later flight (score!), and when I tried to mail it in to redeem it, they misplaced it. (There was a happy ending: after about three months, they found it and mailed it back to me.)
At the time, I got nowhere with American's customer service, so I filed a BBB complaint. American did not respond to it.
Well, last week I received this e-mail:
This message is in regard to your complaint submitted on 7/30/2015 against American Airlines.

The business has sent the BBB a message regarding this complaint, and we are passing it on to you. The contents of this message are below or attached. All responses will be copied to the company. Please respond within 6 calendar days or the complaint will be closed as assumed resolved. The text of your response may be publicly posted on the BBB Web Site (BBB reserves the right to not post in accordance with BBB policy). Please do not include any personally identifiable information in your response. By submitting your complaint, you are representing that it is a truthful account of your experience with the business. BBB may edit your complaint to protect privacy rights and to remove inappropriate language.

MESSAGE FROM BUSINESS:

American Airlines has indicated that they've received your correspondence and have responded accordingly. Given that they've address your concern/question, they have since closed your file. If you need any further assistance from American, visit them at aa.com.
This makes me wonder if American is only now getting around to looking at complaints filed two years ago, or if maybe they've recently turned over a new leaf when it comes to responding to customers. Either way, it was amusing.
American, I've moved on with my life. You should too. It's not healthy to be stuck in the past!
Have you tried using the Better Business Bureau to resolve a complaint with a travel company? How'd it go?