Read more: We've seen A321XLR orders from Air Canada, Qantas, Jetstar, Aer Lingus, Iberia, Frontier, JetSMART, and Wizz Air, American, JetBlue, and United. Airlines like Lufthansa are skeptical about the plane. Should passengers dread the A321XLR, though?
Airbus has today formally launched the A321XLR, which is the longest range single aisle plane ever. The plane will be available starting in 2023, and will have 15% more range than the A321LR.
This marks the continued evolution of the A321 family. The plane used to be very popular with airlines for regional flights. But they didn't stop there:
Airbus launched the A321neo (new engine option), which has an extended range and is more fuel efficient
Then Airbus introduced the A321LR (long range), which has an extended range of up 4,600 miles
Now Airbus is introducing the A321XLR (extra long range), which gets a huge range boost, and can fly up to 5,400 miles nonstop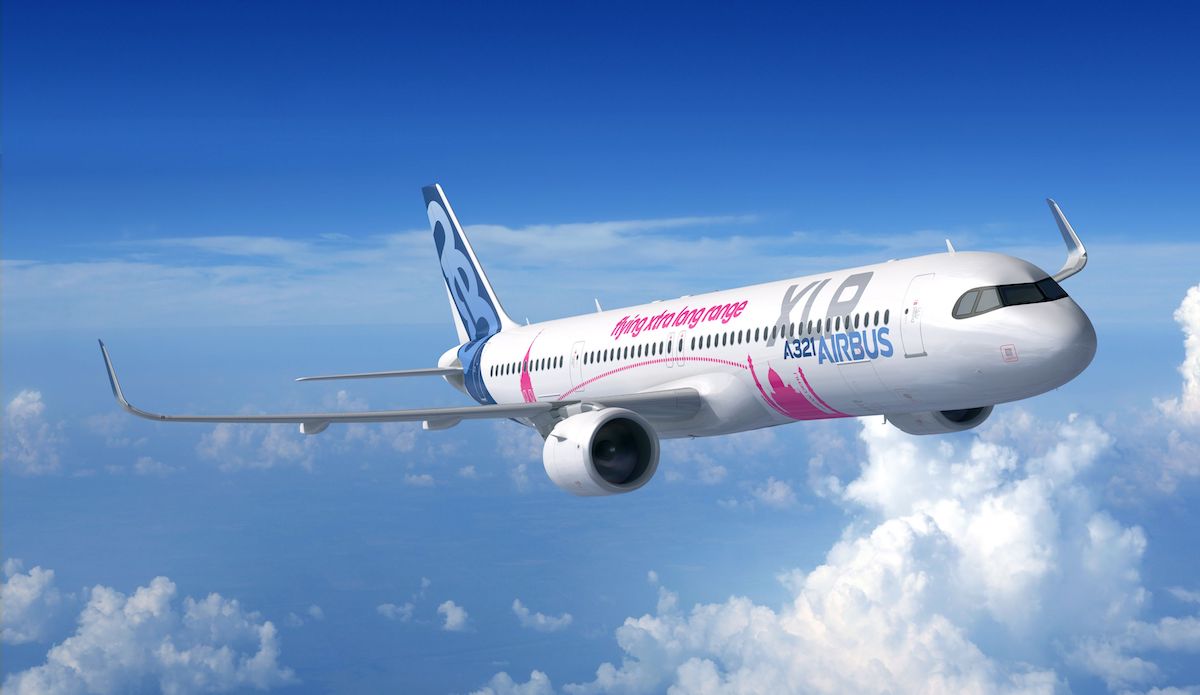 Airbus touts that the A321XLR brings 30% lower fuel burn per seat than previous generation competitor aircraft (which I'm guessing refers to the 757).
Now, if the Airbus A321XLR already sounds familiar, it's because the aircraft manufacturer wasn't exactly tight-lipped about the introduction of the plane. While this is their formal announcement, they've been talking for several months about how they plan on introducing an even longer range version of the A321.
This plane will be make markets feasible that otherwise could have never worked in the past. The A321XLR is a lower cost single aisle aircraft that can be used for longer and less heavily traveled routes, many of which just wouldn't be economical with bigger planes.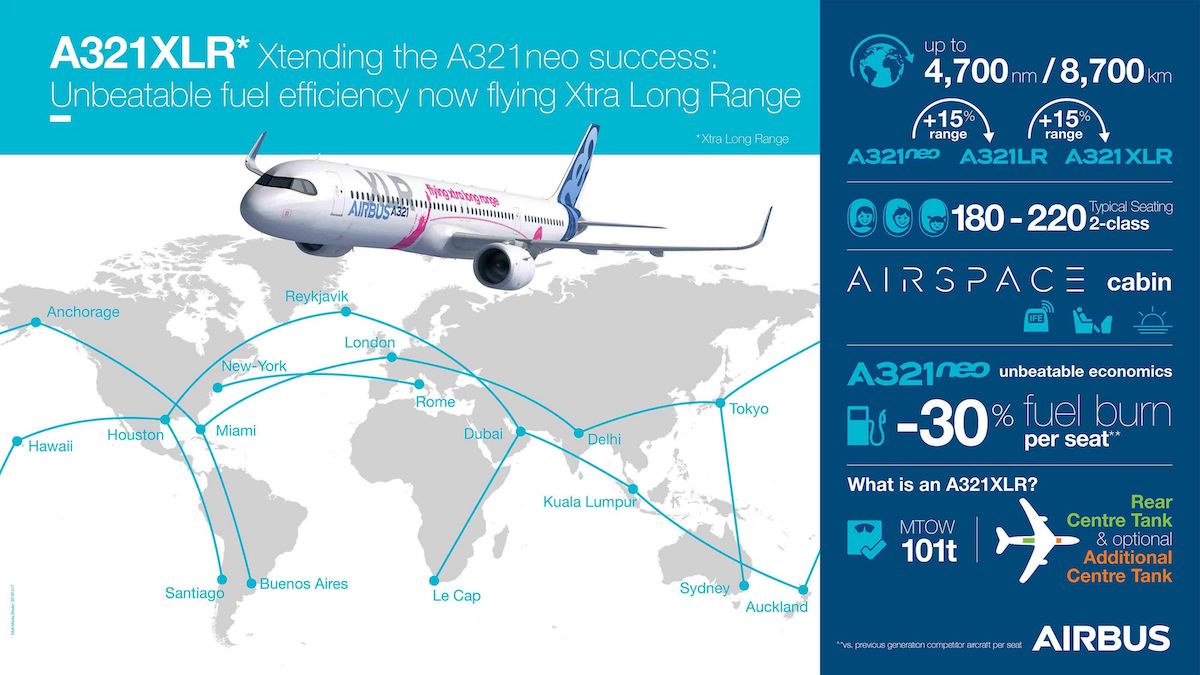 Airbus notes that this will enable operators to open new worldwide routes, such as India to Europe or China to Australia, as well as further extending the A321's abilities across the Atlantic.
Airbus focused on designing the A321XLR so that it has a lot of overall commonality with the rest of the A320neo family. Where does the added range come from? The A321XLR:
Has a permanent rear center tank for more fuel; this holds more fuel than several optional additional center tanks previously did, while taking up less space in the cargo hold, making more space for baggage and cargo
Has a modified landing gear for an increased maximum takeoff weight of 101 metric tons
Has an optimized wing trailing-edge flap configuration to preserve the same takeoff performance and engine thrust requirements as today's A321neo
Bottom line
The A321XLR is a fantastic new plane that will be able to serve so many markets that previously just weren't practical, especially those in the range of 4,600-5,400 miles.
So far Airbus and Boeing have mostly had competing products, though this is an area where Boeing doesn't yet have a competitor. While the 737 MAX can compete with the A321neo, they don't have a version of the plane with this kind of range.
There are rumors of Boeing eventually introducing the "797" (as it's currently known), which would be a competitor, but who knows how far off that could be.
I can't wait to see what airlines order this plane — I'm sure it will be a popular one. There are rumors that American might be interested in the A321XLR, and also rumors that JetBlue may convert some of their existing orders for the A321LR to the A321XLR.
What do you make of the A321XLR?