On August 15, 2017, airberlin filed for insolvency, and then a bit over a week later, airberlin's spun off loyalty program, topbonus, filed for insolvency. Even though topbonus is technically a separate company, they more or less closed up shop, as it was no longer possible to earn or redeem their miles. I explained the convoluted reasons that this is the case in a separate post, so if you're not familiar with them, I'd recommend checking out that post.
While airberlin as an airline is on its last leg, it looks like the topbonus program is bringing back mileage earning and redemptions… in a very convoluted way. Per an email sent out to topbonus members:
We have good news for you: starting immediately, you can redeem your miles again. And you can collect miles again when flying with Etihad Airways or making purchases at topbonus partners on the ground.

Mileage credit with Etihad Airways
You can collect award and status miles on flights operated by Etihad Airways within their worldwide route network. Etihad Airways is currently offering 42 connections from Germany, for instance, and 14 connections from Switzerland – to Abu Dhabi and beyond, to more than 50 destinations. Flights that you have already taken with Etihad Airways in the last few weeks will also be credited. This makes your mileage credit complete. Please click here for the relevant route map and the mileage table.

Mileage credit with partners on the ground
Miles can also be collected again at a number of partners on the ground. At Sixt, Europcar, AVIS, Hertz, HRS, Shoop as well as our hotel and car rental portal, you will benefit again from the familiar mileage credits – and this also in retrospect for all miles these partners had not yet credited in the past few weeks. This makes your mileage credit complete as well. The list of our active miles partners is constantly updated and can be accessed here.

Redeem miles in the new "topbonus pop-up shop"
We are particularly happy to announce that, as of now, you are able again to redeem your miles in the new "topbonus pop-up shop". Starting from 10,000 award miles, you can redeem them, for example, for SIXT, Secret Escapes and HelloFresh vouchers with the following values:

20 € for 10,000 miles
50 € for 20,000 miles
100 € for 50,000 miles (starting next week)

In addition, we also have a selection of attractive product rewards on offer, which you can swap for your miles plus a cash contribution. Our range of product rewards will be expanded weekly.

The new online reward shop is available for all topbonus members worldwide, with the exception of the US. Product rewards can only be redeemed by members placing their orders in Germany, Austria and Switzerland and with delivery addresses in these countries. The product rewards can only be ordered online.

We are working at full speed to reactivate mileage credit at more partners and expand our range of rewards for you. Stay tuned.
This is just plain weird. So it's now once again possible to earn topbonus miles, but only for travel on Etihad Airways (after all, they're a majority shareholder in topbonus). Furthermore, it's once again possible to earn miles with select ground partners, including select car rental companies, hotel and car rental portals, etc.
It's also once again possible to redeem topbonus miles, though only through their "pop-up shop." The redemption values are really bad, as you might expect. The topbonus shop is available everywhere in the world except the United States, unfortunately (if you want to access this from the US you'll have to use a VPN).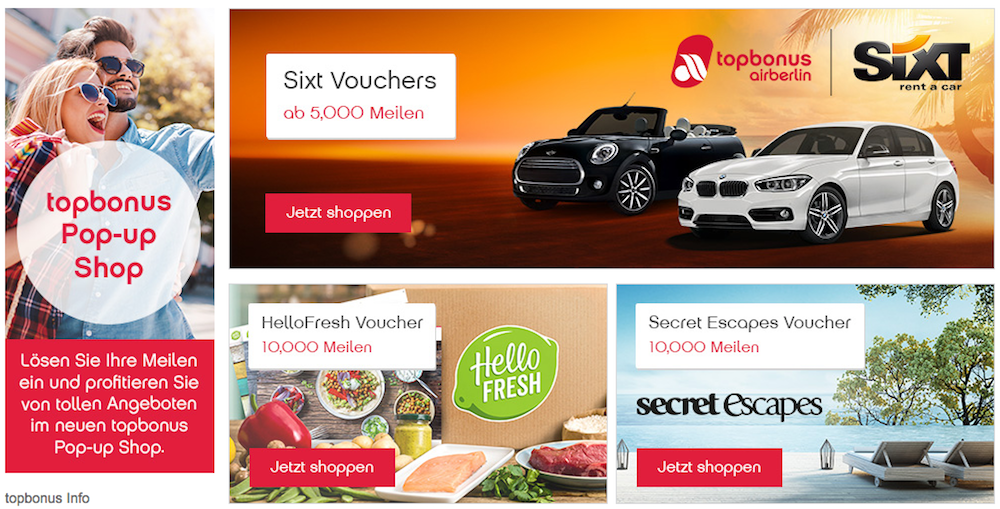 For example, you can redeem 10,000 miles for a 20EUR (~24USD) voucher, which is the equivalent of 0.24 cents per mile. Ouch.
If redeeming 50,000 miles for a 100EUR voucher with a retail partner doesn't sound up your alley, you can instead pay part cash and part miles for a bunch of merchandise. For example, you can buy 349EUR Sennheiser headphones for 239EUR plus 25,000 miles, or you can buy a 62.99EUR cutlery set for 35.99EUR plus 10,000 miles.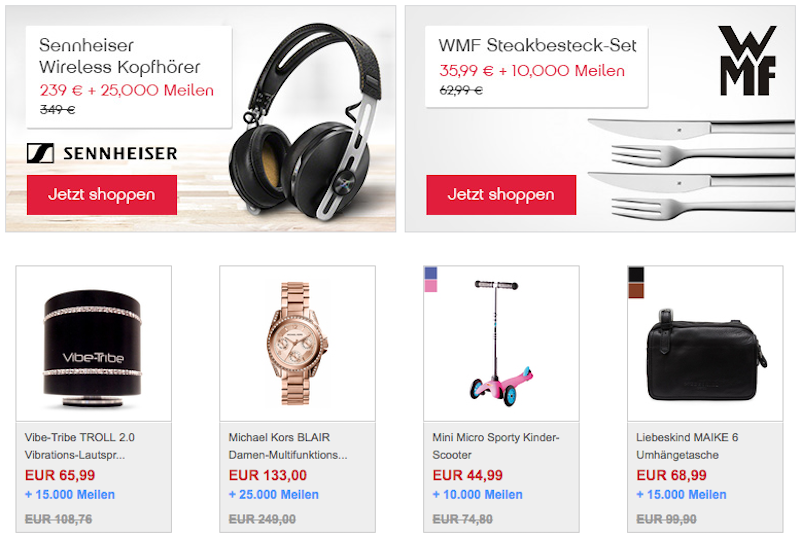 I figured topbonus would just sort of throw in the towel and realize that without airberlin they don't have much of a future. Sure, in theory it's possible for a (former airline) loyalty program to exist without an airline, though it's much tougher to be successful. I certainly don't think anyone is going to be lured into using their online portals and doing business with their partners over the prospect of redeeming 50,000 miles for a 100EUR voucher.
In a way I imagine this isn't too far off from what Aeroplan will look like in 2020, after Air Canada takes back their loyalty program.