I wrote about Air Peace several weeks ago, which to me is one of Africa's most interesting airlines.
Air Peace is a privately owned Nigerian airline that was founded in 2013, which operates a fleet of just under two dozen planes, including Embraers, 737s, and 777s. The airline is based in Lagos, which is a challenging aviation market, yet also one with a lot of potential.
While the airline has successfully been operating regional flights for years, the airline has been looking to spread their wings and launch long haul flights using 777s. I've been unsure of how seriously to take their long haul ambitions.
Air Peace has said that this year they want to launch flights to Houston, London, Guangzhou, Mumbai, Sharjah, and Johannesburg, which seems… ambitious?
Well, the airline has now officially put their first long haul flight to sale.
Air Peace will be launching 3x weekly Boeing 777 flights between Lagos and Sharjah as of July 5, 2019. The flight will operate with the following schedule:
P47557 Lagos to Sharjah departing 6:00PM arriving 5:00AM (+1 day)
P47558 Sharjah to Lagos departing 8:00AM arriving 1:00PM
The flight will operate to Sharjah on Sundays, Tuesdays, and Thursdays, and from Sharjah on Mondays, Wednesdays, and Saturdays. At ~3,700 miles, the flight should take 7-8 hours in each direction.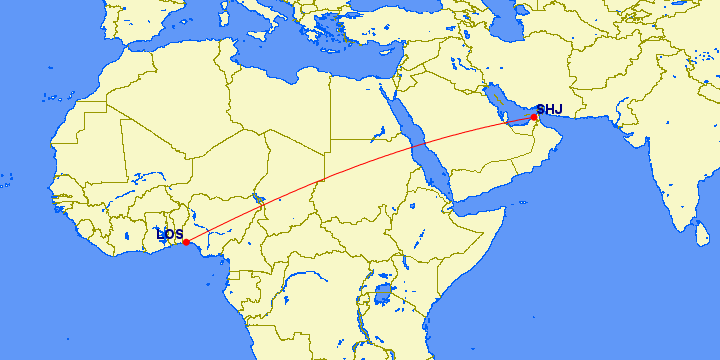 The airline sure is taking some liberties with how they're marketing this service, suggesting that they're flying to Dubai, even though the flight is to Sharjah and then they'll put you on a bus to Dubai. Also, I think they might be confused about what a 777 looks like…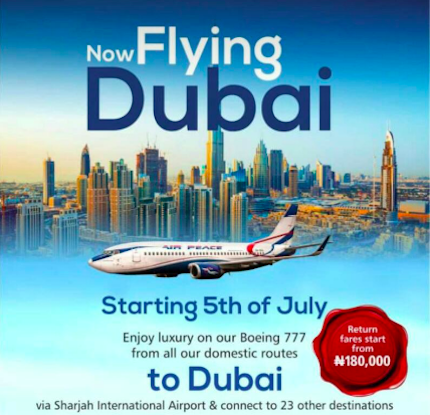 Much to my surprise, these flights really are on sale now…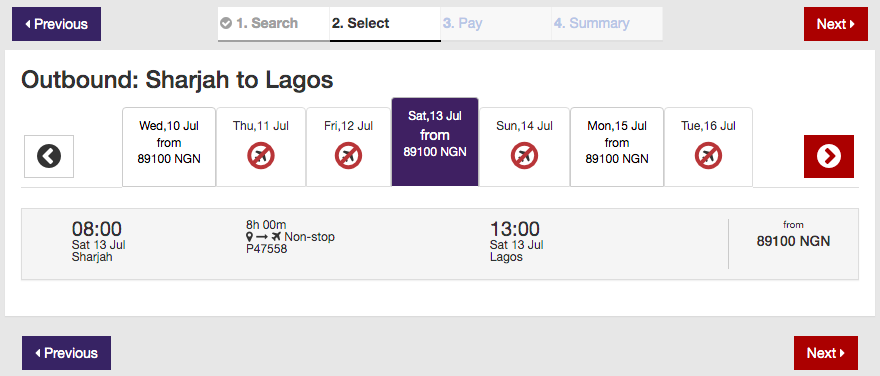 Perhaps what's coolest here is that Air Peace has three cabins on their 777s. One-way business class tickets cost ~850USD, while one-way first class tickets cost ~1,175USD.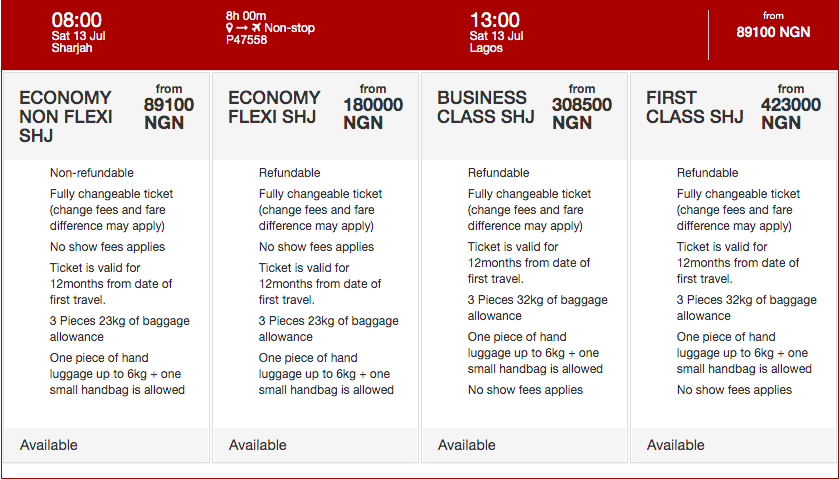 Air Peace has maintained Emirates' old cabins for these planes. So first class is in a 2-2-2 configuration, and business class in a 2-3-2 configuration. Here's a news report, which has some video of the plane, including the cabins:
Oh my gosh, there's quite a bit wrong with this story, like the captain being labeled as first officer, and I also don't love the logic of how they're bringing in ex-pats to fly the 737s, but they're putting Nigerians on the 777s to promote local employment.
When you add it all up, this is an airline I absolutely have to fly and review!
When it comes to being able to take pictures onboard, where do you think this airline ranks on the scale of TAAG Angola to RwandAir?