North Korean airline Air Koryo, Skyrax's only one star airline, has always fascinated me. My (always ridiculous) pal Justin Ross Lee just made me aware of an especially interesting aspect of their website that I hadn't previously seen.
When you go to make a booking, there's a drop down for booking "Extra seats."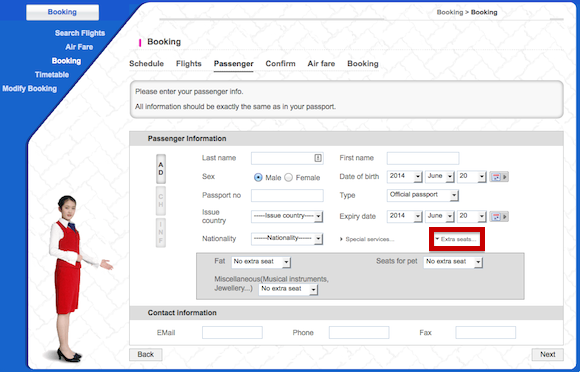 When you click it, you're given the option to book extra seats if:
You're fat
Have "miscellaneous" items, like musical instrument, jewellery(???), etc.
Have pets

The best part is that in each instance you can book up to five seats. Now, none of their super-modern Ilyushin or Tupolev aircraft have more than three seats together, so you've gotta love that if you purchase five "fat" seats you're basically buying seats across the aisle from one another. Or you can even purchase up to five extra seats in business class, even though there's no way to "spill over" into a second seat.
Now the real question is whether they award elite qualifying miles in their award winning frequent flyer program for up to five extra seats. I assume they wouldn't, as that just seems too easy to game, and I've heard their elite ranks are swelled enough as it is.
Anyway, kudos to them on their innovation. They're always leading the way and keeping us up to date as they continue to lead and dominate the North Korean aviation market!