Well this is crazy. The Aviation Herald has the story of how Air France 66 (which was supposed to fly from Paris to Los Angeles) diverted to Goose Bay today. You can find the FlightAware page for the ~6hr30min flight here.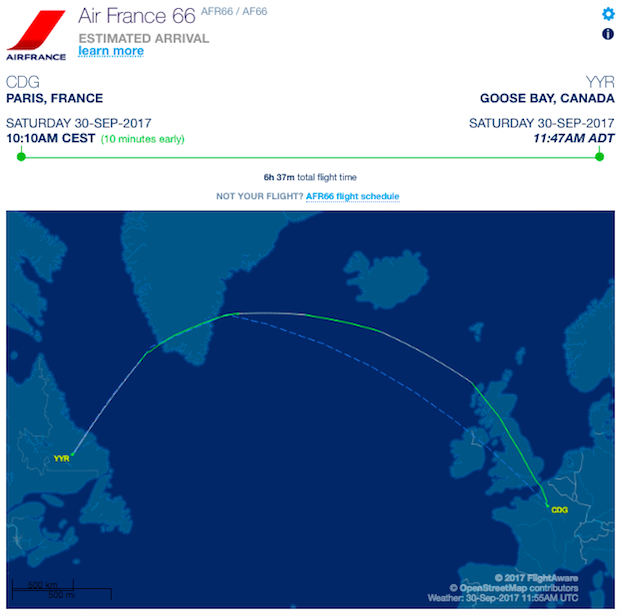 Here's what happened:
An Air France Airbus A380-800, registration F-HPJE performing flight AF-66 from Paris Charles de Gaulle (France) to Los Angeles,CA (USA), was enroute at FL370 about 200nm southeast of Nuuk (Greenland) when the inlet of the #4 engine (GP7270, outboard right hand) separated from the engine. The crew descended the aircraft to FL310 and diverted to Goose Bay,NL (Canada) for a safe landing about 2 hours later.

A passenger reported there was a loud thud followed by vibrations.

The passengers report they are still on board of the aircraft about 2 hours after landing because the airport does not have stairs to accomodate the A380.
I can't believe the pictures of the engine, which are all over Twitter.
Thank goodness everyone was okay and that the plane landed safely. It must have been terrifying to hear a loud thud and then see that, and especially to have to keep flying for another two hours.
I'm curious to see how they accommodate passengers. The last report I saw suggests they weren't able to get passengers off the plane since they didn't have stairs big enough. I suspect Air France will send a "rescue" plane soon.