Well this is downright puzzling…
Air France was operating repatriation flight
Air France is operating a lot of repatriation flights at the moment, and yesterday the airline operated a flight from Paris to Pointe-Noire, in the Republic of the Congo. The flight was operated by an Airbus A330-200 with the registration code F-GZCK. This was a 17 year old A330.
The flight was supposed to spend the night at the airport so that the crew could get some rest before operating the repatriation flight back to Paris at 10AM this morning.
The plane was supposed to bring over 200 people back to France — roughly half were supposed to come from the Republic of the Congo, and the other half were supposed to come from Bangui, in the Central African Republic, as the plane was supposed to continue to there.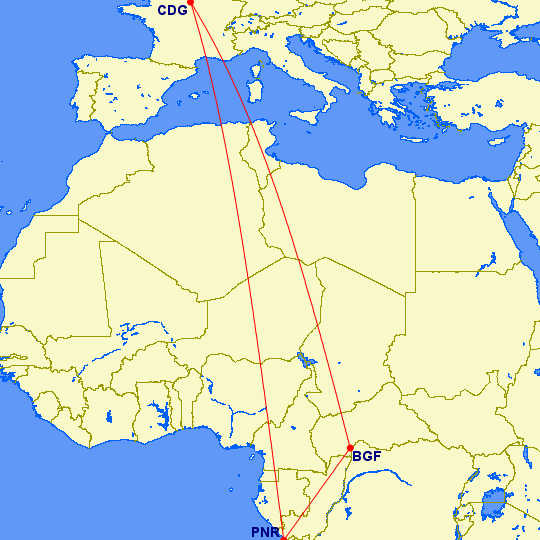 Well, unfortunately the flight has been delayed by 24 hours, due to what happened to the plane.
Air France A330 shot at
The Air France A330 landed at Pointe-Noire Airport in the evening, and at around 11PM last night was shot at by a member of the Congolese Armed Forces.
What's not known is why the plane was fired at, as there are some conflicting reports, while an investigation is being done:
Some say the member of the armed force who was shooting was intoxicated
Some say he was trying to stop the spread of COVID-19 and was scared of the plane, since it was coming from France
No matter the actual reason, there's no excuse for shooting at a parked plane that's operating as scheduled
At least they figured out who was behind the shooting, and arrested him.
Air France sends in rescue plane
Given that the first plane was shot at, Air France has today flown a Boeing 777-200 to Pointe-Noire, which landed just a couple of hours ago. That plane has the registration code F-GSPG.
The plane is carrying a crew that will lay over in Congo, as well as some technicians who will be performing work on the damaged A330.
The 777 is expected to operate the scheduled flight tomorrow, just 24 hours behind schedule.
Bottom line
How bizarre to see a commercial airliner shot at by airport officials while parked at an airport. I'm curious to see what a full investigation of the incident determines. At least the person behind the shooting is in custody…
(Featured image courtesy of Airwim)