As I wrote about a couple of weeks ago, Air France is the next airline to take delivery of the Boeing 787. To familiarize their crews with the plane, they'll be flying it between London and Paris 6x weekly (every except Wednesday) between February 6 and March 25, 2017, with the following schedule:
AF1680 Paris to London departing 7:25AM arriving 7:45AM
AF1681 London to Paris departing 9:40AM arriving 11:55AM

Air France 787-9
Now, that's a very short flight, so is hardly long enough to really experience the product. However, if you are an aviation geek and want to be among the first to fly the plane, Air France has just announced some special fares between the two airports on the 787.
You can fly roundtrip economy class from 69GBP, or roundtrip business class from 249GBP.
The basic terms are as follows:
Book by December 8, 2016
You must fly on the 787 in at least one direction to get this special fare
Ultimately this is a significantly improved product over what they'd usually offer in the market. Typically intra-Europe business class is simply economy with a blocked middle seat and better service, while in this case you're getting a brand new plane with a fully flat bed (again, that's not all that useful on a 40 minute flight).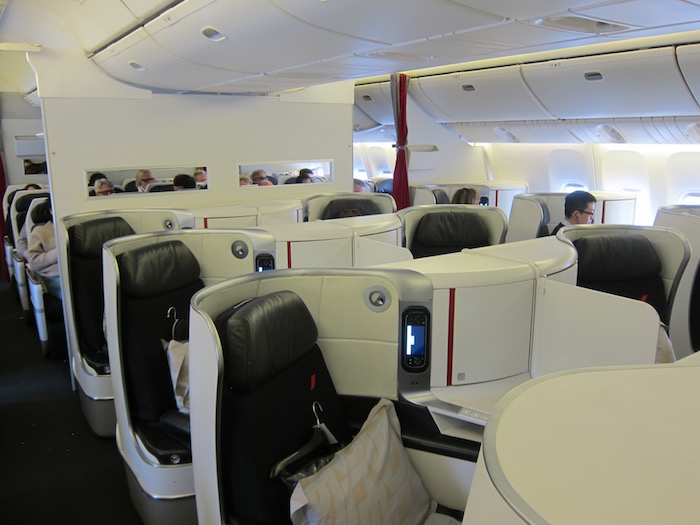 Air France's new business class
So while this could be fun, I'm not sure I'd fly back and forth for giggles. It's one thing if Air France were one of the first carriers to have the 787, but the plane has been around for years now, and many of us have already flown it dozens of times. So there's not that much novelty to the plane as such anymore.
However, if you're based in London and want to make a weekend trip to Paris, this could be a very fun way to do so. I'm trying to see if there's a way I can squeeze in a segment between London and Paris on an upcoming SkyTeam transatlantic award, since this seems like a fun add-on.
Anyone planning on flying Air France's 787-9 between London and Paris?
(Tip of the hat to Miles from Blighty)