There's no denying that while the Airbus A380 is the best plane in the sky in terms of passenger comfort, the Boeing 747-8 is certainly the sexiest.

Lufthansa Boeing 747-8
The 747 is the queen of the skies
The 747 will always be the "queen of the skies" for me, and I'm really sad to see so many airlines retiring them. I think many of us grew up flying the 747, and seeing them retired marks the end of an era.

747-8 wing
Yes, I may have shed a tear or ten when I watched the Singapore 747-400 retirement video (especially 4:40 in):
The 747-8 was in theory a breath of fresh air for the 747 "line," though in practice it has been a complete flop. While several airlines operate cargo versions of it, only three airlines have ordered them for passenger service:
Lufthansa (19 on order, 15 of which have been delivered)
Air China (5 on order, none of which have been delivered)
Korean Air (1o on order, none of which have been delivered)
The issue is that airlines are switching to smaller, more fuel efficient planes which allow them to optimize yields, operate more frequencies, and serve smaller markets, which is ultimately what passengers value most.
While I've loved flying the 747-8 on Lufthansa, it's exciting that a second airline is finally taking delivery of the passenger jet!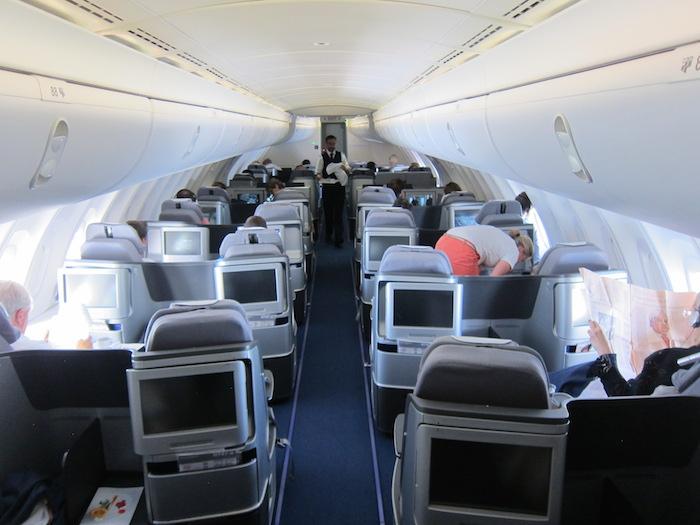 Boeing 747-8 upper deck
Air China will be next to take delivery of the 747-8
Air China will be taking delivery of their first Boeing 747-8 in the next few days, and will begin passenger service with it as of October 11, 2014.
Air China's 747-8 will first operate daily service between Beijing and Guangzhou. Per airlineroute.net, the schedule will be as follows:
CA1315 Beijing to Guangzhou departing 11:00AM arriving 2:10PM
CA1316 Guangzhou to Beijing departing at 3:30PM arriving 6:40PM
Obviously Air China's long term plans aren't to fly the plane domestically, though doing so at first serves two purposes:
Familiarizing their crews with the new aircraft (you don't want to launch longhaul service without having first tested the service concept on a short-haul flight)
Waiting for the second 747-8 to be delivered, as it takes two 747-8 to operate a daily longhaul service
As is the norm for flights within China, the flight is only being sold as two cabins. So business class is being sold as first class, and economy is being sold as economy — it doesn't look like they're selling the first class or premium economy cabins (though they may seat passengers there nonetheless).
Air China hasn't announced their inaugural longhaul 747-8 route yet, though my money is on it being between Beijing and Los Angeles. I certainly could be wrong, though.

Air China 747-8
How will Air China's 747-8s be configured?
Air China's 747-8 aircraft feature 12 first class seats, 54 business class seats, 66 premium economy seats, and 233 economy seats, for a total of 365 seats. As a point of comparison, Lufthansa has eight first class seats, 80 business class seats, and 298 economy class seats on their 747-8s, so they actually have a slightly more dense configuration (though also don't have a premium economy cabin).
I'm most curious to see what the cabins will look like. To the best of my knowledge Air China hasn't yet unveiled their 747-8 first and business class cabins, so I'm curious to see if they stick with their current product, or come up with something new.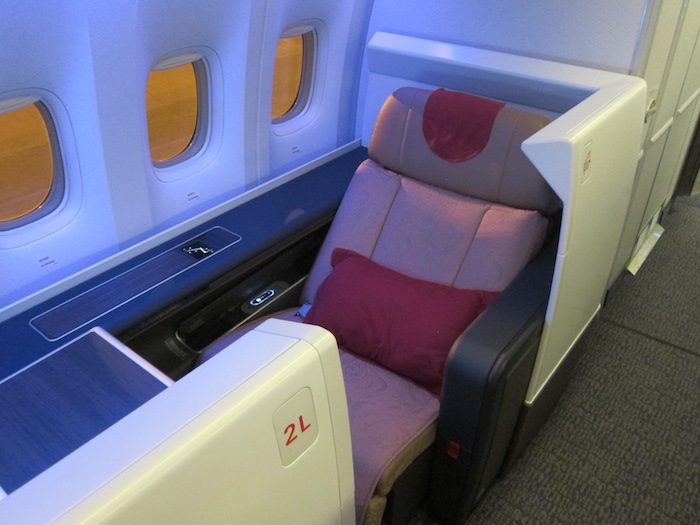 Air China 777-300ER first class

Air China 777-300ER business class
What do you think? Will Air China have a new first and business class cabin on the 747-8s, and which longhaul route will they debut it on?