Yesterday I posted about how Air China was under fire following what was printed in one of their inflight magazines, Wings of China. In a feature about London they suggested that extra precautions are needed when "entering areas mainly populated by Indians, Pakistanis and black people." They also suggested that "females always be accompanied by another person when traveling," which seems like an awfully broad generalization to make.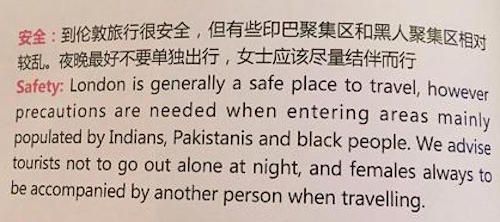 Suffice to say most people weren't too pleased with this "advice." I think it goes without saying that the article didn't represent the views of Air China as such, but rather was a combination of an out-of-touch writer combined with a bad translation.
On the plus side, Air China has very quickly responded to this situation, and has already issued a statement. They've apologized for what happened, ordered the removal of the magazine from all Air China aircraft, and have also demanded that the Wings of China editorial team "learn the lesson" and avoid a similar situation in the future.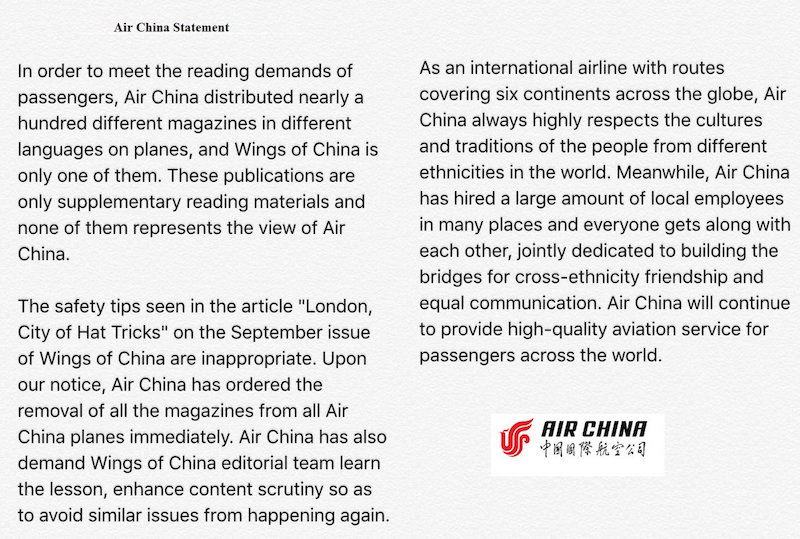 Kudos to Air China for their response here, which has been about as good as it could be.
What do you make of Air China's response to the situation?
(Tip of the hat to @Roar_Singh and @shukla_tahun)