Air China's inflight magazine, Wings of China, has a long feature on visiting London in the current issue, which talks all about what you should do during your visit to the city.
While the story is thousands and thousands of words long, there are a couple of sentences in particular that are drawing the most attention. Specifically, the part about safety:
"London is generally a safe place to travel, however precautions are needed when entering areas mainly populated by Indians, Pakistanis and black people. We advise tourists not to go out alone at night, and females always to be accompanied by another person when traveling."
Oops! I'm gonna go out on a limb and say the ethnic part is the worst, but suggesting that females should always be accompanied by another person when traveling isn't exactly sound advice either.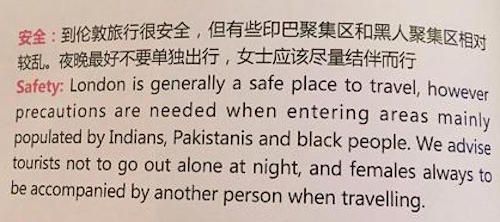 I can't decide whether this is better or worse than when Korean Air launched flights to Nairobi, inviting people to experience "the indigenous people full of primitive energy."
(Tip of the hat to CNBC)