While airlines are investing nicely in onboard amenities (wifi, personal televisions, etc.), there's no denying that economy seats are getting tighter on average, at least for those not willing to pay for an extra legroom seat.
For example, over the past decade we've seen the industry standard on the 777 go from being nine seats per row in economy, to being 10 seats per row. It's a trend that started slowly, though in the meantime only a few airlines still have nine seats per row in economy on the plane.
The A350 is a lovely new plane, and I remember while attending the A350 delivery ceremony in Toulouse, Airbus was advertising how the plane can accommodate nine seats per row, and they didn't even suggest the possibility of it going beyond that. Here's the slide: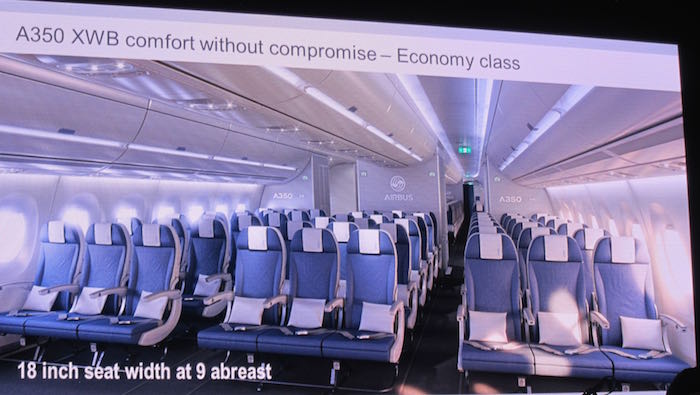 Indeed, the economy cabin is fairly comfortable, as I flew it briefly on Qatar Airways.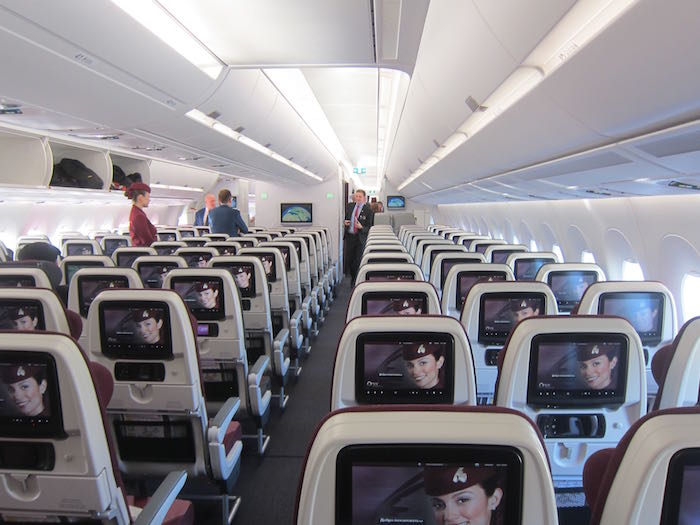 Up until now, all airlines that have taken delivery of the A350 have done so with nine seats per row in economy.
I guess it shouldn't come as a surprise, but we finally have an airline pushing the boundaries on this.
Air Caraibes will be one of the next airlines to take delivery of the A350, and they'll be installing 10 seats per row in economy.
The airline is in the process of taking delivery of their first of five A350s (two A350-900s, and three A350-1000s), which will feature a total of 389 seats, including 18 business class seats, 45 premium economy seats, and 326 economy seats.
Starting in March 2017, the airline will fly their first A350 from Paris Orly to both Pointe-a-Pitre and Fort-de-France.
It'll be interesting to see if other airlines follow Air Caraibes' lead. They actually announced a while ago they'd introduce 10 seats per row on the A350, so I'm surprised others haven't followed. Then again, it was quite a while before airlines consistently started installing 10 seats per row on the 777.
In case anyone is wondering, the A350's cabin width is 18ft5in, while the 777's cabin width is 19ft3in. So this is an even tighter squeeze than 10 seats per row in 777 economy.
(Tip of the hat to @DT35K)