As was announced earlier in the year, Air Canada has an exciting opportunity to build a loyalty program from the ground up, as they're discontinuing their relationship with Aeroplan in 2020. I can't wait to see what they come up with, because they have some great folks working in loyalty there.
In the interim, Air Canada continues to run their own Altitude program, which is the program through which you earn status, while miles are accrued with Aeroplan. The good news is that Air Canada is already trying to make some positive changes to Altitude, as it's not like they have to wait until 2020 to do so.
Yesterday it was announced that Air Canada will be the first North American airline to offer the choice of complimentary Gogo Wi-Fi to their most frequent flyers.
Air Canada Altitude members can choose "Privileges" at the end of the year, which are essentially customized elite perks. Among those, Altitude Elite 75K members will have the opportunity to select a complimentary six month unlimited Gogo Wi-Fi pass, while Altitude Super Elite 100K members will have the opportunity to select a complimentary 12 month unlimited Gogo Wi-Fi pass. The pass will be valid on Air Canada, Air Canada Express, and Air Canada Rouge, so it won't work on other airlines. These will even work on flights equipped with Gogo's excellent new 2Ku service.
Here's what executives of both companies had to say about this new option:
"We are delighted to partner with Air Canada to bring the industry's leading inflight connectivity solution to their loyal customers for free," said John Happ, Gogo's Regional President, Americas. "Gogo is finding new ways to leverage connectivity to enable unique experiences for our airline partners that fit their individual needs. Free Gogo for Air Canada's most frequent customers is a great example of how we are delivering on this for our airline partners."

"Earlier this year, Air Canada announced plans to launch an all new, digital-first loyalty program in June 2020. While we design the future program, we're committed to adding new options and benefits for Altitude members today and over the next two years," said Mark Nasr, Vice President Loyalty & eCommerce. "In-flight Wi-Fi is a critical amenity for business and leisure travelers alike, so we're excited to become the first North American airline to offer the choice of unlimited Wi-Fi plans to our most frequent Altitude members."
This is a great development, don't get me wrong. More choices for frequent flyers are always a good thing, even for things like the ability to redeem points at a bad rate towards toaster ovens (I'm not suggesting this is similar). However, I've seen a lot of stories on this simply suggest Air Canada is giving their elite members Wi-Fi, and hoping that other airlines follow with offering similar benefits.
The problem is that many of these stories don't acknowledge the fact that elite members will have the choice of Wi-Fi as a benefit. In other words, there's a direct opportunity cost to it. I don't think Air Canada is trying to hide this at all, but rather I think some people reporting on this just aren't familiar with the Altitude program.
Air Canada's Altitude program is one of the most customizable out there in terms of the benefits you receive as a frequent flyer. I appreciate how different members can get out of it what they want. For example, here's the page with the Altitude Privileges that members can receive.
Here are the charts that show the two bundles of benefits that elite members can select, by tier: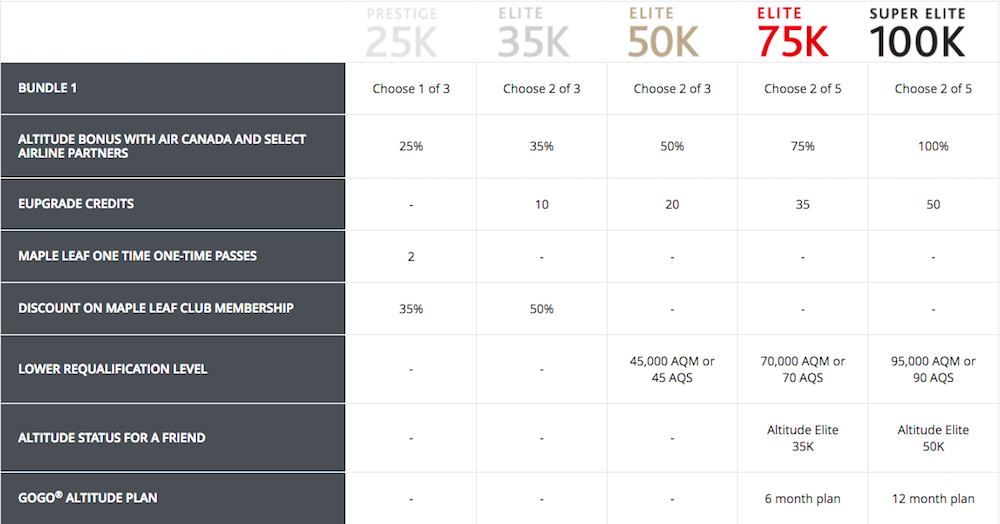 As you can see, the Gogo Wi-Fi benefit is in the first bundle. For a Super Elite 100K, that means the opportunity cost to selecting a year-long Gogo subscription is potentially 50 eUpgrade credits, a 100% mileage bonus, mid-tier status for a friend, etc. That's a huge opportunity cost.
Some will find that worthwhile, especially those who usually fly paid business class, where those upgrades might not be that valuable.
However, my general philosophy when it comes to selecting airline rewards is that you're rarely maximizing value if you choose a benefit that the airline has to pay cash for. Presumably Air Canada is paying Gogo some amount of money for each person who takes advantage of this (or something), and since I'm good at redeeming airline benefits like upgrades and miles, I'd always rather select that benefit.
Bottom line
I commend Air Canada for introducing Gogo Wi-Fi as an elite perk. Some will no doubt find this valuable. If I were an Air Canada elite member I wouldn't select it as one of my Altitude Privileges. While I'd like to see other airlines introduce something similar, it's not something I'd ever see myself taking advantage of.