Okay, this is hilarious on so many levels. I'm not sure if it's funnier that the CBC accidentally CCed Air Canada on an email saying they can "skip all the bullsh*t," or whether it's funnier that Air Canada decided to Tweet about it on their official account.
Air Canada Tweeted the following this afternoon: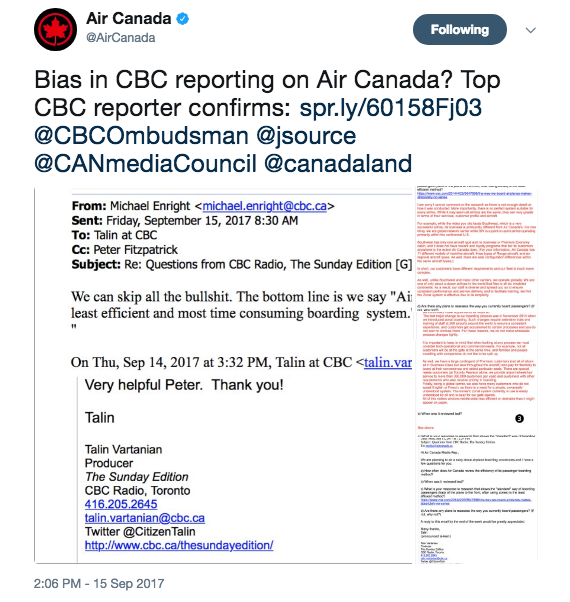 Attached were the following four screenshots (sorry for the sizes, but that's how they posted it):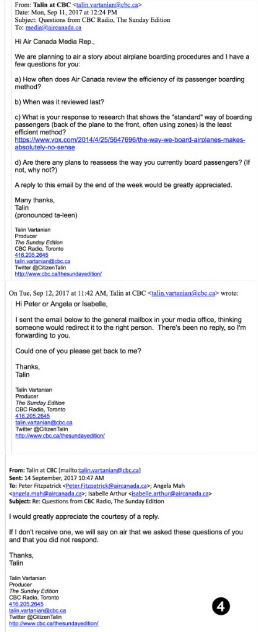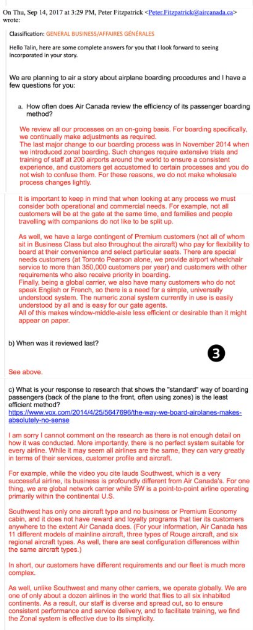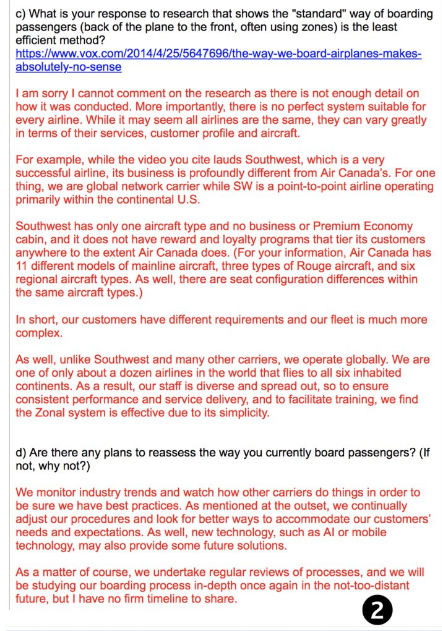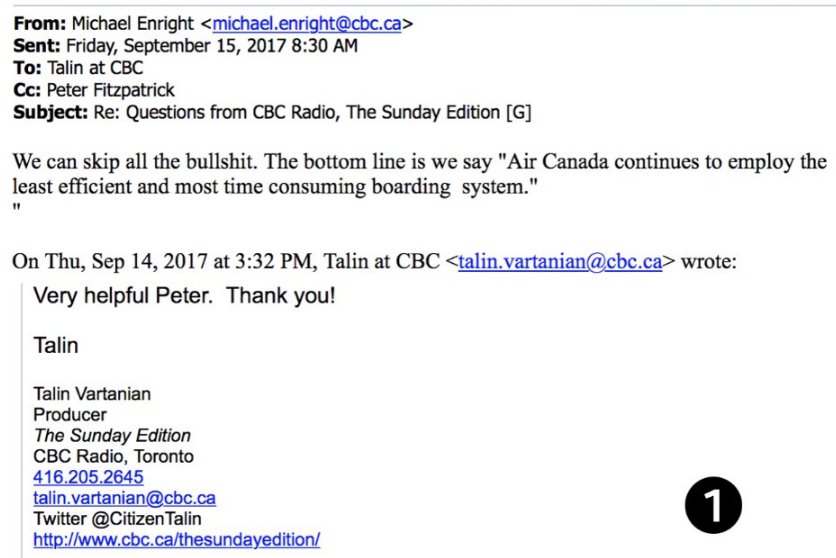 If you don't want to read the whole thing, let me summarize:
The CBC (Canadian Broadcasting Corporation) wanted to do a story about airline boarding processes, so they emailed Air Canada for comment on why they use what's considered to be the least efficient boarding process
An Air Canada rep provided detailed explanations of everything, including their response to the research that suggests that the back-to-front boarding process that Air Canada uses is the least efficient out there
After the questions were answered, the person from the CBC said "Very Helpful Peter. Thank you!"
He then emailed his colleague the following, not realizing that he also CCed the Air Canada rep who had answered the questions: "We can skip all the bullsh*t. The bottom line is we say 'Air Canada continues to employ the least efficient and most time consuming boarding system.'"
Air Canada posted the whole interaction on Twitter, questioning whether there's media bias against them
I'm not posting about this because I think one side is totally in the wrong here, but the sum of everything is just quite entertaining and bizarre. Is the CBC being biased here? It's popular for media outlets to hate on airlines, so I don't think it's unfair to suggest that they might be biased. Air Canada has reasons they don't use the other systems, and it seems they're not wanting to give that any air time.
I actually think Air Canada's boarding system is fairly efficient, but I don't think the Air Canada rep did a great job explaining why their system works for them. The CBC quotes a Vox story from 2014 entitled "The way we board airplanes makes absolutely no sense." And I actually disagree with their conclusion, which works great in a test environment, but not so much in the real world for all airlines. It doesn't factor in how different airlines operate. The story suggests that the two best boarding methods are:
Southwest's boarding method, where people can choose their own seats
A method where those in window seats board first, followed by those in middle seats, followed by those in aisle seats
Southwest's method works great for Southwest, but the airline leaves a huge amount of money on the table with that method. Other airlines make a lot more money in ancillary fees, and this includes charging for priority boarding, charging for seat assignments, etc. So a traditional airline that derives much of their profits from ancillary revenue would be missing out big time if they adopted a free-for-all boarding process.
The window, then middle, then aisle method sounds great, and it works great in a test environment. What it doesn't account for is that many people are traveling together, and splitting up parties will increase confusion, and gate agents will spend a lot of time enforcing boarding order. The below simulation isn't how this boarding process works in the real world.
For anyone who wants to watch, here's the Mythbusters segment about airplane boarding:
So I'm not suggesting either of the above methods are bad, but rather that they don't work for all airlines. Furthermore, any of the science associated with these boarding processes is generally in a test environment where everyone is on the same page, and doesn't account for potential confusion, which is bound to happen. Even in the Southwest method, this doesn't account for the issues you have onboard when people are separated, then they try to get people to switch, etc.
The actual talk of boarding order is a tangent, though. The real story here is this bizarre interaction between Air Canada and the CBC.
What do you make of this situation — was the CBC being unfair, and was Air Canada right to share this on social media?
(Tip of the hat to @dougscandrett)