It always amazes me how safe air travel is. For every serious incident there are a countless number of incidents where something almost goes very wrong. This is one of those incidents, and it's sort of unbelievable.
The Aviation Herald has the story of what happened to an Air Arabia flight that was departing Sharjah on Tuesday, September 18, 2018.
The flight, Air Arabia 111, was scheduled to fly from Sharjah to Salalah using an Airbus A320. Note that Air Arabia is based in Sharjah, so generally you'd expect pilots to be most familiar with operating procedures at their home airport (they should of course know how to operate at any airport based on reading charts and NOTAMs, but my point is that they should have a special familiarity).
Sharjah Airport has a runway that's over 13,000 feet long, which is really long, and could accommodate any plane. So it's not unusual for an airplane to perform an intersection takeoff. The plane was supposed to depart from runway 30 at the intersection with taxiway B14.
This intersection is located about 3,350 feet from the end of the runway, meaning the plane would still have about 10,000 feet to take-off, which is more than enough.
However, instead the plane took off in the opposite direction, where it only had about 3,350 feet of runway left. The crew managed to become airborne in time and avoid obstacles, and the flight continued as scheduled to Salalah.
A day after the incident, Air Arabia banned intersection takeoffs, and both pilots have been suspended pending an investigation.
To put this into perspective, here's a diagram of the airport (courtesy of Google Maps), with the red box showing where they entered the runway, and the arrow showing the direction in which they took off.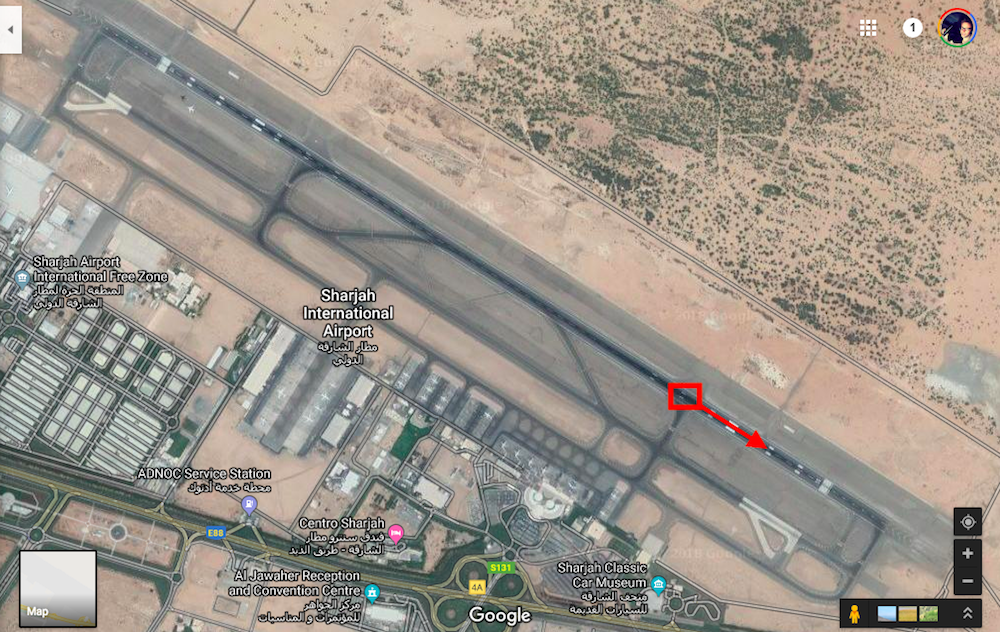 The fact that this happened is just sort of unfathomable, especially at an airport the pilots should have been familiar with:
Did neither pilot visually notice that they only had a few thousand feet of runway?
Did neither pilot look at the compass heading or any of the other visual clues to make sure they were taking off in the right direction?
Did neither pilot realize their mistake when they started their takeoff roll, and make the decision to abort the takeoff?
So, how much runway does an A320 need? It depends on all kinds of factors, including the winds, temperature, takeoff weight, how much power is used for takeoff, and more. However, the general estimates I've seen range anywhere from 3,500 feet to 6,500 feet, with the 3,500 number being on the very low end for an empty flight.
I assume this flight wasn't anywhere close to its maximum takeoff weight, or I think this may have ended differently.
(Featured image courtesy of Konstantin von Wedelstaedt)