There are some interesting updates from Aeroplan this week, including some changes in management, and also a look at what they're hoping to do in the future.
Aeroplan and Air Canada are cutting ties
Aeroplan is Air Canada's spun off loyalty program. A bit over a decade ago Air Canada sold their loyalty program due to the financial situation they were in, and that contract is coming up for renewal in 2020.
Last May Air Canada announced that they wouldn't be renewing their contract, and that they'd be cutting ties with Aeroplan in 2020, which is obviously devastating news for Aeroplan. While many Aeroplan members weren't happy, the reality is that Air Canada was going to take back their loyalty program no matter what. Now that the airline is doing well, there's simply no reason to have a spun off loyalty program.
This puts Aeroplan in a bad situation. Air Canada was their biggest partner, so what will this loyalty program look like in a couple of years when it's no longer associated with the same airline?
Aimia's CEO has stepped down
Aimia is the parent company of Aeroplan, and it has just been announced that their CEO is stepping down. According to CBC:
The company said in a news release late Thursday that Johnston and the company's board of directors "mutually agreed on his departure," but did not elaborate.

"I am proud of the results we have achieved over the past year despite significant challenges" said Johnston in a release.

"As Aimia reshapes itself with a tighter business and geographic footprint, it is the right time for me to further my career elsewhere."
I can't blame the guy for moving on, as it seems like there's limited upside at this point in sticking around a sinking ship. While it's possible Aeroplan may be able to survive independent of their Air Canada partnership, I definitely don't think they'll be able to thrive.
Aeroplan announces "an all new program"
What I'm most curious about is what Air Canada's loyalty program will look like in 2020, when it's fully formed. However, I suspect it will be at least a year or so until we learn the full details of that program.
While the implications for most people aren't as big, I'm also curious to see what Aeroplan hopes to do in the future, and it looks like we have an update there.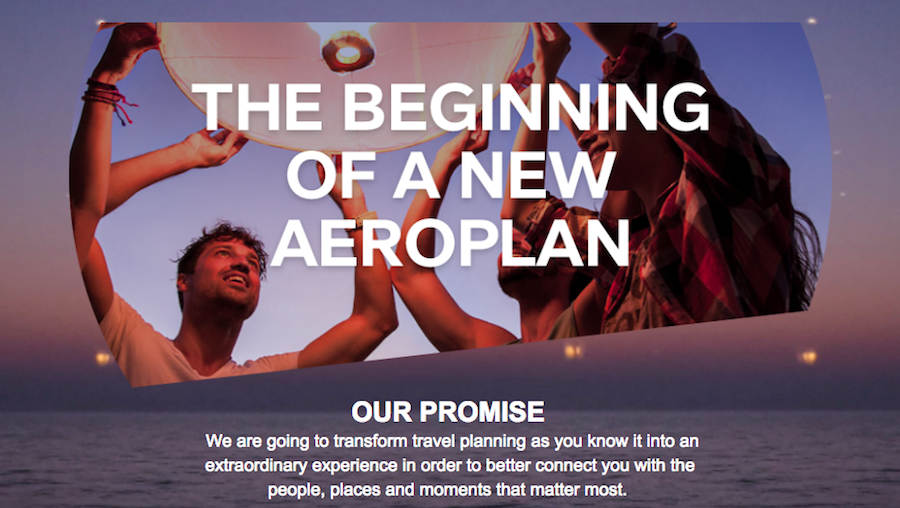 Aeroplan has shared what they call key commitments to members starting in July 2020 (in other words, post-Air Canada). Aeroplan says they want to redefine travel rewards and continue their ongoing transformation into a superior travel and booking experience. Here are what they claim their six brand commitments are, which are rooted around flight rewards, value, personalization, and member experience:
The freedom to choose any seat on more of your favourite airlines: Starting in July 2020, you won't be limited to seat inventory from one airline or one network when you want to redeem valued miles. Instead, you'll be able to choose any available seat from more airlines to more destinations than today.
The power to reach your travel plans faster: With the ability to earn miles faster and redeem for flights on more of your favourite airlines starting in July 2020, including with future preferred partners, we're committed to helping our members travel sooner than with other travel reward programs in Canada, just as we do today.
A complete travel offering in one place: Today, you can browse more car rental options than ever before. Tomorrow, an intuitive planning and booking engine will offer you a greater selection of accommodations, destination activities, vacation packages and inspiring content directly through our website and mobile app.
Unmatched convenience & flexibility: When you earn fast and often, you can get to your travel plans sooner. The convenience of earning on thousands of everyday items in-store and online at over 150 partner brands, flexible payment options plus the ability to earn miles on all cash bookings made with Aeroplan means realizing your plans is easier than ever.
A more personalized journey: Enjoy a unique travel experience that is more rewarding and tailored to your needs as we proactively serve up suggestions, content and offers based on the things you like.
An altogether transformed user experience: Staying at the forefront of technological trends, we will reinvent your user experience at every level from mobile to online right up to the Aeroplan Contact Centre.
https://www.youtube.com/watch?v=hKGHwa0YA7w
There's not much in the way of details here, though in general it sounds like Aeroplan's long term goal is to become a points currency where members can redeem points towards the cost of a revenue ticket on any airline, in the same way you can redeem Ultimate Rewards points for 1.25-1.5 cents each towards the cost of a ticket, for example. Furthermore, they'll focus on technology to make the member experience better.
The much bigger question, though, is how members will be able to earn points. Presumably they'll hope to have a co-branded credit card, partner with transferable points currencies, and give members other opportunities to earn points. But without being a program directly associated with an airline, that will be a really tough sell.
What do you make of Aeroplan's vision for the future?