One of the side effects of having an award booking service is that not a week goes by where I don't wonder how in the world "normal" people who aren't obsessed with miles and points manage to redeem their miles at all. This goes beyond knowing that people in our hobby get a much better "value" out of their miles than the average person — there are times where I am truly blown away that anyone else ever manages to get anything ticketed.
An example of this is an award we recently booked for a client from New York to Beijing on Air China, with the return from Hong Kong on Cathay Pacific. Both segments are in first class, and with direct flights this was a rare "textbook" award booking.
Until, that is, we went to confirm seat assignments with the operating carrier (something you should always do, as it's the easiest way to identify these types of issues). Air China could see the reservation, but couldn't access the record, and after several conference calls with supervisors from both Aeroplan and Air China, we determined that while Air China had offered the space, and Aeroplan had issued the ticket, a communication issue prevented Air China from confirming the space, so the ticket was stuck in this endless "pending" loop.
Apparently there are several hundred other tickets being affected, and my guess is very few (if any) of those passengers know about it.
As a preventative measure, Aeroplan has removed all Air China award space from their systems. You cannot book Air China award flights through the Air Canada Aeroplan program at this time, even if the space is available to other Star Alliance partners.
Look, for example, at the Paris > Beijing flight I took last year, which typically has plentiful award space.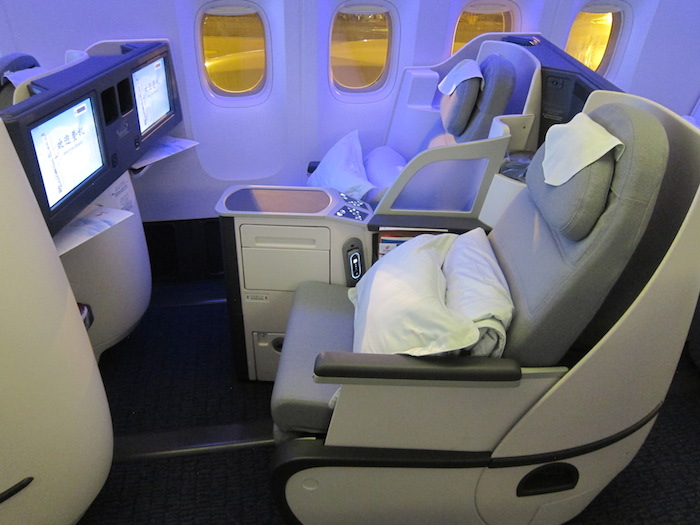 Air China 777-300ER business class
United shows space nearly every day:
As does the more-reliable ANA tool:
But Aeroplan only shows connecting options: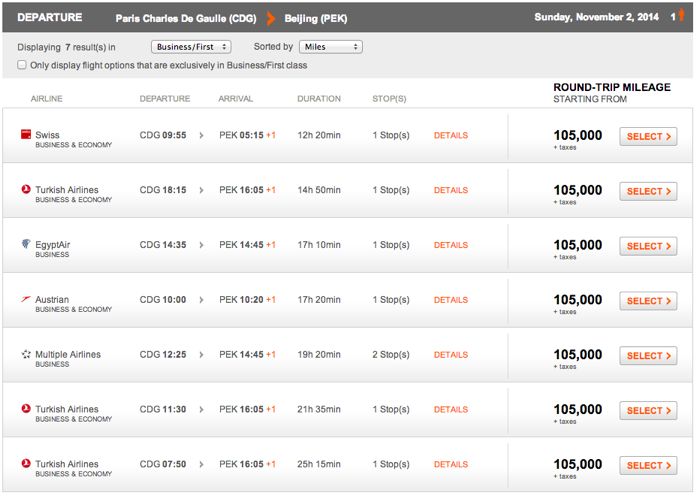 So, what does this mean in practice?
If you have an Aeroplan-issued ticket for travel on Air China that was issued after August 1st:
Call Air China to see if the reservation is correct on their end. The best way to do this is to call their US reservations line at 800.882.8122. If they can assign seats and provide you with the Air China record locator you're good to go.
Otherwise, you'll need to contact Aeroplan at 800.361.5373 and ask them to review the ticket. Any agent should be able to see whether or not the space was confirmed, but you might have to push to have the ticket sent for review by a ticketing supervisor.
Wait.
Seriously, you're going to have to wait a long time. Aeroplan is working to fix the issue on the IT side, and have other people working with Air China on a case-by-case basis. Aeroplan is prioritizing tickets based on departure date.
Eventually the ticket will be reviewed (realistically within 7-10 days of departure), at which point the following will happen:
The liaison agents will be able to open up award space on Air China, the tickets will be reissued correctly, and you will fly as scheduled.
Depending on the destination, Air Canada will open up space on their own flights, in the same cabin of service, regardless of award availability.
Alternatively, you may be able to reroute on other Star Alliance partners, though that will be dependent upon partner award availability. Aeroplan is being aggressive about asking other partners to open award space on regional flights in this situation though.
Worst case, Aeroplan is purchasing revenue tickets on Air China for impacted passengers. I can't imagine how costly this is getting, which is likely why they've made the decision to block all space in the meantime.
You also have the option to cancel your ticket completely, and have all the miles and fees refunded for no charge.
This is a mess for everyone involved, so I'd suggest being as patient as possible. The agents at Aeroplan are typically exceptionally competent, and it does seem like they have a solid plan for working through these tickets.
Anyway, I figured this was something most people didn't know about. It's a good reminder to always double-check your award reservations, and if you've been unsuccessful in booking Air China flights through Aeroplan recently now you know why.
Hopefully this will be resolved sooner rather than later, and I'll post an update when Air China space is bookable again.