There are quite a few airports throughout the world that allow you to transit without a visa. As a matter of fact, a vast majority of countries do as long as you remain in the sterile transit area. This works just fine 99% of the time, but it gets tricky in the event of irregular operations, where you can't legally leave the airport. I don't want to say that it's a reason to avoid connecting certain places, though at least it's something to be aware of, especially if you're traveling on a route with only one flight a day, or even worse, a route with just a few frequencies a week.
Reader Nick forwarded a story from some Facebook users who had a nightmare experience with Aeroflot at Moscow's Sheremetyevo Airport on January 7. First I'll share a brief summary of what happened, then a video, and then the full Facebook account from one passenger.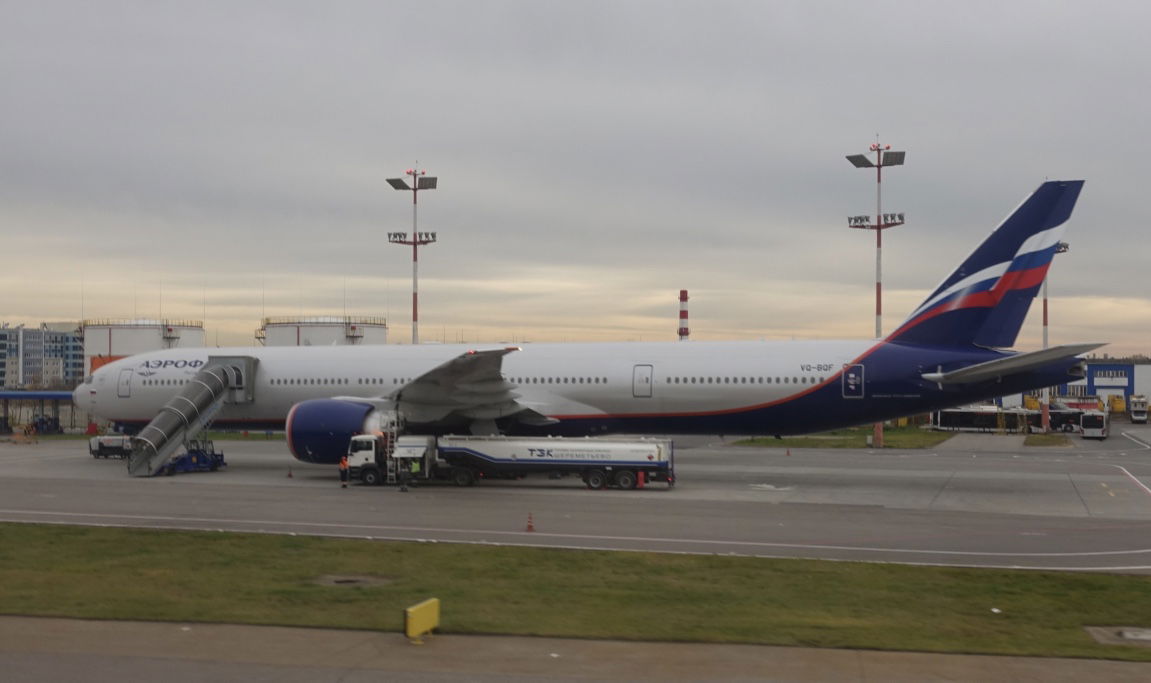 Essentially passengers were traveling from Delhi to Moscow to New York, and upon arrival in Moscow they were informed that their flight to New York was canceled. After having to wait for hours to be rebooked, US passport holders were informed that they would be "deported" to Delhi, since passengers can't stay in transit for more than 24 hours.
Passengers allege that white US passport holders were rebooked on flights to the US, while US passport holders of Indian descent were sent back to Delhi. Perhaps most damning is a video of an Aeroflot employee telling a group of passengers that they'd be deported to Delhi. He says "I am talking now with Indian passengers" while holding up one of their US passports:
Here's one account shared by a passenger on Facebook of what happened:
On Jan 7, I had my return flight to New York City (JFK airport). On landing in Moscow, I learned that my flight from Moscow to New York (JFK) SU102 was cancelled. I stood on the information counter over 10 hours to learn my fate. I was repeatedly told that all the flights are full and I have no option but to return back to New Delhi. I informed the representatives behind the desk that I am US citizen and I need to go to my country, my home i.e. US. I begged the Aeroflot Airlines representatives (Mr. Gregoriy and Ms. Kitora) that they can send me to anywhere in the US, places in Europe on the next available flight. I was ready to wait at the airport at my own expense.

To my horror, I saw many US citizens (white in color) come by and get their tickets for later flights or be told to wait in lounge and will be called once the details are ready. Once such couple was coming in from Saigon with JFK as the final destination. I was shocked to see lies and racism at full play at the airport. US citizens were given separate treatment based on color. One woman with a crying baby was rudely told to come back after the baby is quiet.

In the meantime, Aeroflot Airlines official, Mr, Mikhail, issued me a boarding pass on a flight back to Delhi. I informed him that I am a US citizen and wanted to go back to my country. He got very rude, shouted at me and said that this is 'only' choice I have otherwise I would face heavy fines and deportation. I informed that if they have to deport me it will have to be my home country i.e. US. He told me I will be deported to New Delhi. So, either I go at my will or they will send me against mine. I was left with no choice and had to board the flight back to New Delhi. I have been flying for over 17+ years and never ever has been harassed or treated this way.

When I arrived in New Delhi on January 8th, there was only one Aeroflot Airlines employee (Mr. Neeraj) at the airport. He told me that he had no information regarding when I would be issued a new ticket, could not offer hotel and food. He told me to take a taxi and find my own hotel. He gave me contact details where I could speak with a representative and get details. The office was to open only at 10.00am IST. With nowhere to go, I took a flight to Jaipur. I emailed the office that morning and called the phone number provided to me but nobody bothered to answer all day. Next day, I had to send an acquaintance of mine to figure out the situation because Aeroflot Airlines representatives were neither responding to calls nor emails. He explained the situation to the employees and they said the would issue me a ticket but for the 13th. I asked what if I fly other airline as I need to get back to work but the ticket is expensive and will they cover? They said no.

Because of the lies and racism faced by me, I have lost a week of work (I will not be allowed to to vacation this year) and faced tremendous mental stress. Aeroflot has left me scarred. I have videos and testimonials from passengers to prove these incidents.

How can airlines treat their customers this way? I urge everyone to not fly by this airline and suggest what course of action I can take against them.
This sounds horrible on so many levels. Not only for the very obvious racism, but also for the incompetence. Could Aeroflot not find these people any routing back to the US on any airline? It's completely unacceptable to send people back to where their journey originated when there certainly must be some options to get people to their destinations (there are tons of routes through Europe, for example). I get that this was during a time where New York was having all kinds of operational issues due to the weather, but at a minimum they could have gotten them to an intermediate airport where they could enter without a visa, even if the connection was only a day or two later.