Aer Lingus has been undergoing some very positive changes with Christoph Mueller at the helm, whereby we're seeing them both improve their onboard product and grow their route network in a sustainable way.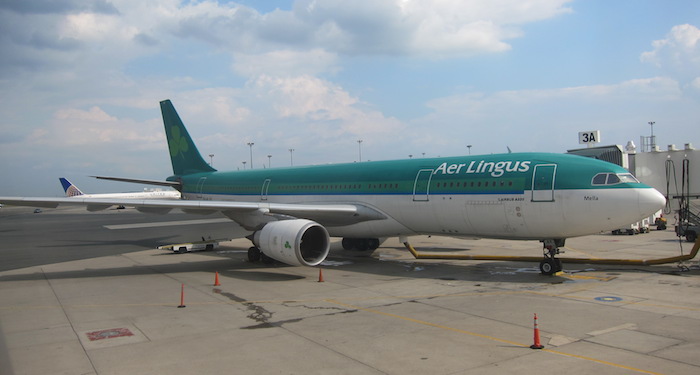 Aer Lingus A330 at Boston Logan Airport
First Aer Lingus will be installing a new business class product throughout their longhaul fleet, which consists of fully flat seats.
They're also investing in other aspects of their product, from pre-flight supper for business class passengers in Boston and New York, to an arrivals lounge in Dublin, to onboard wifi.
Aer Lingus is also growing their route network quite a bit. Earlier this year Aer Lingus added flights to Toronto and San Francisco, which have apparently performed very well for them.

Aer Lingus North America destinations
Beyond that, Aer Lingus has announced their goal of expanding further, and specifically Dallas was mentioned as a city they might add service to.
It looks like Aer Lingus will finally be announcing a new US destination at a press conference this Wednesday, and it won't be Dallas. Per Travel Extra:
Aer Lingus will announce its 2015 transatlantic destination at a press conference on Wednesday. It will be an east coast USA location rather than the Texas option with which Christoph Mueller tantalised the media last year.
Aer Lingus's North America destinations include Boston, Chicago, New York, Orlando, San Francisco, and Toronto. So where could Aer Lingus practically expand to on the east coast?
I'd say Miami or Washington Dulles are most likely:
Miami: Sun-deprived European vacationers love Florida
Washington Dulles: Aer Lingus has a partnership with United, so could potentially feed passengers to them at Washington Dulles; that being said, United also recently started service between Washington and Dublin, so I'm not sure that would work well for their partnership
My guess is that Aer Lingus' newest US destination will be Miami. I guess we'll find out in a couple of days!
What do you think Aer Lingus' newest US destination will be?