Late last week I was in San Diego for a night with a friend. As you may recall, I had a tough time deciding where to stay. I'm absolutely addicted to miles and points, and have top tier status with Hyatt and Priority Club/InterContinental. So logic would have dictated that I stay either at the Andaz (to take advantage of my Hyatt status) or the Hotel Indigo (to take advantage of my Priority Club status). I honestly couldn't decide, so ended up only making a booking while sitting in the Red Carpet Club at O'Hare, about to hop on a flight to San Diego.
What did we decide on? Neither. We went with the US Grant, a Starwood Luxury Collection hotel. The room cost $189 through American Express' "Fine Hotels & Resorts" collection, which was $50 more than the cost directly on the hotel website. But through Fine Hotels & Resorts the room came with a $100 food and beverage credit, free breakfast, and a room upgrade. For $189 that's pretty tough to beat, and I figured it would be an interesting hotel to review as well.
We arrived at around 7PM after taking a cab from the airport, which was about $15. The lobby was fairly "grand," though totally empty.

Entrance

Lobby
There was a single agent working at the reception desk, and she was on the phone as we arrived, so we had to wait for a few minutes. Most definitely not a great first impression of the hotel, especially since they only had one person working. But that was quickly forgiven, as the lady working the desk was very, very professional. She explained we had been upgraded to a Signature Suite with two king beds (two king beds=awesome). She further informed us that we could have breakfast and dinner at The Grant Grill using our food and beverage credit. Soon enough we were off to our room.

Elevator area
While the hotel has been recently renovated, the elevators were (understandably) tiny, given how old the hotel is. Fortunately there were never long waits and we never had to share the elevators with others, so that didn't turn out to be an issue. We arrived at room 707, where there was an entrance foyer leading to the bedroom, living room, and bathroom.

Entrance foyer

Bedroom

Bedroom looking towards living room

Living room

Bathroom

Shower and toilet

Toiletries

Floor layout

We were both really, really impressed by the room. First of all, I was impressed that we were upgraded to such a nice room just by booking through Fine Hotels & Resorts. I fully expect to end up in a basic room when booking through a hotel chain with which I don't have top tier status, so this was really, really impressive; at most I was expecting a "deluxe" room or room with a view. I also really liked the layout and decor of the room. Usually I'm all for modern hotels, but they did an amazing job restoring this place — the room felt modern while still retaining some "old world charm" (gosh, I feel as cheesy as Samantha Brown from Great Hotels when I phrase it like that).
So they get all the credit in the world from me for the amazing restoration job they did. Wireless internet was $13 per day. I haven't paid for wireless internet in a very long time thanks to my status with Hyatt and InterContinental, so decided to take an evening and morning off of work and not use my computer. Quite refreshing, actually!
Unfortunately the excitement wore off pretty quickly when my friend found a bug in the bathroom. He's more neurotic than I am, and insisted it was a bedbug. I wasn't so sure, which left me with only one option — go onto Twitter to figure out what the real story was. The responses were mixed. My friend insisted that it was blood inside of the bug, which he thought made it a bedbug.

Bug
So we went down to the front desk and asked if someone could come up to our room to take a look at the bug. I have to say they handled the situation really professionally. Within a few minutes an "engineer" arrived at our room (he even consistently addressed me by name), and removed the bug, explaining they'd do a test on it, but that he didn't think it was a bedbug. But he was truly very professional in handling the situation. He asked if we wanted to switch rooms, and we expressed a preference for doing so.
Moments later we got a call from the front desk, offering us a suite on the 11th floor. The guest relations guy on duty met us up there with a new set of keys. Unfortunately this was far from a suite (I'd guess slightly larger than standard room at best), and it had two double beds instead of two king beds. This is also where I start to get neurotic. In seeking advice from people on Twitter, many asked whether the original room smelled sweet, since that would be a sign that there are bedbugs. The original room didn't smell sweet, though this one did. Now, I'm sure the hotel doesn't have bedbugs, but this is where perception seems to kick in more than anything else.
So embarrassingly enough we trotted down to the reception again and asked if we could switch back to our original room. The original lady that had checked us in gladly switched us over, and couldn't have been more professional and apologetic about everything. We felt like such chronic complainers, though the thing was we weren't trying to get anything out of this — it was just that at that point, we felt more comfortable in the original room.
Anyway, the lady at reception tried to offer us something, like a $50 breakfast credit, though we reminded her that we already had that included and really didn't want anything. Eventually she said "well, I see you're a Starwood Preferred Guest member, so we'll credit your account with some extra points."
All of the employees at this hotel really do deserve credit for going above and beyond. They were truly top notch.
Eventually we were once again settled into our original room, feeling much more comfortable about everything.
Once settled in again it was around 9PM, so we decided to go Grant Grill for dinner. We had $100 to spend, which was plenty for a nice dinner. The restaurant was deserted, so we got a nice private booth.

Grant Grill
To start they offered focaccia bread, which was insanely good. It was quite possibly the best bread I've ever had.

Focaccia bread
Then they offered an amuse bouche consisting of some crab-tasting thing. Also quite good.

Amuse bouche
As an appetizer we ordered crab risotto.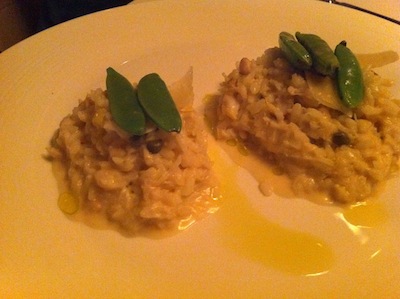 Dungeness Crab Risotto, Snap Peas, Green Tomato Relish, and Toasted Pine Nuts
For the main course my friend had sea bass and I had chicken. My friend liked the bass, though I wasn't a huge fan of the chicken.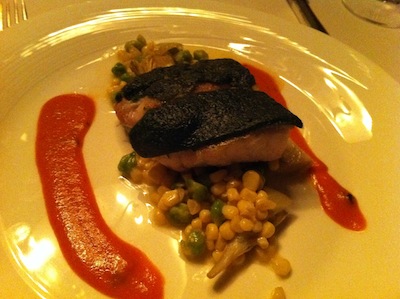 Herb Crusted Californian Sea Bass, Artichokes, Sweet White Corn, Garbanzo Beans, Citrus Tomato Sauce

Roasted Organic Chicken, Farrotto, Peaches, Swiss Chard, Golden Raisins

Side of Creamed Corn
For dessert I had a chocolate tart with espresso ice cream. It was delicious, though in fairness I rarely come across a dessert I don't like.

Chocolate Tart with Espresso Ice Cream
All in, with soft drinks, tax, and tip, the dinner came out to just a bit over $100, which was reasonable (especially when included with the room!).
We had breakfast with FlyerTalk's illustrious "Mr. Pickles" in the restaurant as well, where I had a shrimp frittata which was quite delicious, though a bit overpriced at $18.

Laughing Bird Shrimp Frittata with Old Quebec White Cheddar Mornay, Avocado
We checked out at around noon, and once again had the same lady checking us out that checked us in. She was incredibly professional, mentioned that she had credited some extra points to my account, and genuinely seemed interested in how our stay was. In the end they credited 2,500 bonus bonus to my account, which, while not overly generous, is more than reasonable given how proactive and professional they were in handling the situation… not to mention the fact that I really didn't want anything! Most impressive of all, I received a personalized email today from the Director of Operations apologizing once again for the situation.
Would I return? Probably. There's no doubt the value I received was excellent, but the thing always holding me back is straying outside of my usual preferred hotel chains. If I ever status match to Starwood Platinum this is the place I'd stay in San Diego, though if Priority Club or Hyatt were offering compelling promotions, I'd probably be stuck staying with them.
But this hotel has excellent employees and an excellent "hard product." If you can get a deal like I got, I would highly recommend this hotel.